July 30, 2013
Women's tennis is ready for big year in 2013-14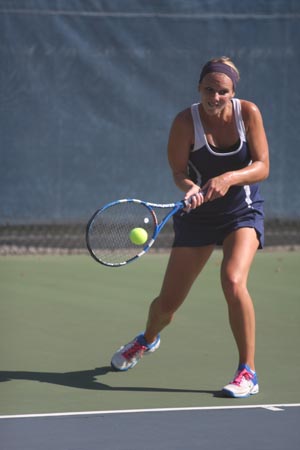 Senior Emily Kaczmarek earned all-conference honors in the College Conference of Illinois & Wisconsin last year as Augustana compiled a 16-9 overall record and a 5-1 mark in the league. The Vikings return seven letter winners heading into the 2013-14 season.
After compiling mark of 16-9 overall and 5-1 in the College Conference of Illinois & Wisconsin last year, the future is extremely bright for the Augustana women's tennis team heading into 2013-14. Third year head coach Jon Miedema welcomes seven letter winners and a solid recruiting class that was close to being in the top 25 nationally as he looks forward to the upcoming year.

"We have a great combination of veteran players, who have achieved during their careers, with a tremendous recruiting class and I think the future for this year is great," said Miedema. "I think we can have a great year and I am excited to get started."
Senior Kim Sawyer (Batavia HS, Batavia, Ill.) is back for her final season and she is already the school record holder for career singles victories with 82 and winning percentage at .820 (82-18). Last year she went 26-4 at number one singles and won the number one singles title in the CCIW and taking home "Player of the Year" honors in the conference.
"Kim has had a phenomenal career and I am looking forward to watching her play her senior year," said Miedema. "She has been a tremendous leader and she has worked each year to get better."
Sawyer, a three-time all-CCIW pick, has been at number one singles for most of her career but there is plenty of depth on this team and Miedema is happy with that as he looks toward 2013. "We will be a solid team from top to bottom and I think that will translate into success this season," he said.
Two seniors, Emily Kaczmarek (Glenbard South HS, Lombard, Ill.) and Mariah Bardo (Sterling HS, Sterling, Ill.) will play important roles this year. Kaczmarek went 12-18 in 2012-13 and finished third in the CCIW tournament at number two. She was a second-team all-conference selection at the end of the year. Bardo was 9-7 while playing mostly at number five singles.
Sophomore Aileen MacDonald (Mundelein HS, Mundelein, Ill.) came through in a big way during her first collegiate campaign as she went 19-10 while performing at numbers three and four singles. She finished second in the CCIW at number four singles.
Juniors Miranda Pence (Oswego HS, Oswego, Ill.) and Chelsea Lavin (Downers Grove South HS, Downers Grove, Ill.) played together at number two doubles a year ago and compiled an 11-8 record. Miedema is looking forward to seeing their progress this season.
Senior Caitee Margenthaler (Moline HS, Moline, Ill.) has earned two letters during her career and she was 6-7 in doubles play in 2012-13.
The website TennisRecruiting.net listed the current Augustana recruiting class as honorable mention, just outside the top 25 for the upcoming year. Tops among the newcomers will be twins Dana and Lauren Goggin (Buffalo Grove HS, Arlington Heights, Ill.), Vicki Andonova (Downers Grove South HS, Westmont, Ill.) and Amy Even (Downers Grove South HS, Downers Grove, Ill.).
The Vikings were 8-3 in the fall of 2012, including a 5-1 mark in the CCIW that was good enough for second place. In the spring, Miedema's club went 8-6 for a final record of 16-9. In his two years as the head coach, Miedema has compiled an overall record of 31-20.