July 29, 2013
After 20 wins in 2012, Vikings look for more this year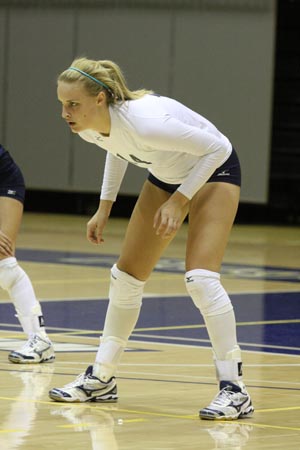 Junior Emily Leazer led the team in kills and digs a year ago and was selected as the Most Outstanding Player in two tournaments. She was also named to the all-conference team in the College Conference of Illinois & Wisconsin.
After posting a 20-11 overall record in 2012, the most wins by an Augustana team since a 23-12 campaign in 2008, the Vikings of fourth year head coach Jamie Eickman are understandably optimistic heading into the 2013 season. A total of 12 letterwinners and all but one starter are back and the excitement and expectation is high.

"We made great strides last year as a team in winning 20 matches for the first time in four years and that has really helped our entire program," said Eickman. "I think that our returning players continued to improve in the off-season and the incoming freshman class has some talented individuals who will help immediately."
The Vikings have been a young team during most of Eickman's tenure but the roster this year shows two seniors and eight juniors and she saw the difference during the off-season.
"We had some success on the court last fall and then our veteran players made sure that it carried through during our winter workouts and our spring practices," said Eickman. "We also used out trip to the Dominican Republic at the end of May as part of this building process."
Junior Emily Leazer (St. Viator HS, Mt. Prospect, Ill.) is coming off a sophomore season where she led the team in kills with 397 in 110 games for a 3.61 per set average. She also led the team with 100 service aces and was second in digs with 317. She was the Vikings' Most Valuable Player and was a second team all-conference selection in the College Conference of Illinois & Wisconsin. She was also the MVP of both the Alverno Classic and the Pumpkin Bash and was also on the all-tournament team at the Augustana Invitational.
Leazer ended up sixth in NCAA Division III in service aces per game and 15th in points with 4.77 per set. She will be joined on the outside by sophomore Martha Murray (Evanston HS, Evanston, Ill.). Murray was second on the team in kills a year ago with 227 in 94 games for a 2.41 average.
On the right side will be junior Dory Dudley (Tremont HS, Tremont, Ill.) and senior Morgan Stittleburg (Black River Falls HS, Black River Falls, Wis.). Dudley was third in kills with 211 in 102 games for a 2.07 average and she posted the best hitting percentage on the squad at .322. Stittleburg recorded 42 kills in 54 games last year.
Sophomore Jordan Hampel (Hilliard Davidson HS, Hilliard, Ohio) took over the setter position early in her freshman year and finished the season with 859 assists for an average of 8.26 per game. She also contributed 222 digs and 37 service aces. Junior Stephanie Petkovsek (Lisle HS, Lisle, Ill.) and sophomore Katie Canning (Downers Grove North HS, Westmont, Ill.) could be contributors as well. Senior Katrina Colclasure (Tri-Valley HS, Bloomington, Ill.) has been a regular both at setter and as a defensive specialist throughout her career but a mid-summer knee injury has left her status for 2013 in doubt.
Junior Samantha Kammerman (Sherrard HS, Milan, Ill.) was a fixture at middle hitter in 2012 when she played in 100 games and recorded 110 kills (1.10 avg.) and had 48 total blocks. She was voted the winner of the "Augie Award" for spirit and dedication at the end of the season. Junior Katie Keller (Addison Trail HS, Addison, Ill.) and sophomore Paige Smith (Buffalo Grove HS, Buffalo Grove, Ill.) will also see action in the middle.
Sophomore Kylie Siebert (Kaneland HS, Sugar Grove, Ill.) was Augustana's "Freshman of the Year" and she led the team in digs with 475 from her libero position. She also contributed 79 setting assists and 39 service aces. Her average of 4.44 digs per game was the 10th highest single season average in Augustana volleyball history. Junior Julee Morrison (Chaparral HS, Scottsdale, Ariz.) was voted "Most Improved Player" in 2012. Junior Amber Dalgaard (Antioch HS, Antioch, Ill.) will also be in the mix for playing time as a defensive specialist or libero.
"The strength of this team is its resilience," said Eickman. "We have some kids who have played a lot of volleyball and they know how to play with confidence. We have such strong character among our players and that certainly helps. We also have some incoming freshmen who will be able to make an impact right away and that will be fun to see."
Another intangible that Eickman is counting on comes from the Vikings' trip to the Dominican Republic at the end of May. It marked the first-ever international venture for Augustana volleyball and it gave the team an opportunity to investigate new cultures and compete in varying elements. A total of 13 players went on the trip and it provided Eickman with a sneak preview of what it to come for her team.

"I thought the trip went well," she said. "We played four matches and face some very good competition. It was a chance for us to see the strides we made in the off-season. I think it will really help heading into the upcoming season."