Biodiversity Day set for Aug. 31
July  26, 2013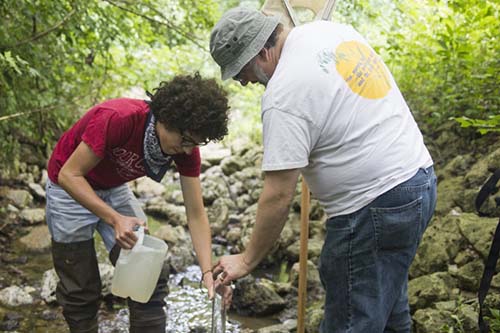 As part of a summer research project, senior biology major Carlisle Evans Peck, left, collects water samples from a Mississippi River stream alongside professor Kevin Geedey. (Photo gallery)
Augustana's Upper Mississippi Studies Center (UMSC) will partner with River Action on Saturday, Aug. 31, from 8 a.m.-5 p.m., to host Biodiversity Day at Green Valley Nature Preserve, 5920 52nd Ave., Moline. The free public event will celebrate the biodiversity of local area while engaging professionals and the public in a comprehensive inventory of species.
The event will mark the final phase of a summer research project involving Augustana students, faculty and the UMSC. The team has worked with the cities of Moline and Rock Island to assess the health of 13 urban watersheds.
At Biodiversity Day, experts and non-experts will work side-by-side to assess the current health of the urban forests, wetlands and green spaces through which streams flow. Two of the urban streams studied this summer flow into the Green Valley Nature Preserve, before ultimately discharging into the Rock River.
"We will use the information from Biodiversity Day to further assess the ecosystem goods and services – things like water capture, storage and release, wildlife habitat, and nutrient and pollution filtration," said Dr. Michael Reisner, director of the UMSC. "The information gained will serve as a benchmark, helping in the future as a basis to measure the effectiveness of site improvements."
Dr. Reisner notes this is the first comprehensive inventory study to be done at this site and will help site managers in planning and assessing conservation measures.
River Action currently is working with the Illinois Environmental Protection Agency to restore eight acres of wetland and a stream at the Green Valley Nature Preserve. The restoration is part of a Rock River Watershed project to reduce nonpoint source pollution, a leading cause of water quality problems.
The UMSC is an academic center that was started in early 2013 thanks to a grant from the Margaret Cargill Foundation. The center aims to connect people outside of the college to students and faculty from various academic backgrounds who are studying the Mississippi River.
Under Dr. Reisner, UMSC currently is focused on sustainability science. He is helping community members to recognize that the long-term health of Quad-Cities waterways is critical to both our economic vitality and our well-being.
Dr. Reisner earned his Ph.D. in ecosystem and restoration ecology from Oregon State University, and his J.D. from the University of Oregon School of Law. In Montana, he helped to negotiate an agreement between miners and conservation groups that helped to create about 1,000 family-wage jobs in the rural area, without degrading the water or air quality. At the University of Wisconsin, his work focused on creating more sustainable energy systems for the upper Midwest. Along the way, he helped to build better relationships between the academic community and the broader community outside—businesses, neighborhoods and conservation groups.
"We have to stop looking for panaceas or silver bullets," Dr. Reisner said. "Our communities face complex challenges that involve interactions between social, economic, institutional and environmental dimensions. We need to work collaboratively to develop and implement complex solutions."
About Biodiversity Day
First, register online at www.riveraction.org. Spaces are limited.
Spots are available in the morning, from 8 a.m.-noon, and in the afternoon, from 1-5 p.m. You can sign up to inventory plants, soil, reptiles and/or amphibians.
You can also sign up for a natural history tour or a Rock River boat ride.
Additionally, from noon to 1 p.m., Ellis Kell will be performing music.
Sam Schlouch
Senior Communication Director
(309) 794-7833
samschlouch@augustana.edu