July 25, 2013
Paul Olsen elected to USTFCCCA Hall of Fame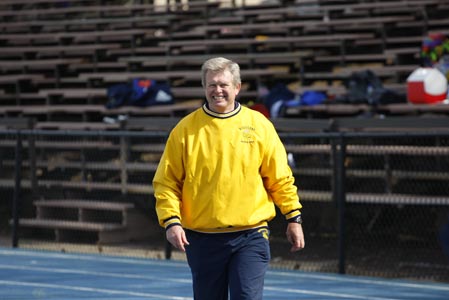 Augustana men's cross country and track & field coach Paul Olsen will be inducted into the USTFCCCA Hall of Fame later this year.
Augustana men's cross country and track & field head coach Paul Olsen will be inducted into the United States' Track & Field and Cross Country Coaches Association (USTFCCCA) Hall of Fame this year. Olsen will be in a class with five other coaches: Ron Allice (USC, Cal Poly Pomona, Long Beach State and Long Beach City College), Al Cantello (Navy), Dennis Craddock (North Carolina and Virginia), Curtis Frye (South Carolina) and Jim Hunt (Humboldt State, UC Davis and Sierra College).

Olsen has been one of Augustana's mainstays ever since taking over the cross country program in 1966. Since then, he has spent 47 years as the men's cross country coach and 45 years as the men's track and field coach. Both of his teams have seen great success while being led by Olsen.
During his tenure as cross country coach, his teams have appeared in the Division III championships 24 times, including ten top-10 finishes, the best of which was a runner-up finish in 1980. He has also helped 24 individual runners earn All-America honors, including three national champions. Olsen's Vikings have seen just as much success on a conference level. Olsen won back to back CCIW titles in 1969 and 1970 and has finished runner-up in the conference 28 times. During his time, the Vikings have never finished lower than fourth in the CCIW standings. Augustana has also won 7 individual conference titles under Olsen.
Olsen's track and field teams have been equally as impressive as his cross country teams. Since taking over the program in 1969, the Vikings have had 13 top-10 finishes at outdoor nationals, including runner-up finishes in both 1975 and 1981. Augustana also had a streak of five straight top-10 finishes from 1992 to 1996. In addition to his outdoor success, Olsen's squads have also posted four top-10 finishes indoors. In all, Olsen has coached 22 national champions and 162 All-America selections in his time as men's track and field coach. On a conference level, Olsen has led his Augustana teams to 12 CCIW championship titles with the most recent one coming in 2010. The Vikings have also won 213 individual CCIW titles and 27 relay titles outdoors, and 31 individual CCIW titles and 7 relay titles indoors.
In addition to coaching both men's cross country and track and field, Olsen teaches in the English department at Augustana. He has been honored by the American Association for Higher Education for his work in the classroom.
The USTFCCCA Hall of Fame was started in 1995 to honor coaches who "exemplify the qualities of dedication to the sport, leadership and passion for their profession that serve as an inspiration to coaches everywhere in the sport." Olsen will be elected in the USTFCCCA Hall of Fame in a ceremony that will take place on Monday, December 16, at the USTFCCCA Convention in Orlando, Florida.
Written by student assistant Leo Anderson