July 19, 2013
Men's basketball wins NABC academic honor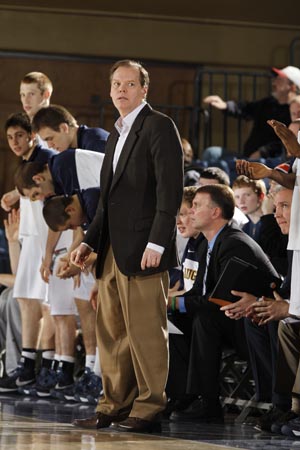 Veteran head coach Grey Giovanine's Vikings compiled a 3.03 cumulative grade point average in 2012-13 and were named as one of just 97 teams across the nation in the Team Academic Excellence Award program by the National Association of Basketball Coaches.
Augustana has been piling up victories on the court during Grey Giovanine's tenure as the head men's basketball coach, which began in 1999-00. Now, the Vikings are reaping an award for work in the classroom as well as they were honored as one of just 97 teams nationwide (all divisions) in a brand-new program sponsored by the National Association of Basketball Coaches (NABC).

Today, the NABC released its inaugural Team Academic Excellence Awards, created by the NABC Committee on Academics. These awards recognize outstanding academic achievement by a team with a cumulative grade point average (GPA) of 3.0 or better for the 2012-13 season.

Giovanine's Vikings, which finished the year with a 19-8 overall record on the court, compiled an overall grade point average of 3.03.
Giovanine will be entering his 15th season as the Augustana head coach in 2013-14. During that time his teams have compiled an overall record of 264-108 (.710) and a College Conference of Illinois & Wisconsin mark of 131-65 (.668). Under his direction the Vikings have won five CCIW titles (2003-07-08-09-11) and participated in four NCAA Division III tournaments.
In order to earn a NABC Team Academic Excellence Award, an institution must count the grade point averages of all men's student-athletes competing during the 2012-13 season in NCAA Division I, II, III, and NAIA Division I and II.