July 19, 2013
Seven Academic All-Americans this year keeps Augustana in sixth place nationally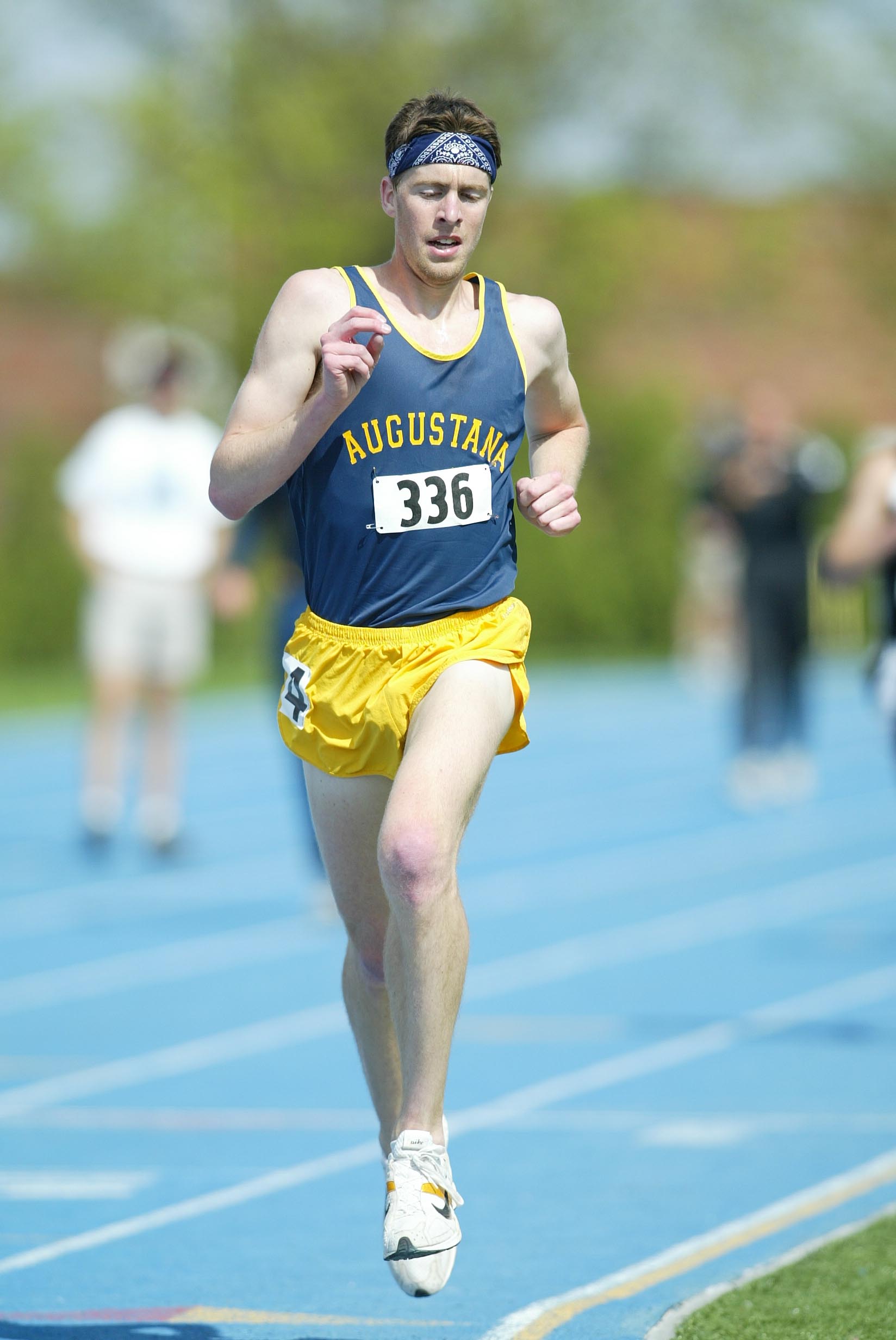 Nick Johnson is part of the legacy that is Augustana's success in producing Academic All-Americans. A steeplechaser and an NCAA Division III All-American in that event in 2006, Johnson is the only four-time Academic All-American in the history of the program, which is run by the College Sports Information Directors of America. He was also the winner of an NCAA Postgraduate Scholarship in 2006.
Augustana has long been a leader in championing the combination of athletic success and academic excellence. Nowhere is that more evident than in the all-time ranking of the Academic All-America team. Run by the College Sports Information Directors of America (CoSIDA) and currently sponsored by Capital One, the Academic All-America program began in 1952.

The program encompasses every college or university in the nation and Augustana currently ranks sixth on the all-time list in terms of the number of Academic All-America selections produced. Over 1,100 institutions have landed at least one student-athlete on the elite team and Augustana's current total of 146 places the Vikings in prestigious company.
Leading the way is Nebraska with 307 while Notre Dame is second with 231. Massachusetts Institute of Technology holds down the third spot with 204 while Penn State is fourth with 182 and Stanford is in fifth with 176. Augustana's figure of 146 holds down sixth and rounding out the top 10 is Emory (144), Nebraska Wesleyan (142), Florida (127) and Bucknell (125).
During the recently concluded 2012-13 school year, a total of seven Augustana student-athletes were named to the Capital One Academic All-American team. In the fall, junior linebacker Erik Westerberg (York HS, Elmhurst, Ill.) and junior soccer defender Maggie Hoscheit (St. Charles East HS, St. Charles, Ill.) were named in football and women's soccer respectively.
Senior pitcher Ben Heaton (Bloomington Central Catholic HS, Heyworth, Ill.) was a first team selection in baseball to give the Vikings their third winner of the year.
A few weeks after Heaton was picked, the men's track & field team landed four on the Academic All-American team. Senior Greg Patton (Bloomington HS, Bloomington, Ill.) was a first teamer and senior Jonathan Smith (Moline HS, Moline, Ill.) was named to the second team. Junior Josh Eisenberg (Richmond-Burton HS, Spring Grove, Ill.) and sophomore David Voland (Batavia HS, Batavia, Ill.) were both on the third team. Augustana has taken over the national lead in number of men's track & field/cross country Academic All-Americans produced with 21, two ahead of runner-up Calvin's second place total of 19.
Augustana has landed at least one Academic All-American each year since 1983, giving the Vikings a streak of 30 straight years where they have had an honoree. Since the turn of the century (2000), a total of 58 athletes who wore the Blue & Gold have been honored as Academic All-Americans. Augustana is currently ranked second among NCAA Division III institutions, trailing only MIT and the Vikings sit atop the College Conference of Illinois & Wisconsin in number of Academic All-Americans produced.
Two former Augustana athletes, Ryan Carpenter (Naperville North HS, Naperville, Ill.) and Bryan Welder (McHenry HS, McHenry, Ill.) were named Academic All-Americans of the year. Carpenter, who played football and competed in track & field as a shot putter, was selected in the at-large category in 1995 and Welder, a second baseman, was the pick in baseball in 1997. The Vikings have also produced the only four-year winner in the history of the program when distance standout Nick Johnson (Lincoln-Way Central HS, Frankford, Ill.) was chosen as an Academic All-American in track & field from 2003 through 2006.
The College Sports Information Directors of America (CoSIDA) selects Academic All-America teams in 12 programs: football, women's volleyball, men's soccer, women's soccer, men's basketball, women's basketball, baseball, softball, men's track & field/cross country, women's track & field/cross country, men's at-large and women's at-large. A first team, second team and third team are selected in four divisions (NCAA I, NCAA II, NCAA III and NAIA/Junior Colleges). Football consists of just first and second teams.
To be nominated, the student-athlete must be a starter or important reserve with at least a 3.20 cumulative grade point average (on a 4.0 scale) for his/her career. No athlete is eligible until he/she has reached sophomore athletic and academic standing at his/her current institution (thus, true freshmen, red-shirt freshmen and ineligible transfers are not eligible). In the cases of transfers, graduate students and junior college graduates, the athlete must have completed one full academic year at the nominating institution to be eligible.
TOP 10 ALL-TIME COSIDA ACADEMIC ALL-AMERICA RANKINGS (1952-2013)
| | | |
| --- | --- | --- |
| RANK | SCHOOL | NUMBER OF SELECTIONS |
| 1. | Nebraska | 307 |
| 2. | Notre Dame | 231 |
| 3. | Massachusetts Institute of Technology | 204 |
| 4. | Penn State | 182 |
| 5. | Stanford | 176 |
| 6. | AUGUSTANA | 146 |
| 7. | Emory | 144 |
| 8. | Nebraska Wesleyan | 142 |
| 9. | Florida | 127 |
| 10. | Bucknell | 125 |