July 18, 2013
After CCIW runner-up in 2012, Vikings look for more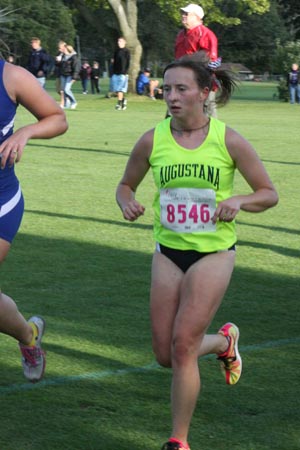 Senior Kristen Whiteside will be one of two co-captains for the 2013 Augustana women's cross country team.
Despite the fact that his team lost one of the best distance runners in Augustana history, Vikings' head coach Fred Whiteside is optimistic heading into the 2013 season. Although Sarahbeth Jones graduated after a tremendous career, Whiteside thinks his team, which placed second in the College Conference of Illinois & Wisconsin and ninth in the NCAA Midwest Regional last year, has plenty of returning runners to pick up the slack.

"We should be pretty good," said Whiteside. "There is no question that losing Sarahbeth hurts but we have good people coming back and our recruiting class was top-notch."
Besides Jones, who won an NCAA Postgraduate Scholarship last year, the Vikings will be without graduated top-seven performers Tara Bistry and Kirstillyn Pohlman. However, the cupboard is far from bare.
Junior Jessica Bacon (Rock Island HS, Rock Island, Ill.) was the number two runner throughout the 2012 campaign and in track she ran under the existing school records in both the 1500 and the 3000 and recorded the third fastest 5000 time in school history. She was a finalist in the NCAA Division III national track meet in the 1500, placing 10th. Seniors Kate Benge (Pleasant Valley HS, Bettendorf, Iowa) and Kristyn Barton (York HS, Elmhurst, Ill.) both finished in the top 20 of the CCIW last fall. The other returning member of the team who was in the top seven last year is junior Lizzie Lundine (Willowbrook HS, Villa Park, Ill.) who was a place winner in the CCIW in both the indoor and outdoor track championships.
Junior Becca Sund (Palatine HS, Palatine, Ill.) had a very good freshman year when she was voted the team's Newcomer of the Year and if she is healthy in 2013 she will be a threat to be in the Vikings' top five. Seniors Kristen Whiteside (Zion-Benton HS, Winthrop Harbor, Ill.) and Amanda Pease (United Township HS, East Moline, Ill.) both placed in the CCIW steeplechase in the conference meet last spring. Another senior, Kelsey Stockert (Peoria Notre Dame HS, Mapleton, Ill.) is poised for a good year.
A trio of sophomores, Hana Lobsinger (Wheaton-Warrenville South HS, Wheaton, Ill.), Rachel Rodriguez (Mahomet-Seymour HS, Mahomet, Ill.) and Jeneen Schier (Oregon HS, Oregon, Ill.) were impressive in their first collegiate seasons. They shared the team's Most Valuable Freshman trophy in 2012. Junior Stephanie Burbidge (Palatine HS, Palatine, Ill.) was in the hunt for a top-seven position through the middle of last year and she could be in the mix this season.
Senior Emma Grandgeorge (Sycamore HS, Sycamore, Ill.), and juniors Rachel Kelly (Downers Grove South HS, Downers Grove, Ill.), Kris Bowen (Kaneland HS, Elburn, Ill.) and Lorraine Stamberger (LaMoille HS, LaMoille, Ill.) are all returning letter winners. Senior Catherine Pittman (Mahomet-Seymour HS, Mahomet, Ill.) shared the Most Improved Runner award last fall.
Whiteside thinks his freshman class, which numbers 14 runners, is very talented. Kristen O'Malley (York HS, Elmhurst, Ill.), Katrina Friedrich (Downers Grove South HS, Downers Grove, Ill.) and Brenna German (Pleasant Valley HS, Bettendorf, Iowa) figure to have the best shots at cracking the Augustana top seven. Captains for 2013 will be Barton and Kristen Whiteside.
"We are really looking forward to the 2013 season," said Whiteside, who will enter his 32nd season as the Vikings head coach. "Several people made great strides last year and it will be fun to see them continue to grow this year. Our schedule is challenging and once again it will give plenty of athletes the opportunity to compete and show what they are made of. As always, our goal is to perform well in the CCIW and I think we have the kind of team that can compete well with others in the conference."