Engineering physics adds 3-D printer
July  16, 2013
A new 3-D printer at Augustana layers heated Lego-like plastic to make three-dimensional objects and enhance the experience of studying engineering at the college.
Augustana purchased a Stratasys UPrint Plus SE in April, and it was recently installed. Funds from Augustana's Kresge Science Endowment helped cover the $25,000 cost.
According to Dr. Joshua Dyer, assistant professor of engineering physics, 3-D printers are becoming more popular, accessible and important to students studying engineering.
Dr. Dyer said students in his engineering design course will be among the first to benefit. For the course, students choose a product to "tear apart, redesign and improve." He said, "Now, when they improve the product, they will be able to print a replacement part and demonstrate the improvement physically."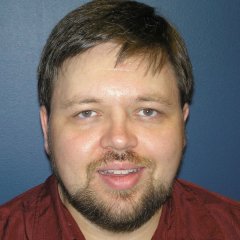 Dr. Joshua Dyer
He continued, "For the long term, the future for this type of technology is very exciting. While we are currently fabricating parts out of plastic, other printers – much more expensive ones – can fabricate things out of metal and other materials."
Dr. Dyer described how researchers are working on fabricating items out of biological tissue. "The work is promising. The idea is to take a sample of a patient's DNA, and grow human tissue that could then be used to print a replacement organ guaranteed not to be rejected since the DNA matches."
Here and now the possibilities are impressive too. Dr. Dyer explained his plan to offer 3-D printing services to area businesses, saying, "Any business that wants to do rapid prototyping could make it happen with us."
If a company is designing a part or product and needs a sample, Augustana students, along with their professor, will be able print it for them. Dr Dyer noted, "The parts we would create are for design purposes, not production. But it would certainly provide proof of concept, and allow analysis of design."
Augustana's printer will build a single 8-by-8-by-6-inch part. If a larger part is desired, the software for the printer will take the part and cut it into multiple pieces, which can be bonded together.
Dr. Dyer said, "Bringing access to this type of technology to the Quad-Cities community helps our students and ensures there are no gaps in the education we provide to our engineering students."
Sam Schlouch
Senior Communication Director
(309) 794-7833
samschlouch@augustana.edu