July 8, 2013
Football prepares for trip to France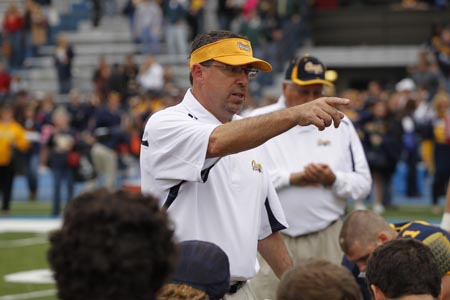 Augustana head coach Rob Cushman will take a contingent of Vikings to France and play the French National Team on Saturday, July 27 in Lille, France.
Rob Cushman calls his Augustana football team's upcoming trip to France a "two-fold winner" as his squad will benefit from a combination of international travel as an educational experience and a chance to get a jump-start on the 2013 season in terms of practice and preparation. The Vikings will depart from Chicago's O'Hare International Airport on July 23 and travel to France with a game against the French National Team on July 27 highlighting the trip.

Augustana is teaming up once again with Global Football and this will be the fifth time since 1999 that the Vikings have ventured into international waters. The Blue & Gold's first trip abroad was in 1999 to Sweden and Finland under then head coach Tom Schmulbach. In 2004 the Vikings went to Italy while in 2007 the journey took them to the Czech Republic and in 2010 the destination was Switzerland and Austria. Those three trips were under the direction of head coach Jim Barnes.
"The international component offers our young men a great educational opportunity," said Cushman, who will be entering his third season at the Augustana helm. "France, of course, is a tremendous destination that plenty of people aspire to get to during their lifetimes. Our traveling party will learn a lot and will see quite a bit in a compacted period of time."
Cushman is also excited about the football opportunity for his team after the Vikings won four of their final five games in 2012 to finish the year 5-5 overall and 4-3 in the College Conference of Illinois & Wisconsin.
"The 10 practice days that are allowed by the NCAA for teams taking international trips will allow us to work on aspects of our game that will help us be more successful," he said. "The extra practice reps and the game situation against a very good French National Team will help our team heading into 2013."
The Augustana contingent, which will consist of 46 players, six coaches and an athletic trainer, will visit such historic places as Normandy and the D-Day invasion site, Monet's House in Giverny, and all the sights and sounds of Paris. Included in the Paris visit will be the Palace of Versailles, Eiffel Tower, Louvre Museum, Notre Dame Cathedral and the River Seine. The game against the French National team will take place in the city of Lille at the Stadium Lille Metropole in Villeneuve d'Ascquon on Saturday, July 27.
"Our game against the French National Team will be very tough," said Cushman. "We will be playing an all-star team made up of the best players in France's club league and the season ended for them in late June so they will be in pretty good shape."
The French national team boasts a rich history and this game will be part of the preparation for the 2014 European Championships. The French are coached by Larry Legault and in 2011 finished sixth in the 2011 IFAF World Championship of American Football held in Vienna.
Cushman is happy that once again the Vikings will be connected with Global Football, which has produced American football games and events in 20 different nations on six continents around the world.
"We are excited to once again be a part of Global Football," he said. "Our experiences in the past have been tremendously informative and our entire traveling party has always enjoyed itself. This is a great part of the entire learning process for our student-athletes and we look forward to playing in France."
The preparation for the trip has been taking place both in the classroom as well as on the playing field. The players going to France took a five-week, 10-hour class with Augustana professor Chadia Chambers-Samadi this spring. During that time they were immersed in the French culture as well as learning about geography, history, language and cuisine. This has given the group a working knowledge of what to expect during the nine days in France.
"We learned a lot during our classroom preparation this spring and Dr. Chambers-Samadi did a tremendous job in preparing our players," Cushman remarked. "We will be much better off because of her knowledge."
In terms of practice preparation, the Vikings had their first practice on Sunday, July 7 and will come back to campus on Friday, July 12 for four practices in three days. They will return on Friday, July 19 for another dose of four practices in three days, including a scrimmage on Saturday, July 20 at 10:00 a.m.
The Augustana team will report back to campus on Wednesday, August 14 to begin pre-season practices in preparation for the 2013 season. The first game of the 2013 campaign is set for Saturday, September 7 at 6:00 p.m. against Mt. St. Joseph in the inaugural game in the Knowlton Outdoor Athletic Complex.
AUGUSTANA ITINERARY FOR TOUR OF FRANCE - July, 2013
Tuesday, July 23 - Fly overnight to Paris
Wednesday, July 24 - Nomandy (Monet's House & Garden in Giverny...Welcome Dinner in Bayeux)
Thursday, July 25 - Normandy (Caen Peace Memorial & Museum...D-Day Invasion Beaches Excursion)
Friday, July 26 - Lille (Walking tour in Rouen)
Saturday, July 27 - Lille (Sightseeing in Lille...Game against French National Team...Post-game social)
Sunday, July 28 - Paris (Chateau de Compiegne)
Monday, July 29 - Paris (Sightseeing tour of Paris...Louvre Museum...Eiffel Tower)
Tuesday, July 30 - Paris (Palace of Versailles...Awards Dinner...Seine River Cruise)
Wednesday, July 31 - Return home
AUGUSTANA PRACTICE SCHEDULE IN PREPARATION OF TOUR OF FRANCE - July, 2013
Sunday, July 7 - 2:30 p.m. (Practice #1)
Friday, July 12 - 8:45 p.m. (Practice #2)
Saturday, July 13 - 10:00 a.m. (Practice #3)...4:00 p.m. (Practice #4)
Sunday, July 14 - 10:00 a.m. (Practice #5)
Friday, July 19 - 8:45 p.m. (Practice #6)
Saturday, July 20 - 10:00 a.m. (Practice #7 with intrasquad scrimmage)...4:00 p.m. (Practice #8) Sunday, July 21 - 10:00 a.m. (Practice #9)
Tuesday, July 23 - Depart for France
2013 AUGUSTANA VIKINGS FOOTBALL ROSTER - Trip to France
| | | | | | | |
| --- | --- | --- | --- | --- | --- | --- |
| NO | NAME | POS | HT | WT | YR | HOMETOWN/HIGH SCHOOL |
| 02 | Samuel Frasco | QB | 5-11 | 170 | Fr | Mount Prospect, Illinois/HS |
| 09 | Eric Josupait | WR | 6-0 | 180 | So | Aurora, Illinois/Waubonsie Valley |
| 12 | Chris Salazar | QB | 6-1 | 195 | Fr | Plainfield, Illinois/Providence Catholic |
| 13 | Kyle Snow | WR | 5-7 | 165 | Jr | Wheaton, Illinois/Wheaton Warrenville South |
| 17 | Benjamin Fornek | DB | 5-11 | 180 | So | Batavia, Illinois/HS |
| 18 | Sean Fitzgerald | WR | 5-10 | 150 | Fr | Manhattan, Illinois/Providence Catholic |
| 23 | Tim Maroder* | WR | 5-10 | 195 | So | Elgin, Illinois/Burlington Central |
| 24 | Jacob Puls | OLB | 6-0 | 185 | So | East Dubuque, Illinois/HS |
| 25 | Jacob Benner* | LB | 6-4 | 195 | So | Batavia, Illinois/HS |
| 26 | Jared Puls | RB | 5-10 | 175 | So | East Dubuque, Illinois/HS |
| 28 | James Fanning | DB | 5-8 | 175 | Fr | Fort Collins, Colorado/Fossil Ridge |
| 29 | Eric Chandler** | RB | 5-9 | 210 | Jr | Cary, Illinois/Cary Grove |
| 30 | Justin Gruca | DB | 5-8 | 190 | Jr | Wilmington, Illinois/HS |
| 31 | Bo Goshorn* | DB | 6-2 | 190 | So | Romeoville, Illinois/HS |
| 33 | Arnie Fitzwater*** | K | 6-3 | 215 | Sr | Waterford, Wisconsin/Waterford Union |
| 34 | Benjamin Hodges* | RB | 5-8 | 195 | So | Elburn, Illinois/St. Charles North |
| 36 | Jeremy Lensing | P/K | 5-11 | 180 | Fr | Manhattan, Illinois/Peotone |
| 37 | Mike McLean | OLB | 5-11 | 200 | Jr | Villa Park, Illinois/Willowbrook |
| 39 | Dylan Smith * | LB | 5-11 | 210 | Jr | Yorkville, Illinois/Aurora Christian |
| 41 | Erik Westerberg** (C) | LB | 6-3 | 210 | Jr | Elmhurst, Illinois/York |
| 42 | Mike O'Donoghue** | OLB | 6-1 | 205 | Jr | Mundelein, Illinois/HS |
| 43 | Ryan Coleman* | LB | 6-3 | 250 | Jr | Carol Stream, Illinois/Wheaton North |
| 46 | Josh Symbal | LB | 6-2 | 190 | Fr | Huntley, Illinois/HS |
| 48 | Sean Mulholland** | TE | 6-3 | 250 | Jr | Clinton, Iowa/HS |
| 54 | Will Hass* | DL | 6-3 | 250 | Jr | Algonquin, Illinois/Marian Central Catholic |
| 55 | James Stratton* | LB | 6-0 | 220 | Jr | Sherrard, Illinois/HS |
| 56 | Anthony Roome* | OL | 6-2 | 280 | So | Geneseo, Illinois/HS |
| 57 | Sean McIntyre* | DE | 6-2 | 245 | So | Genoa, Illinois/Genoa-Kingston |
| 58 | John Joyce | LB | 5-10 | 215 | Jr | Witt, Illinois/Hillsboro |
| 59 | Alex Anderson* | OL | 6-2 | 260 | So | Geneseo, Illinois/HS |
| 62 | Eric Dratnol | OL | 6-1 | 250 | Jr | Montgomery, Illinois/Kaneland |
| 63 | Trace Wingo** | OL | 6-2 | 285 | Jr | Crystal Lake, Illinois/South |
| 65 | Jon Losen | OL | 6-2 | 275 | So | Morton, Illinois/HS |
| 67 | Eric Link* | OL | 6-2 | 265 | Jr | Aledo, Illinois/Sherrard |
| 71 | Aaron Shuff | DE | 6-3 | 230 | Jr | South Barrington, Illinois/St. Viator |
| 75 | Dan Gregg | OL | 6-2 | 255 | Jr | Prospect Heights, Illinois/John Hersey |
| 78 | Greg Ferguson | OL | 6-2 | 280 | So | Plainfield, Illinois/South |
| 80 | Roman Shepard | WR | 6-0 | 185 | So | Davenport, Iowa/Assumption |
| 81 | Ryan Plunkett | LB | 6-0 | 190 | Jr | Wheaton, Illinois/Benet Academy |
| 83 | Derek Schneeman*** | WR | 6-2 | 200 | Sr | Streator, Illinois/HS |
| 86 | Marty Resner** | TE | 6-2 | 245 | Sr | Montgomery, Illinois/Oswego |
| 87 | Kyle Frake | WR | 6-0 | 200 | So | Clifton, Illinois/Central |
| 88 | Nick Krantz** | WR | 6-1 | 195 | Jr | Moline, Illinois/HS |
| 89 | Kevin Farley | LB | 6-2 | 195 | Jr | Wheaton, Illinois/North |
| 91 | Mike Roehrenbeck | DL | 6-0 | 230 | Jr | Gahanna, Ohio/Columbus Academy |
| 99 | Carl Hartweg* | DL | 6-3 | 280 | Jr | Carthage, Illinois/Illini West |
HEAD COACH: Rob Cushman ASSISTANT COACHES: Tom Casey (defensive coordinator), Jeff Lindmark (special teams coordinator/wide receivers), Brent Allen (offensive line), Aaron Call (defensive line), Jordan Malone (defensive backs). ATHLETIC TRAINER: Lori Anderson