July 8, 2013
Four named to WGCA All-American Scholar team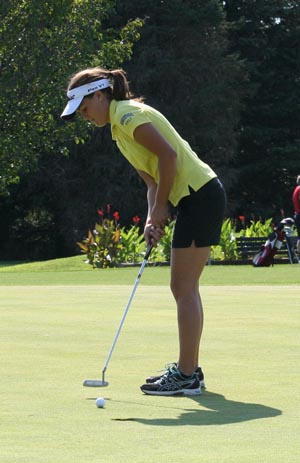 Rising sophomore Michelle Dempster was one of four Augustana women's golfers named to the Women's Golf Coaches Association All-American Scholar team for the 2012-13 season. She was joined by teammates Megan Vandersee, Jamie Lawrence and Samantha Barlage.
Four members of the 2012-13 Augustana women's golf team were named to the Women's Golf Coaches Association All-American Scholar team for the recently concluded season. Recent graduate Megan Vandersee (Sterling HS, Sterling, Ill.), senior-to-be Jamie Lawrence (Moline HS, Moline, Ill.), and sophomores-to-be Samantha Barlage (Marian Catholic HS, Lansing, Ill.) and Michelle Dempster (Mother McAuley HS, Oak Lawn, Ill.) were among jus 88 NCAA Division III athletes honored.
Vandersee put the finishing touches on a fine career for the Vikings by being named the team's Most Valuable Player. She led Augustana with an average round of 87.4 strokes with her lowest single score of the season being a 78 in the first round of the Maryville Spring Invitational on April 7. She also led the team with eighth top-10 finishes, five top-five performances and two individual tournament victories. Her wins came in the Mustang Fall Classic on September 22-23 and the Prairie Fire Spring Invitational on April 5.
She was named to the All-American Scholar team all four years and graduated in May with a degree in chemistry education and a 3.60 grade point average.
Lawrence was the individual medalist at the St. Ambrose dual, recording her low round of the season with an 81. She finished third on the team with an average of 90.5 strokes over 14 rounds in nine events. She also had top-10 finishes with a fourth (88) at the Augie Invite and a ninth (177 - 89+88) at the Mustang Fall Classic. She finished in a tie for 13th at the College Conference of Illinois & Wisconsin tournament.
Lawrence was voted the team's Most Inspirational Player for the second year in a row and also won the Sportswoman Award. She is an English and language arts major with a 3.75 grade point average.
Barlage played in 16 rounds in a total of 11 tournaments during her freshman year. She averaged 94.1 strokes and recorded four top-10 finishes. Her best round and top finish came at Monmouth's Fighting Scot Invitational, when she shot an 84 to tie for third.
She was named the team's Most Valuable Freshman and she completed her first year with a 3.32 grade point average while majoring in pre-medicine/biology.
Dempster averaged 94.2 strokes over 12 rounds in eight events. Her tie for sixth place in the Benedictine Invitational helped the Vikings to the team title and she shot her best round of the season with an 81 on the opening day. She is an elementary education major with a 3.55 grade point average.