Patton recipient of NCAA Postgraduate Scholarship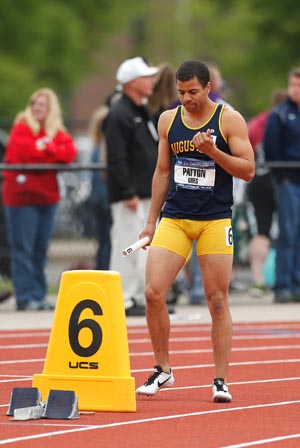 Greg Patton received the NCAA Postgraduate Scholarship for his excellence both in track and in the class room.
Greg Patton (Bloomington HS, Bloomington, Ill.) recently graduated from Augustana, but the accomplished sprinter continues to pull in honors as a result of his combination athletic and academic excellence. He was recently named the winner of an NCAA Postgraduate Scholarship for spring sports.

Patton was one of just 29 male athletes across all divisions to be awarded the postgraduate scholarship by the NCAA. The $7,500-dollar grant is awarded by the NCAA to "student-athletes who excel academically and athletically and who are in their final year of intercollegiate athletics competition."
Patton excelled both physically on the track and academically in the classroom during his four years at Augustana, which began in the fall of 2009. He is the 27th student-athlete in Augustana history to earn an NCAA Postgraduate Scholarship.
Less than three weeks ago he was named to the Capital One Academic All-America team as selected by the College Sports Information Directors of America. He was a first team selection on that prestigious team and was joined by teammate Jonathan Smith (Moline HS, Moline, Ill.), a second team selection. Josh Eisenberg (Richmond-Burton HS, Spring Grove, Ill.) and Dave Voland (Batavia HS, Batavia, Ill.) were named to the third team. These selections increase Augustana's number of Academic All-America selections to 146, which is sixth in the nation, regardless of division.
Patton had an impressive track career, both indoors and outdoors. In his senior year, Patton was the 400-meter conference champion in the indoor and outdoor meets. Patton also was a part of the 4X400 team that took second place in the national outdoor meet this year. For his career, Patton was a six-time All-American and a nine-time CCIW champion. He is also a member of three relay teams that set school records: the outdoor 4X100 (:40.88), the outdoor 4X400 (3:09.48) and the indoor 4X400 (3:16.88).
The son of Eunice and Greg Patton of Bloomington, Illinois, he graduated with a degree accounting and political science and had a 3.56 grade point average. Patton also minored in geography while attending Augustana.
Release written by student assistant Leo Anderson
2012-13 NCAA POSTGRADUATE SCHOLARSHIP WINNERS
| | | |
| --- | --- | --- |
| NAME | SPORT | SCHOOL |
| Nathan Anderson | Golf | North Dakota State |
| Brett Austin | Track & Field | Western Kentucky |
| Bjorn Barrefors | Track & Field | Nebraska-Lincoln |
| Shane Basen | Baseball | North Carolina-Charlotte |
| Kevin Caulfield | Tennis | Haverford |
| Lucas Cherry | Track & Field | Southern Illinois-Carbondale |
| Austin Cook | Golf | Arkansas-Fayetteville |
| Justin Creel | Baseball | Coastal Carolina |
| Benjamin Depo | Track & Field | Plattsburgh State |
| Brian Himelright | Track & Field | North Carolina State |
| Phillip Imholte | Baseball | St. Cloud State |
| Max Lang | Track & Field | Florida |
| Troy Larson | Baseball | Minnesota-Twin Cities |
| Eric Law | Lacrosse | Denver |
| Matthew Martin | Track & Field | Ohio Wesleyan |
| Thomas McCarthy | Baseball | Kentucky |
| Timothy McGurrin | Tennis | Scranton |
| Robert Page | Track & Field | Boston |
| Demetrios Pagonis | Track & Field | Davidson |
| Greg Patton | Track & Field | Augustana |
| Mike Pelletier | Volleyball | Springfield |
| Parker Petty | Track & Field | Abilene Christian |
| Mark Quaranta | Baseball | Mount St. Mary's |
| Thomas Rouse | Volleyball | Ball State |
| Anthony Sherbakov | Tennis | California-Davis |
| John Straka | Baseball | North Dakota State |
| Matthias Treff | Track & Field | Virginia Polytechnic Institute & State University |
| Victor Valente | Tennis | Georgia State |
| Dawson Vorderbreugge | Track & Field | California State-Stanislaus |
AUGUSTANA ATHLETES WHO HAVE EARNED NCAA POST GRADUATE SCHOLARSHIPS
| | | |
| --- | --- | --- |
| YEAR | ATHLETE | SPORT |
| 1968 | Jeff Maurus | Football |
| 1970 | Tim Dodge | Wrestling |
| 1971 | Ken Anderson | Football |
| 1975 | Bruce Hamming | Basketball |
| 1976 | John Stanek | Men's Track & Field |
| 1977 | Joe Thompson | Football |
| 1986 | Steve Sanders | Football |
| 1995 | Rachel Knapp | Women's Track & Field |
| 1995 | Tommy King | Football |
| 1996 | Ryan Carpenter | Football |
| 1998 | Alison Wolak | Women's Track & Field |
| 1998 | Chris Meskan | Football |
| 2000 | Mackenzie Hay | Football |
| 2001 | Kim Baier | Women's Track & Field |
| 2002 | Rudy Kovachevich | Men's Cross Country |
| 2003 | Todd Baldwin | Football |
| 2004 | Manda Geerts | Women's Track & Field |
| 2005 | Steve Broski | Baseball |
| 2006 | Nick Johnson | Men's Track & Field |
| 2007 | Meghan Voiland | Women's Track & Field |
| 2007 | Samantha Knox | Softball |
| 2009 | Keli Coleman | Women's Track & Field |
| 2009 | John Wagle | Baseball |
| 2009 | Blaine Westemeyer | Football |
| 2010 | Max Petersen | Men's Track & Field |
| 2012 | Matt Bowman | Men's Track & Field |
| 2013 | Greg Patton | Men's Track & Field |
| 2013 | Sarahbeth Jones | Women's Track & Field |