Jones wins NCAA Postgraduate Scholarship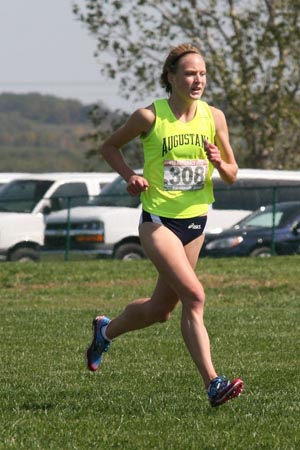 Sarahbeth Jones was recently awarded the NCAA Postgraduate Scholarship for her accomplishments on the track and in the class room.
Sarahbeth Jones (Warren Township HS, Wadsworth, Ill.) added to Augustana's growing number of NCAA Postgraduate Scholarship winners recently. The talented distance runner was the second Viking this spring to be named the winner of an NCAA Postgraduate Scholarship for spring sports. She joins men's track & field standout Greg Patton (Bloomington HS, Bloomington, Ill.) as Augustana award winners for this prestigious honor.

Jones was one of just 29 female athletes across all divisions to be awarded the postgraduate scholarship by the NCAA. The $7,500-dollar grant is awarded by the NCAA to "student-athletes who excel academically and athletically and who are in their final year of intercollegiate athletics competition."
Jones was excellent both as a distance runner on the track and as a student in the classroom during her four years at Augustana, which began in the fall of 2009. She is the 28th student-athlete in Augustana history to earn an NCAA Postgraduate Scholarship.
Just over four weeks ago, Jones was named to the Capital One Academic All-District team as selected by the College Sports Information Directors of America. She was a first team selection and was joined on that team by her teammate Kierra Smith (Creston HS, Creston, Iowa).
Jones put together one of the most decorated track careers in Augustana history. In her senior year, Jones was a three-time CCIW champion and set five school records, four individually. At the outdoor CCIW meet, she pulled off a rare double by winning both the 5000 and 10,000 meter races. For her career, Jones won a total of six CCIW championships and owns or is part of 11 school records. She just missed out on being an All-American in both her junior and senior years, placing ninth in the NCAA Division III 5000 in 2012 and ninth in the 1500 in 2013.
Sarahbeth is the daughter of Lewis and Elizabeth Jones of Glen Allen, Virginia. Jones graduated from Augustana with a degree in communication studies and English and had a grade point average of 3.60.
Release written by student assistant Leo Anderson
2012-13 NCAA POSTGRADUATE SCHOLARSHIP WINNERS
| | | |
| --- | --- | --- |
| NAME | SPORT | SCHOOL |
| Kayla Braud | Softball | Alabama |
| Leslie Brost | Track & Field | North Dakota State |
| Brigid Byrne | Track & Field | U.S. Naval Academy |
| Emily Canales | Track & Field | Redlands |
| Raven Chavanne | Softball | Tennessee |
| Jasmine DePompeo | Lacrosse | U.S. Naval Academy |
| Amy Dressen | Softball | Southwest Minnesota State |
| Elizabeth Evans | Track & Field | Rose-Hulman |
| Constance Ezugha | Track & Field | Arizona State |
| Maria Foehse | Tennis | Alabama |
| Olivia Galati | Softball | Hofstra |
| Kathryn Gross | Track & Field | Seattle Pacific |
| Brittany Hammer | Softball | Seton Hall |
| Sally Hansen | Track & Field | Utah Valley |
| Kaaren Hatlen | Softball | Pacific Lutheran |
| Kelsey Horton | Softball | Florida |
| Shari Huber | Softball | Luther |
| Sarahbeth Jones | Track & Field | Augustana |
| Laura Krull | Tennis | Grinnell |
| Jenny Liles | Tennis | University of the South |
| Jenna Martson | Softball | Missouri |
| Whitney McAteer | Golf | Northeastern State |
| Lindsay Menton | Lacrosse | Gettysburg |
| Ashley Olen | Lacrosse | LIU Post |
| Alexis Paine | Track & Field | Alabama |
| Hope Robbins | Softball | Arkansas |
| Leah Sack | Lacrosse | Kenyon |
| Holly Schell | Softball | Immaculata |
| Kara Wang | Tennis | Pomona-Pitzer |
AUGUSTANA ATHLETES WHO HAVE EARNED NCAA POST GRADUATE SCHOLARSHIPS
| | | |
| --- | --- | --- |
| YEAR | ATHLETE | SPORT |
| 1968 | Jeff Maurus | Football |
| 1970 | Tim Dodge | Wrestling |
| 1971 | Ken Anderson | Football |
| 1975 | Bruce Hamming | Basketball |
| 1976 | John Stanek | Men's Track & Field |
| 1977 | Joe Thompson | Football |
| 1986 | Steve Sanders | Football |
| 1995 | Rachel Knapp | Women's Track & Field |
| 1995 | Tommy King | Football |
| 1996 | Ryan Carpenter | Football |
| 1998 | Alison Wolak | Women's Track & Field |
| 1998 | Chris Meskan | Football |
| 2000 | Mackenzie Hay | Football |
| 2001 | Kim Baier | Women's Track & Field |
| 2002 | Rudy Kovachevich | Men's Cross Country |
| 2003 | Todd Baldwin | Football |
| 2004 | Manda Geerts | Women's Track & Field |
| 2005 | Steve Broski | Baseball |
| 2006 | Nick Johnson | Men's Track & Field |
| 2007 | Meghan Voiland | Women's Track & Field |
| 2007 | Samantha Knox | Softball |
| 2009 | Keli Coleman | Women's Track & Field |
| 2009 | John Wagle | Baseball |
| 2009 | Blaine Westemeyer | Football |
| 2010 | Max Petersen | Men's Track & Field |
| 2012 | Matt Bowman | Men's Track & Field |
| 2013 | Greg Patton | Men's Track & Field |
| 2013 | Sarahbeth Jones | Women's Track & Field |