July 3, 2013
Men's basketball announces 2013-14 schedule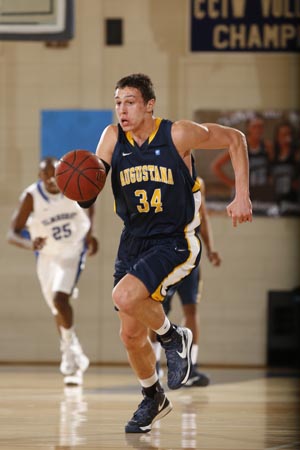 Ben Ryan made quite a splash in his debut season with the Vikings in 2013-14, earning NCAA Division III "Newcomer of the Year" honors while averaging 11.7 points and 6.8 rebounds per game. He was an all-conference selection in the College Conference of Illinois & Wisconsin and was the CCIW's "Rookie of the Year".
Coach Grey Giovanine's Augustana men's basketball team, which graduated two seniors from last year's 19-8 squad, will open the season on with a home game followed by five straight road contests. The 2013-14 schedule has been announced and the Vikings open on Friday, November 15 in the Carver Center against Chicago.

After the season opener, Augustana will play three straight games in Platteville, Wisconsin versus Wisconsin-Platteville, St. Olaf and Simpson over a stretch from November 19 through November 24. Road games at Knox (November 30) and Loras (December 4) are on the schedule before the Vikings come back to Carver for a December 11 game with Central of Iowa.
"Last year our young team made tremendous strides and this schedule is one that will allow our team to be prepared once the conference schedule starts in January," said Giovanine, who has compiled a record of 264-108 (.710) in 14 years at the Vikings' helm. His Augustana teams have won five College Conference of Illinois & Wisconsin titles and participated in four NCAA Division III national tournaments. "The five game road swing at the beginning will test our team and the three schools from the Wisconsin Intercollegiate Athletic Conference help make this a tough schedule."
The 11-game non-conference schedule includes only six opponents Augustana faced a year ago. The five new opponents will include home tilts against Central of Iowa on Wednesday, December 11 and Mount Saint Joseph on Wednesday, December 18. On the road, the Vikings will face St. Olaf and Simpson in Platteville, Wisconsin, and Wisconsin-Lacrosse in the Wisconsin Dells.
Augustana's two toughest non-conference tests will come against members of the Wisconsin Intercollegiate Athletic Conference, Wisconsin-Platteville and Wisconsin-Lacrosse. Wisconsin-Platteville finished the season 19-9 overall and 10-6 in the WIAC. The Pioneers then upset NCAA Tournament bound Wisconsin-Stevens Point before eventually falling in the WIAC championship game. Wisconsin-Lacrosse finished their 17-9 overall and also 10-6 in the WIAC, just barely missing out on the conference tournament.
The College Conference of Illinois & Wisconsin portion of the schedule will include six games against three 2012-13 NCAA tournament participants, all of which finished the season ranked in the top 25 by D3hoops.com, including two in the top 10. Defending regular season champion Illinois Wesleyan visits Carver Center on January 8 and hosts the Vikings on February 5. Wheaton, which finished third in regular season CCIW play, will host Augustana on January 11 and visit the Vikings on February 1. Augustana faces North Central, the CCIW's runner-up and tournament champion from a year ago before making a final four run, on the road on January 15 and at Carver Center on January 29. The Vikings will open CCIW play with a home game against Carthage on Saturday, January 4.
This year's mid-week conference games will be played on Wednesday evenings and the weekend contests will be played on Saturday evenings. All CCIW games are slated to begin at 7:00 p.m.
Release written by student assistant Leo Anderson
2013-14 AUGUSTANA VIKINGS MEN'S BASKETBALL SCHEDULE
| | | | |
| --- | --- | --- | --- |
| DATE | OPPONENT | SITE | TIME |
| November 15 | Chicago | HOME | 7:30 p.m. |
| November 19 | Wisconsin-Platteville | Platteville, Wisconsin | 7:00 p.m. |
| November 23 | St. Olaf | Platteville, Wisconsin | 5:00 p.m. |
| November 24 | Simpson | Platteville, Wisconsin | 1:00 p.m. |
| November 30 | Knox | Galesburg, Illinois | 3:00 p.m. |
| December 4 | Loras | Dubuque, Iowa | 7:00 p.m. |
| December 11 | Central of Iowa | HOME | 7:30 p.m. |
| December 14 | MacMurray | HOME | 7:30 p.m. |
| December 18 | Mount St. Joseph | HOME | 7:30 p.m. |
| December 28 | Wisconsin-Lacrosse | Wisconsin Dells | 7:30 p.m. |
| December 29 | Wisconsin-Oshkosh | Wisconsin Dells | 5:30 p.m. |
| January 4 | *Carthage | HOME | 7:00 p.m. |
| January 8 | *Illinois Wesleyan | HOME | 7:00 p.m. |
| January 11 | *Wheaton | Wheaton, Illinois | 7:00 p.m. |
| January 15 | *North Central | Naperville, Illinois | 7:00 p.m. |
| January 18 | *North Park | HOME | 7:00 p.m. |
| January 22 | *Millikin | HOME | 7:00 p.m. |
| January 25 | *Elmhurst | Elmhurst, Illinois | 7:00 p.m. |
| January 29 | *North Central | HOME | 7:00 p.m. |
| February 1 | *Wheaton | HOME | 7:00 p.m. |
| February 5 | *Illinois Wesleyan | Bloomington, Illinois | 7:00 p.m. |
| February 8 | *Carthage | Kenosha, Wisconsin | 7:00 p.m. |
| February 12 | *Millikin | Decatur, Illinois | 7:00 p.m. |
| February 15 | *Elmhurst | HOME | 7:00 p.m. |
| February 22 | *North Park | Chicago, Illinois | 7:00 p.m. |
| February 28 | CCIW Semifinal | TBA | TBA |
| March 1 | CCIW Championship | TBA | TBA |