July 18, 2013
2013 MEN'S CROSS COUNTRY PREVIEW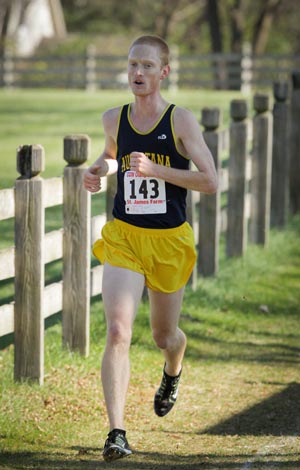 Tyler Busch has been chosen to be one of the two captains for the 2013 men's cross country team. Along with helping the Vikings to a thrid place finish at the CCIW championship meet, Busch was named to the CCIW Academic All-Conference team.
GENERAL INFORMATION
NAME: Augustana
CITY/ZIP: Rock Island, Illinois 61201
FOUNDED: 1860
NICKNAME: Vikings
SCHOOL COLORS: Blue & Gold
HOME COURSE: Highland Springs Golf Course in southwest Rock Island, Illinois and Credit Island in Davenport, Iowa
ATHLETIC AFFILIATION: NCAA Division III
RELIGIOUS AFFILIATION: Evangelical Lutheran Church in America (ELCA)
CONFERENCE: College Conference of Illinois & Wisconsin (CCIW)
PRESIDENT: Steven Bahls
ATHLETIC DIRECTOR: Mike Zapolski
ATHLETIC DEPARTMENT PHONE: (309) 794-7521

CROSS COUNTRY HISTORY
FIRST YEAR OF CROSS COUNTRY: 1959
CCIW CHAMPIONS: (2) 1969 & 1970
NCAA APPEARANCES: (24) 1967-17th; 1969-19th; 1970-12th; 1971-9th; 1972-10th; 1973-6th; 1974-5th; 1975-17th; 1976-14th; 1977-22nd; 1979-4th; 1980-2nd; 1981-17th; 1984-9th; 1986-8th; 1988-19th; 1989-11th; 1990-11th; 1991-11th; 1992-5th; 1993-9th; 1996-10th; 2007-15th; 2008 - 21st
CCIW INDIVIDUAL CHAMPIONS: (7) 1970-Mark Pealstrom; 1984-Shemi Sabag; 1988-Dave Terronez; 1989-Dave Terronez; 1990-Sandu Rebenciuc; 1991- Sandu Rebenciuc; 1996- Ambo Bati.
NCAA DIVISION III NATIONAL CHAMPIONS: (3) 1988-Dave Terronez; 1989-Dave Terronez; 1991-Sandu Rebenciuc.
CC COACHES ASSOCIATION ACADEMIC AWARD: Team (1997 - 1998 - 1999 - 2000 - 2001 - 2006)
SPORTS INFORMATION
SPORTS INFORMATION DIRECTOR: Dave Wrath
SID OFFICE PHONE: (309) 794-7265
SID FAX: (309) 794-7525
SID MAILING ADDRESS: Dave Wrath, Sports Information Director, Carver PE Center, Augustana College, Rock Island, Illinois 61201
WRATH'S E-MAIL ADDRESS: davewrath@augustana.edu
AUGUSTANA INTERNET ADDRESS: www.athletics.augustana.edu
COACHING STAFF
HEAD COACH: Paul Olsen (Luther 1965)
OLSEN AT AUGUSTANA: 47 years...Two conference cross country championships in school history (1969 & 1970)...24 NCAA appearances...11 top 10 team finishes in NCAA Division III championship meets...25 NCAA Division III All-America selections... Seven CCIW individual champions...Three individual NCAA Division III national champions...Elected to the Illinois Cross Country/Track & Field Coaches Association "Hall of Fame" in 2004...Inducted into the Augustana Tribe of Vikings "Hall of Fame" in 2005.
CROSS COUNTRY OFFICE PHONE: (309) 794-7257
BEST TIME TO REACH OLSEN: Mornings
ASSISTANT COACH: Doug Sand
TRAINER: Denise Yoder (Augustana 1989)
TEAM INFORMATION
2012 HIGHLIGHTS: Augustana finished third at the College Conference of Illinois & Wisconsin championship and 9th of 39 teams at the NCAA Midwest Regional...The Vikings won the Augustana Invite and finished second at the Western Illinois Early Bird Invitational and Rose-Hulman Pre-Nationals.
LETTERWINNERS RETURNING: 13
LETTERWINNERS LOST: 10

TOP SEVEN RETURNING (4): Tyler Busch (Winnebago HS, Winnebago, Ill.), Senior... Nick Gornick (York HS, Elmhurst, Ill.), Junior... Dan Popek (Minooka HS, Minooka, Ill.), Sophomore... Keith Sands (United Township HS, Silvis, Ill.), Sophomore.
TOP SEVEN LOST (3): Jonathan Smith (Moline HS, Moline, Ill.)... Justin Smith (Fenton HS, Bensenville, Ill.)... Nathan Smith (Fenton HS, Bensenville, Ill.).
2012 AUGUSTANA CROSS COUNTRY SUPERLATIVES
NCAA DIVISION III NATIONAL MEET: Jonathan Smith competed at the Division III National Meet, hosted by Rose-Hulman at LaVern Gibson Cross Country Course in Terre Haute, Indiana...He finished 34th, covering the 8,000 meter course in 25:04.4 to earn All-America honors.
NCAA DIVISION III MIDWEST REGIONAL: Augustana finished ninth out of 39 teams in the Midwest Regional, hosted by UW-Oshkosh at Lake Breeze Golf Course in Winneconne, Wisconsin on November 10... Jonathan Smith placed 15th and qualified for the national meet.
USTFCCCA NCAA DIVISION III NATIONAL RANKING: 31st
USTFCCCA NCAA DIVISION III MIDWEST REGIONAL RANKING: 8th
INVITATIONAL FINISHES Western Illinois Early Bird Invitational, 08/31 in Macomb, Ill. - 2nd of 7 with 40 points Illinois Intercollegiate Championship, 09/14 in Normal, Ill. - 5th of 36 with 155 points Augustana Invite, 09/21 in Rock Island, Ill. - 1st of 34 with 27 points Rose-Hulman Pre-Nationals, 10/06 in Terre Haute, Ind. - 2nd of 30 with 98 points UW-Oshkosh Invitational, 10/13 in Winneconne, Wis. - 6th of 38 with 174 CCIW Championship, 10/27 in Warrenville, Ill. - 3rd of 8 with 62 points NCAA Division III Midwest Regional, 11/10 in Winneconne, Wis. - 9th of 39 with 251 points
INDIVIDUAL TOP 10 FINISHES Western Illinois Early Bird Invitational, 08/31 in Macomb, Ill. - 4th, Jonathan Smith,18:55...6th, Brian Pollastrini, 19:06...9th, Nathan Smith, 19:14...10th, Justin Smith, 19:18. Augustana Invite, 09/21 in Rock Island, Ill. - 4th, Jonathan Smith, 25:17...5th, Brian Pollastrini, 25:25...7th, Justin Smith, 25:32...8th, Keith Sands, 25:33. Rose-Hulman Pre-Nationals, 10/06 in Terre Haute, Ind. - 7th, Jonathan Smith, 25:43. CCIW Championship, 10/27 in Warrenville, Ill. - 5th, Jonathan Smith, 24:45...10th, Keith Sands, 25:03
INDIVIDUAL AWARDS
CCIW ACADEMIC ALL-CONFERENCE: Andrew Brimeyer, Tyler Busch, Nick Gornick, Alex Gorsuch, Tommy Harris, Paul Hurd, Dennis O'Flaherty, Alex Odenkirk, Brian Pollastrini, Dan Popek, Keith Sands, Jonathan Smith, Justin Smith, Nathan Smith, Isaac Trostle
CCIW "ATHLETE OF THE WEEK": Jonathan Smith on September 25
CCIW "JACK SWARTZ AWARD": Jonathan Smith
TEAM AWARDS
MVP - Jonathan Smith
MOST VALUABLE FRESHMAN - Keith Sands
MOST IMPROVED - Aaron Trost
MOST IMPROVED FRESHMAN - Brian Lovejoy
MOST INSPIRATIONAL - Brian Pollastrini & Jonathan Smith
CAPTAINS-ELECT FOR 2013 - Tyler Busch & Isaac Trostle