June 27, 2013
Vikings tab Brent Allen for offensive line position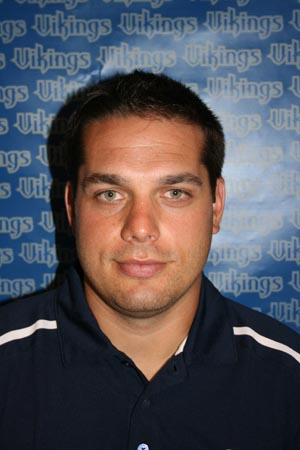 Brent Allen, the 2007 Rimington Award winner as the outstanding center in NCAA Division III, has been hired to coach the offensive line for the Vikings. Allen, who played in three Amos Alonzo Stagg Bowls at Wisconsin-Whitewater, comes to Augustana after a coaching stint at Carroll University in Waukesha, Wisconsin.
Augustana head football coach Rob Cushman has announced the addition of Brent Allen as the Vikings' new offensive line coach. Allen comes to Augustana from Carroll University in Waukesha, Wisconsin, where he held a similar position with the Pioneers.

During Allen's final season at Carroll, the Pioneers rushed for 2,120 yards, good for fourth in the Midwest Conference, and 32 touchdowns which was the second highest total in the MWC. Allen also coached three players (offensive tackle, tight end and center) to all-conference honors. Additionally, Allen was in charge of recruiting in and around the Chicago area. While at Carroll, Allen acted as an academic support coach and the team's travel coordinator.
Cushman is excited to have Allen join the Augustana staff.
"Brent will be an outstanding addition to the coaching staff. He was an outstanding player at Wisconsin-Whitewater where he won a national championship and he has worked hard on his craft at Carroll to become the coach he is today." Cushman said, "He has been very good in recruiting and I think that the players will enjoy working with him every day."
Allen started his coaching career as a graduate assistant at Carroll in 2009 and coached there until 2011. He coached tight ends and fullbacks and led three tight ends to all-conference awards. Allen was also in charge of the recruiting process in Wisconsin and Illinois. He was also the assistant offensive line coach, punt team coordinator, JV offensive coordinator, assistant video coordinator and equipment manager. In addition to these numerous responsibilities, Allen acted as a liaison to the parent group.
After his first stint at Carroll, he became the assistant coach at Waldorf College in Forest City, Iowa, where coached in the spring of 2012. He was the offensive line coach there and was head of the recruiting process in Iowa, Illinois, Minnesota, Wisconsin and the Northwest.
Allen is a graduate of Wisconsin-Whitewater where he was named to the Wisconsin Intercollegiate Athletic Conference all-conference team in his junior and senior seasons. While with the Warhawks, Allen played in three Stagg Bowls, winning a national championship in his senior season in 2007. Also in 2007, Allen was elected to the D3football.com All-American Team and also earned the Rimington Trophy, which is handed out to the year's most outstanding center.
Allen graduated from the University of Wisconsin-Whitewater in 2007 with a Bachelor of Arts with an emphasis in Human Resource Management. He then received his Master of Education with an emphasis in Adult Education from Carroll University in the summer of 2013.