June 27, 2013
2013 BASEBALL REVIEW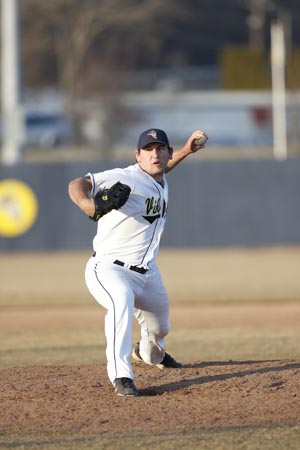 Rick Erickson was an important part of Augustana's success in 2013. The senior reliever compiled a 4-0 record with 10 saves and a 1.45 earned run average in 18 2/3 innings with 19 strikeouts. He was a second team all-conference selection.
Vikings finish 34-11, ranked 20th in the nation; win CCIW tournament; make fourth NCAA tournament appearance; Seth Davis named second team All-America

Coach Greg Wallace's Augustana Vikings put together a 34-11 season in 2013, finishing second in the CCIW regular season with a 14-6 record before winning the conference tournament and the league's automatic NCAA tournament bid. Augustana hosted an NCAA regional, winning two games before bowing out two wins short of the Division III World Series. The Vikings finished the year ranked 20th in the final D3baseball.com Top 25.
At the CCIW tournament, Augustana opened with a 4-1 win over North Park and then won two of three games against top-seed and host Illinois Wesleyan on the Titans' home field. Freshman left-hander Chris Sauer (Rock Canyon HS, Littleton, Colo.) went eight innings in his first collegiate start to get a 2-1 win over IWU. The Titans got a 4-2 win to force a winner-take-all final, but the Vikings responded with a season-high 23 hits, including a 6-for-6 performance from sophomore left fielder Danny Fifer (Lincoln-Way West HS, New Lenox, Ill.) to defeat the hosts 12-1.
Sophomore left-hander Seth Davis (Mullen HS, Aurora, Colo.) was a second team All-America pick by the American Baseball Coaches Association/Rawlings after earning first team All-Central Region honors from both ABCA/Rawlings and D3baseball. Senior second baseman Kurt Schmidt (Grayslake Central HS, Grayslake, Ill.) joined Davis on the D3baseball all-region first team and made the ABCA second team along with senior lefty reliever Rick Erickson (Lake Zurich HS, Hawthorn Woods, Ill.). Junior right fielder Jacob Van Duyne (Wilmington HS, Wilmington, Ill.) was a third team all-region pick by the ABCA. Those four, along with Fifer, were also named to the CCIW all-conference team. Davis and Schmidt were first team selections, while Fifer, Van Duyne and Erickson were second team picks.
Schmidt hit .366 this year and led the team in doubles (tied with 12), home runs (tied with two), RBI (42), total bases (84), slugging (.480), hit-by-pitch (tied with 10) and stolen bases (15). His batting average was second on the club, as were his 175 at-bats, 38 runs, 64 hits and .418 on-base percentage. The senior finished his career ranked sixth or better all-time in seven offensive categories at Augustana. His 156 runs are second in school history. He's third in at-bats (624) and stolen bases (tied with 50), fourth in hits (218) and triples (tied with 10), fifth in doubles (tied with 37) and sixth in RBI (119).
Van Duyne put forth a remarkable effort in the NCAA regional, playing with a separated left shoulder suffered in the CCIW tournament. He led the Vikings with 197 at-bats and 71 hits this year, marks that rank third and tied for fifth, respectively, in school history. He also led the team in runs scored with 45 and was second with 79 total bases and 12 stolen bases. He ranked third on the club with a .360 average and a .394 on-base percentage.
Fifer finished the year as Augustana's leading hitter with a .405 average. He also led the team in on-base percentage at .440. He was third on the team in runs scored (34) and RBI (26) despite not becoming a full-time starter until the season was almost a month old.
Senior shortstop Jeremy Juhl (Glenbard East HS, Lombard, Ill.) wrapped up a fine career, hitting .301 this year. He finished ninth all-time at Augustana in hits (176) and at-bats (514). First baseman Grant Stewart (Sterling HS, Sterling, Ill.) hit .296, tied for the team lead in homers (two) and doubles (12) and ranked second with 37 RBI. He joined Schmidt as a member of the NCAA regional all-tournament team.
Senior center fielder Mark VanNatta (Alleman HS, Moline, Ill.) (.293-1-21) tied for the team lead with 12 doubles and two triples. Sophomore Nick Tenerelli (Downers Grove South HS, Downers Grove, Ill.) started 38 games behind the plate and hit .283 with 15 RBI. Sophomore Kyle Lenihan (Romeoville HS, Romeoville, Ill.) played in all 45 contests, starting 44 at third base. He hit .247 with 22 RBI.
The Viking pitching staff was tremendous all year, finishing seventh in the nation with a 2.72 ERA.
Davis went 7-2 with a 1.89 ERA, tying for 10th place on Augustana's single season wins list. The sophomore southpaw led the CCIW in strikeouts and fanned 100 batters overall, coming within four of John Benedetti's school record set in 2000. Davis completed half of his dozen starts and his 90 1/3 innings in 2013 are third-most in school history. He already ranks eighth in career strikeouts with 150 and will enter his junior season with Augustana's second-best career ERA at 2.46.
Senior starters Jared McIntosh (Assumption HS, Davenport, Iowa) and Ben Heaton (Bloomington Central Catholic HS, Heyworth, Ill.) also had great seasons. McIntosh equaled Davis' win total, going 7-4, and posted a 3.47 ERA. His 2013 win total is tied for 10th-best in school history and his 72 2/3 innings rank 10th as well. In addition, he finished 10th on Augustana's career innings list with 203 1/3. Heaton went 5-2 with an ERA of 2.59.
The bullpen was led by Erickson, who went 4-0 and was 10 for 10 in save opportunities in 16 appearances. The left-hander posted a 1.45 ERA and in CCIW play, went 2-0 with a league-best six saves and a 0.87 ERA.
Walter White (East Peoria HS, East Peoria, Ill.) led a corps of freshman pitchers who gave Wallace great efforts all year. White went 4-3 with a 2.87 ERA, splitting his eight appearances evenly between starts and relief assignments. Sauer (2-0, 2.01 on the year) got his only two starts of the season in the CCIW and NCAA tournaments against Illinois Wesleyan and Webster, respectively. The Vikings won both games with Sauer allowing just two runs in 12 2/3 innings. Darwin Townsend (Libertyville HS, Libertyville) went 3-0 with a 3.09 ERA in 15 appearances, serving as an effective set-up man for Erickson. Brandon Bollman (Lincoln-Way East HS, Frankfort, Ill.), made 11 appearances out of the bullpen with a save and a 1.46 ERA. The four freshman hurlers shared Augustana's Newcomer of the Year Award this season.
2013 COLLEGE CONFERENCE OF ILLINOIS & WISCONSIN STANDINGS
| | | |
| --- | --- | --- |
| School | Conf | Overall |
| Illinois Wesleyan | 18-3 | 33-14 |
| AUGUSTANA | 14-6 | 34-11 |
| North Park | 12-9 | 21-21 |
| Wheaton | 10-11 | 14-27 |
| North Central | 10-11 | 18-19 |
| Carthage | 9-12 | 17-23 |
| Elmhurst | 8-13 | 19-19 |
| Millikin | 2-18 | 10-25 |
2013 CCIW BASEBALL TOURNAMENT
(at Illinois Wesleyan - Bloomington, Ill.)
Friday, May 10 Game 1 -- #1 Illinois Wesleyan 3, #4 Wheaton 2 Game 2 -- #2 AUGUSTANA 4, #3 North Park 1 Game 3 -- #3 North Park 3, # Wheaton 2 Game 4 -- #2 Augustana 2, #1 Illinois Wesleyan 1
Saturday, May 11 Game 5 -- #1 Illinois Wesleyan 10, #3 North Park 2 Game 6 -- #1 Illinois Wesleyan 4, #2 AUGUSTANA 2
Sunday, May 12 Game 7 -- #2 AUGUSTANA 12, #1 Illinois Wesleyan 1 (AUGUSTANA WINS CCIW BASEBALL TOURNAMENT)
2013 AUGUSTANA BASEBALL SUPERLATIVES
AMERICAN BASEBALL COACHES ASSOCIATION/RAWLINGS NCAA DIVISION III ALL-AMERICA: 2nd team - Seth Davis, P
CAPITAL ONE ACADEMIC ALL-AMERICAN (as selected by CoSIDA): 1st team - Ben Heaton
AMERICAN BASEBALL COACHES ASSOCIATION/RAWLINGS ALL-CENTRAL REGION: 1st team - Seth Davis, P; 2nd team - Kurt Schmidt, IF; Rick Erickson, P; 3rd team - Jacob Van Duyne, OF
D3BASEBALL.COM ALL-CENTRAL REGION: 1st team - Seth Davis, P; Kurt Schmidt, IF ALL-CCIW: First team - Kurt Schmidt, Seth Davis; 2nd team - Danny Fifer, Jacob VanDuyne, Rick Erickson
AUGUSTANA MOST OUTSTANDING OFFENSIVE PLAYER: Kurt Schmidt
AUGUSTANA MOST OUTSTANDING DEFENSIVE PLAYER: Grant Stewart
AUGUSTANA MOST OUTSTANDING PITCHER: Seth Davis
AUGUSTANA LEADERSHIP AWARD: Ben Heaton
AUGUSTANA COMMITMENT TO EXCELLENCE AWARD: Danny Fifer
NEWCOMERS OF THE YEAR: Darwin Townsend, Walter White, Brandon Bollman and Chris Sauer
CCIW HITTER OF THE WEEK: Jacob Van Duyne, 2/26/13; Kurt Schmidt, 3/5/13;Mark VanNatta, 3/19/13
CCIW PITCHER OF THE WEEK: Ben Heaton, 2/26/13 & 4/9/13; Seth Davis, 3/26/13
AUGUSTANA'S CCIW INDIVIDUAL STATISTICAL LEADERS: Strikeouts - 48, Seth Davis; Sacrifice flies - 4, Kurt Schmidt; Saves - 6, Rick Erickson; Appearances - 9 (T), Rick Erickson, Darwin Townsend; Games finished - 9, Rick Erickson
AUGUSTANA'S CCIW TEAM STATISTICAL LEADERS: Hit by pitch - 28; Sacrifice bunts - 19 (T); Sacrifice flies - 10 (T); Lowest opponents' batting average - .265; Saves - 6; Fewest hits allowed - 179; Fewest runs allowed - 84 (T); Fewest earned runs allowed - 57; Fewest home runs allowed - 4 (T)
INDIVIDUAL TOP 25 NATIONAL RANKINGS: Strikeouts - 100, Seth Davis,6th; Saves - 10, Rick Erickson, 11th; Complete games - 6, Seth Davis, 25th; WHIP - 0.94, Seth Davis, 25th; Hits - 71, Jacob Van Duyne, 25th; Sacrifice flies - 6, Kurt Schmidt,
25th TEAM TOP 10 NATIONAL RANKINGS: Triple plays - 1, T-1st; ERA - 2.72, 7th; Hits allowed per nine innings - 7.86, 8th
ADDITIONS TO TOP TEN LISTS
Career At-Bats - 624, Kurt Schmidt, 3rd; 514, Jeremy Juhl, 9th
Runs - 156, Kurt Schmidt, 2nd
Hits - 218, Kurt Schmidt, 4th; 176 - Jeremy Juhl, 9th
Doubles - 37, Kurt Schmidt, T-5th
Triples - 10, Kurt Schmidt, T-4th
RBI - 119, Kurt Schmidt, 6th
Stolen Bases - 50, Kurt Schmidt, T-3rd
Innings Pitched - 203 1/3, Jared McIntosh, 10th
Strikeouts - 150, Seth Davis, 8th
ERA - 2.46, Seth Davis, 2nd
Single Season At-Bats - 197, Jacob Van Duyne, 3rd
Hits - 71, Jacob Van Duyne, T-5th
Innings pitched - 90 1/3, Seth Davis, 3rd; 72 2/3, Jared McIntosh, 10th
Wins - 7, Seth Davis, Jared McIntosh, T-10th Strikeouts - 100, Seth Davis, 2nd