June 24, 2013
2013 SOFTBALL REVIEW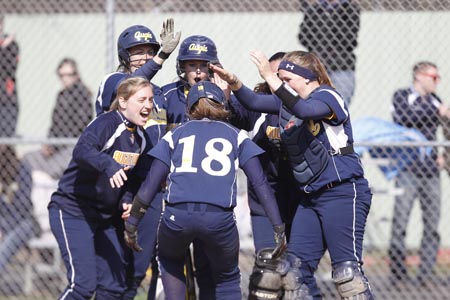 Teammates greet Krista Watson at home plate after a home run. The Vikings hit 30 home runs during the 2013 season and finished the year with a 32-14 record while winning the College Conference of Illinois & Wisconsin tournament and participating in the NCAA Division III National Tournament for the sixth time in the program's history.
2013 Vikings finish 32-14; storm to a CCIW tournament championship; make sixth NCAA tournament appearance in program history; Laura Behnke sets school hit record and is named team MVP and All-Region

After a 26-12 regular season, this year's Augustana softball team won three straight CCIW tournament games to win the championship and earn the conference's automatic NCAA tournament bid. Coach Kris Kistler's club won consecutive games over regular season champion and host Carthage to clinch the program's fourth conference tournament title. The Vikings won three of five games at the NCAA Division III Regional at Pella, Iowa to finish the year with a 32-14 mark. Sophomore left fielder Laura Behnke (St. Francis HS, Roselle, Ill.) set school record with 66 hits and was named team MVP and All-Great Lakes Region.
Augustana opened the season by winning eight of 10 games on its trip to Florida. The Vikings returned to the Midwest and dropped a doubleheader at Fontbonne before winning nine of their next 10, capped off by a doubleheader sweep at third-ranked Illinois Wesleyan to start the CCIW season. Chaney Tambling (Dwight HS, Dwight, Ill.) and Jenna Nelson (Orion HS, Orion, Ill.) each hit seventh-inning home runs in the opener at IWU as the Vikings pulled out a 5-3 win. In the nightcap, it was Jamie Rehmert's (Sterling HS, Sterling, Ill.) walk-off homer in the seventh giving Augustana a 6-5 win.
Kistler's club slumped, dropping six of its next nine to fall to 20-11 overall and 5-6 in the conference, but rebounded to win two of its last three league games as well as four non-conference contests to finish the regular season.
With a 7-7 CCIW ledger, the Vikings finished in a tie for third in the standings and nabbed the third seed at the conference tournament in Kenosha, Wisconsin. They opened against second-seed Illinois Wesleyan and the Titans took a 6-3 lead into the final inning. However, for the third time in as many meetings, Augustana won it in the seventh, this time with a four-run outburst. Pitchers Sarah Hintz (Le Roy HS, Le Roy, Ill.) and Ashley Anderson (Sherrard HS, Viola, Ill.) led the Vikings to a 2-1 win over 19th-ranked and top-seeded Carthage later in the day and on Saturday, the pair combined on a six-hit shutout of the Lady Reds to give Augustana the tournament championship and an NCAA bid.
Fontbonne again got the better of the Vikings 5-2 in the teams' regional opener, but the Vikings responded with consecutive wins over Cornell (7-1), Washington University (3-2) and Coe (5-1) to stay alive. Their season came to an end two wins short of the Division III World Series with a 5-4 loss at the hands of St. Thomas.
Behnke had a huge year. In addition to her school record for hits, Augustana's leadoff hitter started all 46 games and led the club with a .437 average, 151 at-bats, 34 runs, five triples, eight home runs, 110 total bases, a .728 slugging percentage, 19 walks, a .506 on-base percentage and 10 stolen bases. In the NCAA Regional, she had 15 hits in 27 at-bats (.556) with five doubles, a triple, a home run, eight runs scored, five driven in and slugging and on-base percentages of .925 and .625, respectively.
Hintz and Anderson gave Kistler and effective pitching duo, winning 13 games each - ninth-most in school history. Hintz was 13-8 with a 2.54 ERA. Her team highs of 148 2/3 innings and 137 strikeouts both rank fifth in school history. She'll enter her senior season ranking seventh or better in career wins, innings, strikeouts and ERA at Augustana. Anderson was 13-4 and led the staff with a 1.77 ERA, six shutouts and three saves.
Other standouts included junior first team All-CCIW shortstop Krista Watson (Coal City HS, Coal City, Ill.) (.267-7-25), who led the conference with five home runs and was selected as the Vikings' Best Defensive Player, sophomore outfielder Chelsea Lavin (Downers Grove South HS, Downers Grove, Ill.), who hit .391 and joined Behnke on the All-CCIW second team and freshman outfielder Cheyenne Burnett (Rock Falls HS, Rock Falls, Ill.), who hit .386. Sophomore second baseman Jenna Teson (Jacobs HS, Algonquin, Ill.) (.328) and junior third baseman Tambling (.300) were also .300 hitters for Kistler, while junior first baseman Rehmert (.299) just missed, but hit five homers and led the team with 12 doubles and 36 RBI.
Kistler, the winningest coach in Augustana softball history, completed her 14th season with the Vikings this year and now has a career record of 399-202-2 (.663). Her overall collegiate record is 408-212-2 (.658), which includes one year at SUNY-Plattsburgh where she was 9-10 in 1999.
2013 COLLEGE CONFERENCE OF ILLINOIS & WISCONSIN STANDINGS
| | | |
| --- | --- | --- |
| School | Conf | Overall |
| Carthage | 12-2 | 33-12 |
| Illinois Wesleyan | 11-3 | 32-11 |
| AUGUSTANA | 7-7 | 32-14 |
| North Central | 7-7 | 35-12 |
| North Park | 6-8 | 24-12 |
| Millikin | 5-9 | 20-15 |
| Wheaton | 5-9 | 17-16 |
| Elmhurst | 3-11 | 17-15 |
2013 CCIW TOURNAMENT
(at Carthage - Kenosha, Wisconsin) Friday, May 3 Game 1 - #3 AUGUSTANA 7, #2 Illinois Wesleyan 6 Game 2 - #1 Carthage 3, #4 North Central 2 Game 3 - Illinois Wesleyan 5, North Central 2 Game 4 - AUGUSTANA 2, Carthage 1 Saturday, May 4 Game 5 - Carthage 4, Illinois Wesleyan 3 Game 6 - AUGUSTANA 4, Carthage 0 (AUGUSTANA WINS 2013 CCIW TOURNAMENT)
2013 AUGUSTANA SUPERLATIVES
NFCA ALL-GREAT LAKES REGION: 1st team - Laura Behnke, OF CCIW ALL-CONFERENCE: 1st team - Krista Watson, SS; 2nd team - Laura Behnke, OF, Chelsea Lavin, OF NCAA DIVISION III REGIONAL ALL-TOURNAMENT: Laura Behnke, LF; Ashley Anderson, P CCIW INDIVIDUAL STATISTICAL LEADERS: Home Runs - 5, Krista Watson; Sacrifice Flies - 2 (T), Krista Watson; Saves 1 (T), Christie Wiersema; Games Finished - 7, Christie Wiersema; Relief Appearances - 7, Christie Wiersema CCIW TEAM STATISTICAL LEADERS: Home Runs - 20
AUGUSTANA TEAM AWARDS
MOST VALUABLE PLAYER: Laura Behnke BEST OFFENSIVE PLAYER: Laura Behnke BEST DEFENSIVE PLAYER: Krista Watson MOST IMPROVED PLAYER: Christina Pagan VIKING AWARD: Jenna Nelson, Amanda Johnson
CAREER TOP 10 ADDITIONS
Doubles - 30, Krista Watson, 8th Home Runs - 17, Krista Watson, 4th Batting Average - .394, Laura Behnke, 4th; .386, Cheyenne Burnett, 7th; .380, Chelsea Lavin, 9th Innings Pitched - 375.1, Sarah Hintz, 7th ERA - 1.77, Ashley Anderson, 5th; 2.14, Sarah Hintz, 7th Strikeouts - 292, Sarah Hintz, 3rd Wins - 36, Sarah Hintz, 5th
SINGLE SEASON TOP 10 ADDITIONS
At-Bats - 151, Laura Behnke, T-2nd; 146 - Krista Watson, T-5th Hits - 66, Laura Behnke, 1st Doubles - 12, Jamie Rehmert, T-7th Triples - 5, Laura Behnke, T-5th Home Runs - 8, Laura Behnke, T-8th; 7, Krista Watson, T-10th RBI - 36, Jamie Rehmert, T-4th Walks - 19, Laura Behnke, T-4th Inning Pitched - 148.2, Sarah Hintz, 5th Strikeouts - 137, Sarah Hintz, 5th Wins - 13, Sarah Hintz, Ashley Anderson, T-9th