June 23, 2013
Women's tennis schedule announced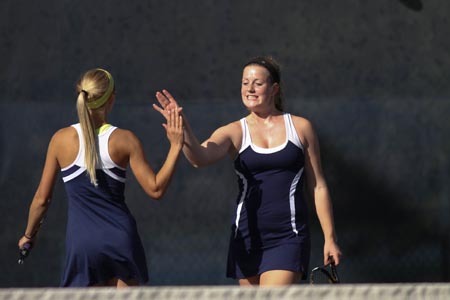 Augustana went 16-9 last year and placed second in the CCIW with a 5-1 record. The Vikings will open the 2013-14 season with a conference match at Carthage on August 30.
The Augustana women's tennis team is coming off a 16-9 overall record and a 5-1 mark in the College Conference of Illinois & Wisconsin in 2012-13. Third-year head coach Jon Miedema recently released his 2013-14 schedule (minus some spring contests) and the Vikings hope to build on their recent string of successes.

Right off the bat things will be tough as Miedema's team travels to Kenosha, Wisconsin to take on long-time College Conference of Illinois & Wisconsin power Carthage to start the season on August 30. That will be followed one day later by an appearance at the Warhawk Invitational in Whitewater, Wisconsin.
The Vikings will play six CCIW matches in the fall and face non-conference opponents Loras, Grinnell, Knox, St. Ambrose, Monmouth and Cornell. In addition, Augustana will compete in the ITA Fall Championships. Augustana will continue its season in the spring but at this time the schedule is not quite complete.
2013-14 AUGUSTANA VIKINGS WOMEN'S TENNIS SCHEDULE
| | | | |
| --- | --- | --- | --- |
| DATE | OPPONENT | LOCATION | TIME |
| August 30 | *Carthage | Kenosha, Wisconsin | 3:30 p.m. |
| August 31 | Warhawk Invitational | Whitewater, Wisconsin | All Day |
| September 2 | Loras | HOME | 9:00 a.m. |
| | *Millikin | HOME | 3:00 p.m. |
| September 7 | *Illinois Wesleyan | HOME | 9:00 a.m. |
| | Grinnell | HOME | 3:00 p.m. |
| September 14 | *Wheaton | Wheaton, Illinois | 9:00 a.m. |
| September 17 | Knox | HOME | 4:00 p.m. |
| | St. Ambrose | Davenport, Iowa | 4:00 p.m. |
| September 21 | *North Central | Naperville, Illinois | 12:00 p.m. |
| | Monmouth | Naperville, Illinois | 3:30 p.m. |
| September 22 | *Elmhurst | Elmhurst, Illinois | 10:00 a.m. |
| September 25 | Cornell | HOME | 4:00 p.m. |
| September 27 | ITA Fall Championships | TBA | TBA |
| September 28 | ITA Fall Championships | TBA | TBA |
| October 4 | CCIW Championships | Bloomington, Illinois | TBA |
| October 5 | CCIW Championships | Bloomington, Illinois | TBA |
| March 15 | Coe | HOME (Quad City Tennis Club) | 9:00 a.m. |
| | Wisconsin-Whitewater | HOME (Quad City Tennis Club) | 3:30 p.m. |
| March 28 | Lake Forest | Lake Forest, Illinois | 4:00 p.m. |
| April 6 | Upper Iowa | Fayette, Iowa | 11:00 a.m. |
| April 13 | St. Ambrose | HOME | 9:30 a.m. |
| | Luther | HOME | 2:00 p.m. |
| April 23 | Ashford | HOME | 4:00 p.m. |
| April 27 | Loras | Dubuque, Iowa | 9:00 a.m. |
* - Denotes match against College Conference of Illinois & Wisconsin opponent HEAD COACH: Jon Miedema