June 23, 2013
Men's cross country will host Midwest Regional in 2013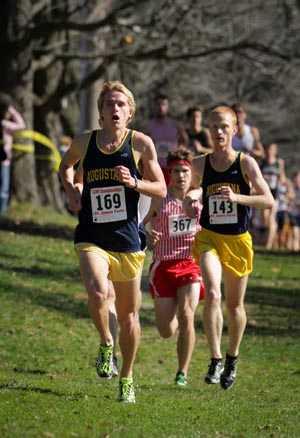 Augustana will host the Brissman-Lundeen Invitational and the NCAA Division III Midwest Regional at Saukie Golf Course in Rock Island for the 2013 season.
Two home meets are on the 2013 Augustana men's cross country schedule and both will be important for veteran head coach Paul Olsen and his Vikings. The Brissman-Lundeen Invitational, which annually attracts 30-plus teams, will be on Friday, September 27 at Saukie Golf Course and the NCAA Division III Midwest Regional will be Saturday, November 16, also at Saukie.

Olsen will have his team at invitationals at Western Illinois, Olivet Nazarene, Wartburg and Wisconsin-Oshkosh as well.
The 2013 Augustana schedule is listed below.
2013 AUGUSTANA MEN'S CROSS COUNTRY SCHEDULE
| | | | |
| --- | --- | --- | --- |
| DATE | MEET | LOCATION | TIME |
| August 30 | WIU Invitational | Macomb, Illinois | 5:00 p.m. |
| September 13 | Olivet Nazarene Invitational | Bourbonnais, Illinois | 5:00 p.m. |
| September 27 | Brissman/Lundeen Invitational | HOME | 6:00 p.m. |
| October 12 | Wartburg Invitational | Waverly, Iowa | 10:00 a.m. |
| October 19 | Wisconsin-Oshkosh Invitational | Oshkosh, Wisconsin | 10:30 a.m. |
| November 2 | CCIW Championship | Winfield, Illinois | 1:00 p.m. |
| November 16 | NCAA Midwest Regional | HOME | 11:00 a.m. |
| November 23 | NCAA Division III Nationals | Hanover, Indiana | 11:00 a.m. |
HEAD COACH: Paul Olsen