June 23, 2013
Men's soccer have home games early & late in 2013 schedule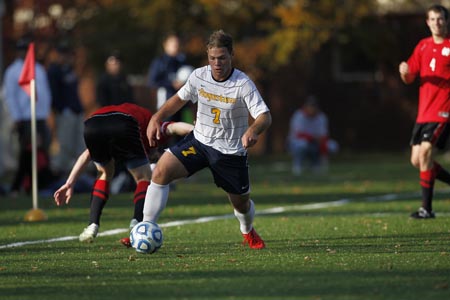 The Vikings will play three of their first four matches and five of their last six at the friendly confines of Thorson-Lucken Field in 2013.
A flurry of home games on the front end and then at the back mark the 2013 Augustana men's soccer schedule for head coach Brenton Joseph. The Vikings, who went 6-9-3 last year, will play three of their first four games at Thorson-Lucken Field and five of the final six at home as will.

In the middle of the schedule, however, Augustana will be on the road for six of eight contests.
The 2013 Vikings schedule is listed below.
2013 AUGUSTANA MEN'S SOCCER SCHEDULE
| | | | |
| --- | --- | --- | --- |
| DATE | OPPONENT | SITE | TIME |
| August 30 | Taylor | Wheaton, Illinois | 2:00 p.m. |
| September 1 | Macalester | HOME | 1:00 p.m. |
| September 6 | Grinnell | HOME | 7:00 p.m. |
| September 15 | Central of Iowa | HOME | 1:00 p.m. |
| September 21 | Webster | St. Louis, Missouri | 7:30 p.m. |
| September 22 | Fontbonne | St. Louis, Missouri | 5:00 p.m. |
| September 27 | Wisconsin-Whitewater | Whitewater, Wisconsin | 7:00 p.m. |
| September 29 | St. Ambrose | HOME | 1:30 p.m. |
| October 4 | *North Park | Chicago, Illinois | 7:00 p.m. |
| October 7 | Simpson | HOME | 4:30 p.m. |
| October 9 | *Carthage | Kenosha, Wisconsin | 7:30 p.m. |
| October 12 | *Illinois Wesleyan | Bloomington, Illinois | 7:30 p.m. |
| October 15 | Wisconsin-Oshkosh | HOME | 7:00 p.m. |
| October 19 | *North Central | Naperville, Illinois | 3:30 p.m. |
| October 23 | *Wheaton | HOME | 7:30 p.m. |
| October 26 | *Elmhurst | HOME | 3:30 p.m. |
| October 29 | Benedictine | HOME | 7:00 p.m. |
| November 2 | *Millikin (Senior Day) | HOME | 3:30 p.m. |
| November 6 | CCIW Tournament Semi-final | TBA | TBA |
| November 9 | CCIW Tournament Semi-final | TBA | TBA |
HEAD COACH: Brenton Joseph