June 23, 2013
Volleyball schedule will feature eight home dates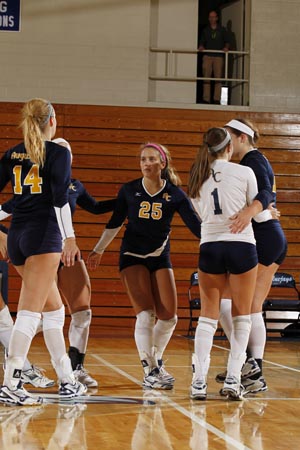 The Vikings will open the 2013 campaign on August 30-31 in the Carver Center with the Viking Classic. Augustana, which was 20-11 last year, will play Fontbonne and Ripon on the first day and Westminster and Loras on the second day.
After going 20-11 in 2012 for the highest win total since 2008, the Augustana volleyball team looks forward to the 2013 season. Jamie Walters will be entering her fourth season at the helm of the Vikings and the upcoming schedule will certainly be a challenge.

In addition to the rugged seven-game College Conference of Illinois & Wisconsin slate, Augustana will also play long-time NCAA Division III powers Wisconsin-Whitewater and Central of Iowa. Walters' team will host the Viking Classic on August 30-31 to get things started with Fontbonne, Loras, Ripon, St. Ambrose and Westminster in attendance. Also on the docket is the Pumpkin Bash in the Carver Center on October 25-26 with Carthage, Central of Iowa, Coe, North Park, Simpson, Wartburg, Wheaton and William Penn signed on.
The Vikings will host six other home matches in addition to the two tournaments.
2013 AUGUSTANA VOLLEYBALL SCHEDULE
| | | | |
| --- | --- | --- | --- |
| DATE | OPPONENT | LOCATION | TIME |
| August 30-31 | Viking Classic | HOME | |
| | Augustana/Fontbonne/Loras/Ripon/St. Ambrose/Westminster | | |
| August 30 | Fontbonne | | 4:00 p.m. |
| | Ripon | | 8:00 p.m. |
| August 31 | Westminster | | 10:00 a.m. |
| | Loras | | 2:00 p.m. |
| September 4 | Coe & Knox | HOME | 4:00 & 8:00 p.m. |
| September 10 | Dubuque | Dubuque, Iowa | 7:30 p.m. |
| September 13-14 | Oberlin Tournament | Oberlin, Ohio | 7:00 p.m. (Fri.) & 11:00 a.m. (Sat.) |
| September 17 | Carroll & William Penn | HOME | 4:00 & 8:00 p.m. |
| September 20 | Central of Iowa | Pella, Iowa | 7:30 p.m. |
| September 24 | Monmouth | HOME | 7:30 p.m. |
| October 2 | *Illinois Wesleyan | Bloomington, Illinois | 7:00 p.m. |
| October 4-5 | St. Mary's Invitational | Winona, Minnesota | 3:00 p.m. (Fri.) & 9:00 a.m. (Sat.) |
| October 8 | *Elmhurst | HOME | 7:00 p.m. |
| October 11 | Blackburn & Webster | St. Louis, Missouri | 6:00 p.m. & 8:00 p.m. |
| October 12 | Lincoln Christian | Lincoln, Illinois | 12:00 noon |
| October 15 | *North Central | Naperville, Illinois | 7:00 p.m. |
| October 22 | *Millikin | HOME | 7:30 p.m. |
| October 25-26 | Pumpkin Bash | HOME | |
| | Augustana/Carthage/Central of Iowa/Coe/North Park/Simpson/Wartburg/Wheaton/William Penn | | |
| October 25 | *North Park | | 2:00 p.m. |
| | Central of Iowa | | 8:00 p.m. |
| October 26 | Simpson | | 12:00 noon |
| | Coe | | 4:00 p.m. |
| October 29 | *Carthage | HOME | 7:30 p.m. |
| November 2 | Wisconsin-Whitewater & *Wheaton | Wheaton, Illinois | 10:00 a.m. & 12:00 noon |
HEAD COACH: Jamie Walters