June 20, 2013
Knowlton opening tops 2013 football schedule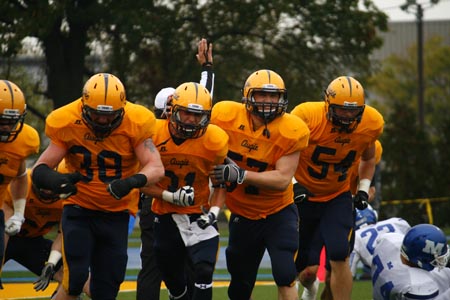 The Vikings will kick off the 2013 season with a 6:00 p.m. game at the Knowlton Outdoor Athletic Complex on Saturday, September 7 against Mt. St. Joseph.
Augustana will play five home games to highlight the 2013 football schedule but few games on the docket will draw as much attention as the September 7 season-opener against Mt. St. Joseph. The contest will have a 6:00 p.m. kickoff, one of three home night games for the Vikings this year, and it will be the inaugural event in the Austin E. Knowlton Outdoor Athletic Complex.

This will be the first ever meeting between Augustana and Mt. St. Joseph and the game will have festivities surround the grand-opening of the new venue, which will also include Charles D. Lindberg Stadium and the Ken Anderson Academic All-American Club.
Third year head coach Rob Cushman's team will come into the 2013 season off a 5-5 overall record in 2012, including victories in four of the last five games.
The Vikings will play two straight 6:00 p.m. home games to start the year with Central of Iowa coming to town on September 14. A road game at Loras on September 21 will be the final non-conference contest of the year. The College Conference of Illinois & Wisconsin season opens on October 5 at Wheaton.
The other home games will be Elmhurst, homecoming on October 12, North Park on October 26 (6:00 p.m.) and Illinois Wesleyan on November 9.
2013 AUGUSTANA VIKINGS FOOTBALL SCHEDULE
| | | | |
| --- | --- | --- | --- |
| DATE | OPPONENT | SITE | TIME |
| September 7 | Mt. St. Joseph | HOME | 6:00 p.m. |
| September 14 | Central of Iowa | HOME | 6:00 p.m. |
| | Family Weekend | | |
| September 21 | Loras | Dubuque, Iowa | 1:00 p.m. |
| October 5 | *Wheaton | Wheaton, Illinois | 1:00 p.m. |
| October 12 | *Elmhurst | HOME | 1:00 p.m. |
| | Homecoming | | |
| October 19 | *Millikin | Decatur, Illinois | 1:00 p.m. |
| October 26 | *North Park | HOME | 6:00 p.m. |
| November 2 | *Carthage | Kenosha, Wisconsin | 1:00 p.m. |
| November 9 | *Illinois Wesleyan | HOME | 1:00 p.m. |
| November 16 | *North Central | Naperville, Illinois | 1:00 p.m. |
* - College Conference of Illinois & Wisconsin game