June 19, 2013
2013 WOMEN'S LACROSSE REVIEW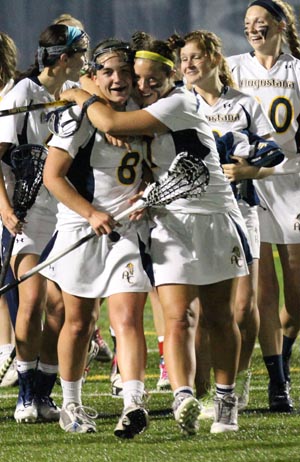 Kelly Stelzer (8) and Christina Letmankski had plenty to be excited about in the 2013 season as Augustana went 17-4 overall, won the Midwest Women's Lacrosse Conference regular season and tournament titles and won a first round game in the NCAA Division III Tournament.
Undefeated MWLC championship, league tournament title and NCAA tournament win highlight the second season of lacrosse at Augustana; Vikings finish 17-4 overall

After going 15-3 as an independent in its first season of competition, Coach Sara Tisdale's Augustana lacrosse program went a couple steps further in 2013. Moving into the Midwest Women's Lacrosse Conference, the Vikings won the league title with a perfect 8-0 record and then claimed the MWLC's automatic NCAA Division III playoff berth by winning the conference tournament. Not satisfied with that, Tisdale's squad went on the road and became the first MWLC team ever to win an NCAA tournament game, defeating Redlands. The team's 17-4 season came to an end with a Sweet 16 loss at top-ranked Trinity (Conn.).
The Vikings garnered three spots each on the MWLC all-conference first and second teams this year. Sophomores Christina Letmanski (Glenbard West, Wheaton, Ill.) and Emily Pavlik (Lyons Township HS, LaGrange, Ill.) and freshman Kendall Maduro (Neuqua Valley HS, Naperville, Ill.) were first team picks, while sophomore Anna Kyllo (St. Croix Lutheran HS, Bloomington, Minn.) and freshmen Emily Handrahan (Lake Zurich HS, Hawthorn Woods, Ill.) and Kaylee Nolan (Sandburg HS, Orland Park, Ill.) were named to the second team. In addition, Maduro was the MWLC's Rookie of the Year and Tisdale was named the league's Coach of the Year.
Letmanksi, Maduro and Nolan were also named All-Great Lakes Region by the Intercollegiate Women's Lacrosse Coaches Association. Letmanksi, who led the Vikings with 52 goals and 33 assists, was a first team selection. Maduro (team-high 31 caused turnovers, 25 goals, 14 assists, 38 ground balls, 32 draw controls) and Nolan (team-highs of 85 draw controls and 45 ground balls, 23 goals, 28 caused turnovers) were second team picks.
The 2013 season opened with three contests in California. Augustana dropped its first two games, 18-6 at Redlands and 16-4 at Occidental, but rebounded for a 16-4 win at Whittier.
The Vikings opened the home portion of the schedule with a 20-4 win over Hope on March 8 and came back to defeat Loras 21-0 at Thorson-Lucken Field the next day. Adrian handed Augustana its first-ever home loss, 16-11, a week later and the Vikings wrapped up the four-game home stand with a16-3 win over Albion on St. Patrick's' Day.
After lopsided wins over Beloit on the road and Concordia (Wis.) at home to open the conference season, Augustana hosted Carthage. The hosts took a 6-2 lead early in the second half, but the Lady Reds battled back to tie it 9-9 with 2:47 left. However, with less than a second remaining, sophomore Allie Roehrenbeck (Columbus Academy, Gahanna, Ohio) took a feed from Handrahan and buried a one-timer for 10-9 Viking win.
The team extended its winning streak to seven with three more wins, setting up another MWLC showdown with North Central. This time it was Maduro scoring with just 8.9 seconds left for a 9-8 win to keep Augustana undefeated in the league and hand the Cardinals their first conference loss.
The Vikings wrapped up the regular season with three more wins, outscoring the opposition 72-3 in the process. They opened the MWLC tournament with a 19-5 win over fourth-seeded Concordia and held off a North Central rally in the final to win 10-9 and secure the conference's automatic NCAA tournament berth.
Augustana's first-ever NCAA tournament game took them back to Redlands, California for a rematch with the Bulldogs. This time, it was the Vikings staging a furious comeback, scoring seven of the game's final eight goals, including Handrahan's game-winner with seven seconds left, to claim an 11-10 victory. The second round took Tisdale's crew to the other coast, where they faced the Trinity Bantams, the nations' top-ranked team. Augustana fell 19-2, ended a historic second season with a 17-4 record.
The Vikings benefited from great offensive balance this year. Handrahan (37 goals, 31 assists) was the team's second leading scorer behind Letmanksi. Sophomore Hilary Kargl (Sacred Heart Academy, Louisville, Ky.) was next with 35 goals and 31 assists. Freshman Rebecca Pollard (Westfield HS, Carmel, Ind.) (34 goals, 17 assists) and sophomores Kelly Stelzer (Wheaton Warrenville South HS, Wheaton, Ill.), Roehrenbeck (29 goals, nine assists) and Kate Zisser (Kirkwood HS, St. Louis, Mo.) (13 goals, 17 assists) had big years as well.
Maduro, Nolan, Pavlik (44 ground balls, 29 caused turnovers) and Kyllo spearheaded the Viking defense this year, along with sophomore defender Bridget Conniff (Benet Academy, Downers Grove, Ill.) and sophomore midfielder Nattali Shelton (Wheaton Warrenville South HS, Wheaton, Ill.). Sophomore goalkeeper Sarah Osier (Naperville Central HS, Naperville, Ill.) finished 15-4 with a 9.17 goals against average and a .426 save percentage.
2013 MIDWEST WOMEN'S LACROSSE CONFERENCE STANDINGS
| | | |
| --- | --- | --- |
| School | Conf | Overall |
| AUGUSTANA | 8-0 | 17-4 |
| North Central | 7-1 | 12-5 |
| Carthage | 6-2 | 11-7 |
| Concordia (Wis.) | 5-3 | 7-8 |
| Mount St. Joseph | 4-4 | 7-6 |
| Aurora | 3-5 | 5-10 |
| Beloit | 2-6 | 4-7 |
| Fontbonne | 1-7 | 2-9 |
| Benedictine | 0-8 | 1-11 |
Friday, May 3 (Semifinals) #2 North Central 7, #3 Carthage 6 #1 Augustana 19, #4 Concordia (Wis.) 5
Saturday, May 4 (Final) Augustana 10, North Central 9
2013 AUGUSTANA SUPERLATIVES
IWLCA All-Great Lakes Region: 1st team - Christina Letmanski, A; 2nd team - Kendall Maduro, MF, Kaylee Nolan, MF.
ALL-MWLC: 1st team - Christina Letmanksi, A, Emily Pavlik, D, Kendall Maduro, MF; 2nd team - Emily Handrahan, A, Anna Kyllo, D, Kaylee Nolan, MF.
MWLC Rookie of the Year - Kendall Maduro.
MWLC Coach of the Year - Sara Tisdale.
MWLC PLAYERS OF THE WEEK: Sarah Osier (Defense), 3/4/13; Kendall Maduro (Defense), 4/18/13; Kaylee Nolan (Defense), 4/23/13; Nattali Shelton (Defense), 4/29.13).
NCAA TEAM TOP 25 STATISTICAL RANKINGS: Caused turnovers - 18.57, 1st; Points - 512, 4th; Scoring Margin - 8.38, 6th; Scoring offense - 15.62, 14th; Scoring defense - 7.24, 15th; Draw controls - 14.86, 18th; Winning percentage - .810, 18th.
MWLC INDIVIDUAL STATISTICS LEADERS: Assists per game - 2.12, Christina Letmanski; Game-winning goals - 3, Kendall Maduro.
MWLC TEAM STATISTICAL LEADERS: Goals per game - 18.75; Assists per game - 10.00; Points per game - 28.75; Draw Controls per game - 16.50; Shots per game - 40.88; Shots on goal per game - 31.75; Caused Turnovers Per Game - 20.00; Goals against average - 4.38.