June 19, 2013
2013 MEN'S LACROSSE SEASON REVIEW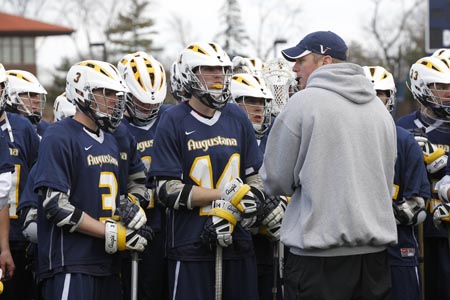 Head coach Kyle Hart and the Augustana Vikings finished 11-6 overall and 8-2 in the Midwest Lacrosse Conference in 2013.
Vikings go 11-6 in 2013; finish 8-2 and in third place in their first season in the Midwest Lacrosse Conference; Jesse Nagelberg named first team All-MLC

Coach Kyle Hart's men's lacrosse team followed up a successful first season by going 11-6 this year, including an 8-2 mark, a third-place finish and a conference tournament berth in its first season of Midwest Lacrosse Conference competition. The Vikings ranked 10th in the nation in scoring defense with an average of 6.29 goals per game and were 16th in scoring margin at plus-5.94 goals per contest.
Sophomore attacker Jesse Nagelberg (St. Charles East HS, St. Charles, Ill.) repeated as Augustana's Offensive MVP this year and sophomore goalkeeper Cody Burgdorff (Peak to Peak HS, Lafayette, Colo.) was selected as the Vikings' Defensive MVP. Nagelberg, who finished third on the team with 38 goals and tied for second with 48 points, was Augustana's lone first team All-MLC selection. Burgdorff, who was 16th in the nation in goals against average (6.81) and 21st in save percentage (.612), was a second team all-conference pick along with junior defender Zach McGinnis (New Trier HS, Kenilworth, Ill.) and sophomore midfielder Evan Chikeles (Hoffman Estates HS, Hoffman Estates, Ill.).
Freshmen Kevin Gleason (Loyola Academy, Chicago, Ill.) and Scott Davis (St. Thomas Aquinas HS, Overland Park, Kan.) were Hart's two leading scorers this season. Gleason had team highs of 45 goals, 20 assists and 65 points. Davis had 39 goals and nine assists for 48 points. Both earned All-MLC honorable mention, as did sophomore defender Ty Benson (Libertyville HS, Libertyville, Ill.).
Augustana opened the season with a three-game southern swing. The Vikings dropped their season opener to Berry by a score of 13-6 on February 23. They bounced back with a 14-4 win at Oglethorpe, but suffered a disappointing 10-9 loss at Huntingdon to end the trip with a 1-2 record.
In the home opener at Thorson-Lucken Field on March 8, Augustana avenged a 2012 loss to Hendrix, outscoring the Warriors 11-1 over the final three quarters for a 13-4 win. The Vikings fell to 2-3 with an 8-7 triple-overtime loss to Albion at home.
A 20-0 home win over Calvin in frigid conditions on March 20 started the first of three three-game winning streaks as Augustana won nine of its final 12 contests. A pair of wins in Ohio, 18-2 over Defiance and 12-9 over Mount St. Joseph, improved the team's record to 5-3. The Defiance win came in the Augustana's first-ever MLC game.
Returning home, the Vikings suffered yet another one-goal setback, falling 7-6 to Carthage. However, they followed that up with decisive wins over Hanover (14-5), MSOE (23-2) and Fontbonne (15-4), all at Thorson-Lucken Field.
With an 8-4 overall record and a 5-1 mark in the league, Hart's crew traveled to Aurora, Illinois to face a powerful Aurora University program. The Spartans, who would go on to win the MLC regular season and tournament titles and reach the round of 16 in the NCAA tournament, handed the Vikings a 13-4 setback.
Once again, Augustana responded by winning three straight. The Vikings won their home finale 14-2 over Elmhurst and then went on the road for wins at Benedictine (16-6) and Concordia (9-6). The win in Mequon, Wisconsin over the Falcons clinched third place in the league and sewed up the third seed in the conference tournament.
On May 1, the Vikings' season came to an end with a 12-8 loss to second-seeded Carthage in Kenosha, Wisconsin in the MLC tournament semifinals. Augustana rallied from an 8-3 deficit late in the first half to get within 9-8 at the end of three quarters, but the Red Men scored the only three goals of the final period to ice the win.
Hart received good offensive balance behind Gleason, Davis and Nagelberg. Sophomores Colin Haley (St. Charles East HS, St. Charles, Ill.) (13 goals and 15 assists), Tim Fennelly (Littleton HS, Centennial, Colo.) (13 & 10), Chris Hager (Exeter Academy, Newfield, N.H.) (12 & 5) and Vincent Giglierano (Archbishop Mitty HS, San Jose, Calif.) (10 & 12) all reached double figures in goals scored, as did freshman Andrew Miller (Waukesha North HS, Waukesha, Wis.) (11 & 4).
Defensive stalwarts, in addition to Burgdorff, McGinnis, Chikeles and Benson, included sophomore Ryan Nakamoto (Naperville Central HS, Naperville, Ill.), who had a team-high 89 ground balls and won 155 of 290 (.534) faceoffs and sophomore Jeremy Gottardo (Jacobs HS, Algonquin, Ill.), who led the Vikings with 24 caused turnovers and collected 36 ground balls.
2013 MIDWEST LACROSSE CONFERENCE STANDINGS
| | | |
| --- | --- | --- |
| School | Conf | Overall |
| Aurora | 10-0 | 16-4 |
| Carthage | 9-1 | 15-4 |
| AUGUSTANA | 8-2 | 11-6 |
| Mount St. Joseph | 7-3 | 10-8 |
| Concordia (Wis.) | 6-4 | 9-7 |
| Benedictine | 5-5 | 7-9 |
| Fontbonne | 4-6 | 8-8 |
| Hanover | 3-7 | 5-11 |
| Elmhurst | 1-8 | 3-10 |
| Defiance | 0-8 | 0-15 |
| Milwaukee School of Engineering | 0-9 | 0-12 |
2013 MLC TOURNAMENT
Wednesday, May 1 (Semifinals)
#1 Aurora 25, #4 Mount St. Joseph 7
#2 Carthage 12, #3 Augustana 8

Saturday, May 4 (Final)
Aurora 13, Carthage 3
2013 AUGUSTANA SUPERLATIVES
ALL-MLC: First team - Jesse Nagelberg, MF; 2nd team - Cody Burgdorff, GK; Zach McGinnis, D; Evan Chikeles, SSD; Honorable mention - Ty Benson, D; Scott Davis, MF; Kevin Gleason, A.
MLC PLAYERS OF THE WEEK: Ryan Nakamoto (Defense), 3/25/13; Cody Burgdorff (Defense), 4/29/13.
NCAA INDIVIDUAL TOP 25 STATISTICAL RANKINGS: Goals against average - 6.81, Cody Burgdorff, 16th; Save percentage - .612, Cody Burgdorff, 21st.
NCAA TEAM TOP 25 STATISTICAL RANKINGS: Caused turnovers per game - 17.06, 1st; Scoring defense - 6.29 goals allowed per game, 10th; Scoring margin - 5.94, 16th.
MLC TEAM STATISTICAL LEADERS: Caused Turnovers Per Game - 17.10.
AUGUSTANA TEAM AWARDS
MOST VALUABLE OFFENSIVE PLAYER: Jesse Nagelberg
MOST VALUABLE DEFENSIVE PLAYER: Cody Burgdorff
LEADERSHIP AWARD: Jon Pape
MOST IMPROVED: Cody Speroff