June 17, 2013
2012-13 MEN'S TENNIS REVIEW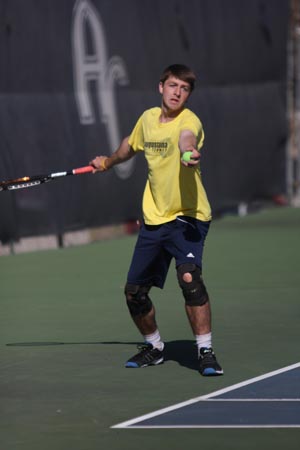 Senior Jack Cullen finished his career with the Vikings ranked fourth on the career victory list with 59 and third in career doubles wins (42) with partner Colin Arnold.
Vikings go 19-11 overall and 3-2 in the CCIW, win four conference flight championships and take fourth place as a team; Lawrence Palmer named first team All-CCIW

Sophomore Lawrence Palmer (Schiller International, El Prat de Llobregat, Spain) was a first team All-CCIW selection and earned conference Player of the Week honors twice this year, leading Coach Jon Miedema's Augustana men's tennis team to a 19-11 record overall and a 3-2 mark in the CCIW. The Vikings also won four CCIW flight championships in the fall and took fourth place at the conference tournament this spring.
This year's wins included the program's first victory over Carthage since 1999 and a triumph over Luther, ranked 12th in the NCAA Division III Central Region at the time.
Palmer fashioned a 16-11 record as Miedema's number one singles player. He teamed with junior Andy Wall (Notre Dame Academy, De Pere, Wis.) to go 17-10 at first doubles, tying the eighth-best single-season win total for a doubles team in school history.
Wall, who was also a CCIW Player of the Week recipient this spring, went 16-15, tying Palmer for the second most singles wins on the team. He played primarily at number four, but also had several matches at second and third singles. He joined Augustana's 100-win club this year and will enter his senior season with 101 total wins, tied for 12th-most in school history.
Kevin Bayles (Homewood-Flossmoor HS, Flossmoor, Ill.) had a big junior season for the Vikings. Not only did he team with freshman Harald Olsson (Lidingo, Sweden) to win the CCIW second doubles title, but he went 22-12 in singles, playing mostly in the third through fifth slots. The 22 wins are second most in school history and just one off Jack Cullen's (Edgewood HS, Madison, Wis.) school record. Bayles also paired with senior Will Palmer (Schiller International, Leicester, England) to go 10-2 at third doubles, the ninth-best season winning percentage (.833) for a doubles team in school history. Bayles' doubles record with all partners this season was a sparkling 25-7.
Cullen went 9-7 in singles and 18-11 in doubles this year and finished his career fourth in Augustana history with 59 singles wins and tied for third with 67 doubles victories. His 126 total wins rank fourth all-time for the Vikings. He and junior Colin Arnold (Sterling HS, Sterling, Ill.) went 10-3 as Miedema's number two doubles pair and finished with a 42-15 all-time record as a team, ranking third in school annals in wins and fifth in winning percentage (.737).
Arnold went 14-6 in singles, playing mostly at number six. He joined Cullen and Wall in the 100-win club and is currently seventh on the list with 112 total victories. His 51-21 career singles mark equates to a .708 winning percentage, tied for ninth-best in school history and his 61 career doubles wins rank eighth.
Olsson went 9-20 as the Vikings' number two singles player this year and teamed with four partners to go 15-8 in doubles play.
Junior Grant Wick (Windsor HS, Fort Collins, Colo.) posted a 15-8 singles record, playing at numbers three through six.
Will Palmer won the CCIW championship at fifth singles and finished with a 12-12 record this year. He went 15-14 with various doubles partners, mostly at numbers two and three.
Other CCIW flight champions for Augustana included freshman John Alexander (Guilford HS, Loves Park, Ill.) at sixth singles and the frosh duo of Austin Schoeck (Alleman HS, Rock Island, Ill.) and Patrick Lenz (Villanova Prep, Ojai, Calif.), who won at number three doubles. Lenz also went 11-1 in singles competition this year, a .917 winning percentage which ranks third in school history for a single season.
2013 COLLEGE CONFERENCE OF ILLINOIS & WISCONSIN TOURNAMENT
May 3-4, 2013 ** Evergreen Racquet Club ** Illinois Wesleyan University ** Bloomington, Illinois
Friday, May 3 First Round #3 Augustana 5, #6 North Central 0 #4 Carthage 5, #5 Illinois Wesleyan 0 Semifinals #2 Wheaton 5, Augustana 4 #1 Elmhurst 5, Carthage 0 5th place match Illinois Wesleyan 9, North Central 0
Saturday, May 4 3rd place match Carthage 5, Augustana 4 Championship Elmhurst 5, Wheaton 3
2012-12 AUGUSTANA SUPERLATIVES
CCIW Finish: 4th place at conference tournament
CCIW All-Conference: Lawrence Palmer (1st team)
Single Season Singles Wins: 22, Kevin Bayles (2nd)
Single Season Win Percentage: .917 (11-1), Patrick Lenz (3rd)
Career Singles Wins: 59, Jack Cullen (4th) Career Singles Win Percentage: .708 (51-21), Colin Arnold (T-9th)
Single Season Doubles Wins (Team): 17, Lawrence Palmer/Andy Wall (T-8th)
Single Season Doubles Win Pct. (Team): .833 (10-2), Kevin Bayles/Will Palmer (9th)
Career Doubles Wins (Team): 42, Colin Arnold/Jack Cullen (3rd)
Career Doubles Wins (Individual): 67, Jack Cullen (T-3rd); 61, Collin Arnold (8th)
Career Doubles Winning Percentage (Team): .737 (42-15), Colin Arnold/Jack Cullen (5th)
100 Win Club: 126, Jack Cullen (4th); 112, Collin Arnold (7th); 101, Andy Wall (T-12th)
CCIW "Player of the Week": Lawrence Palmer (03/13/12, 04/17/13); Andy Wall (02/06/13)
John R. Olson "Most Valuable Player": Lawrence Palmer
Hardest Worker: Kevin Bayles
CCIW Individual Flight Champions: Will Palmer (No. 5 singles); John Alexander (No. 6 singles); Kevin Bayles/Harald Olsson (No. 2 doubles); Austin Schoeck/Patrick Lenz (No. 3 doubles)