Augie Abroad: The First 40 Years
Students who studied abroad invited to Oct. 12 reunion
June  27, 2013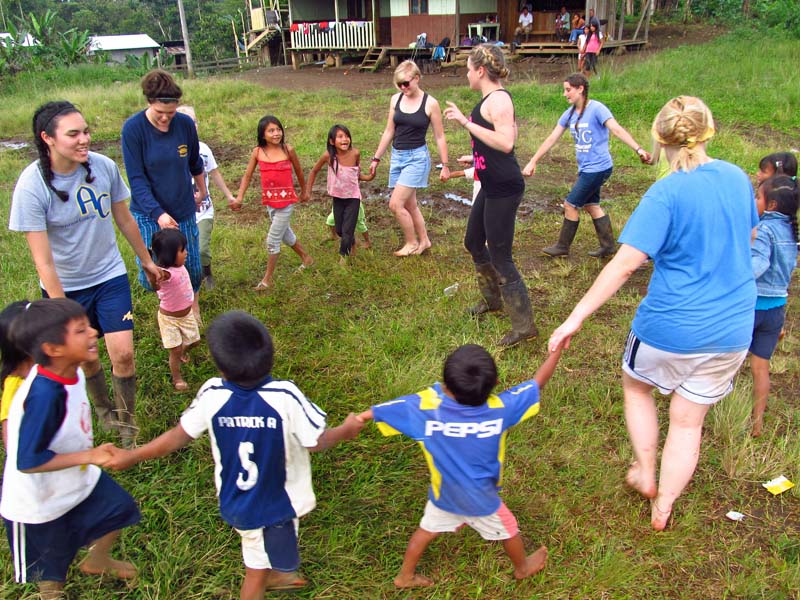 From 2011, Anna Malysz, Summer Spanish in the Andes. "Taken in the village of the Shuar tribe in the Amazon, this was one of the most magical days of the entire experience for many of us. Despite their young age and inexperience, children are just as good as teachers as they are as learners. In this photo we are playing a popular game that would be categorized in our terms as a combination of 'ring around the rosie' and 'duck duck goose.' "
Augustana will celebrate 40 years of study abroad on Saturday, Oct. 12, from 3:30-5 p.m. in the new Center for Student Life multi-purpose room. Alumni and students who have studied abroad — from the 1970s through this past summer — are invited to attend this special Homecoming event.
Many of the faculty who accompanied students on Augustana's trips around the world will join in the celebration. Appetizers, international fare of course, will be served. A slide show of photographs submitted by alumni will be shown during the reunion. (Please see below on how to submit digital or print photos to Special Collections.) Participants also are encouraged to bring favorite souvenirs or other mementoes from their travels to share with others at the reunion.
During the reunion, Special Collections will conduct brief oral histories with those who have participated on international study term. Space is limited due to time and the number of interviewers. If you are interested in providing an oral history, please email or call Special Collections Librarian Sarah Horowitz, (309) 794-8814, with details about your trip. Special Collections will get in touch with you prior to Homecoming to confirm your participation.
If you would like to donate one of your international study photos for the slide show, please send your print to:
Augustana College
Special Collections–Sarah Horowitz
639 38th St.
Rock Island, IL 61201
Print photos will not be returned. Digital photos may be emailed to Sarah Horowitz. Call Sarah at (309) 794-8814 if you have questions about donating photos or any materials from international study trips, including letters, journals, scrapbooks and photographs, to Special Collections.