Alumni invited to nine-day tour of Paris
June  27, 2013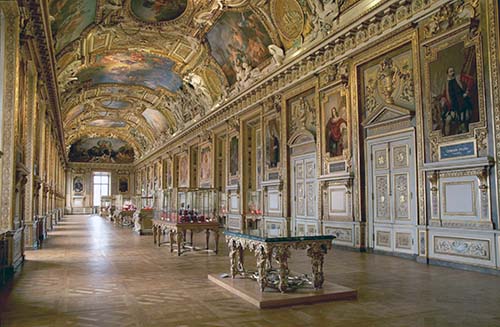 The spring 2014 alumni tour of Paris will feature a tour of the Louvre Museum.
On April 26-May 4, 2014, alumni may travel with their own art historian, Dr. Mary Em Kirn, to Paris.
Dr. Kirn taught art history at Augustana College for 27 years and participated in seven of the college's European terms. In the fall of 2012, she led an Italian art adventure to Florence, Venice and Rome for Augustana alumni, and says she's looking forward to this tour of the "City of Light."
From the medieval cathedral of Notre Dame to 19th-century Impressionist paintings, each tour highlight has been carefully selected to enhance every moment of an art adventure limited to only 22 alumni.
In addition, participants will have free time to explore on their own.
Cost
$4,495 per person, double occupancy
$5,945 single occupancy
$100 discount, if reservation is received by July 30, 2013
Airfare is not included due to small group size.
Price reflects cash discount from vendors. A 3 percent fee will be added if you pay by credit card. Although not expected, prices may be modified due to unexpected significant factors, such as a drastic shift in the exchange rate between the dollar and euro.
Deposit: $1,000 per person due with reservation, refundable until Feb. 1, 2014, when final payment is due.
Cancellation: You may cancel at any time for MEDICAL reasons. A copy of the group insurance policy will be provided with your deposit receipt.
Trip features
Seven nights in a four-star, centrally located hotel or equivalent
A four-day Paris Museum Pass that can be used at more than 30 museums
Side trip to Chartres Cathedral, a UNESCO world heritage site, on a deluxe motor coach
Evening cruise on the Seine River
Free afternoons and one free day in Paris to rest, shop or explore on your own
Half-day, optional excursions available to the Palace at Versailles and Monet's gardens at Giverny
All breakfasts, two lunches and three dinners
Customized document packet with tote bag
Personal copy of an art guidebook created by Dr. Mary Em Kirn for this trip
Headset hearing devices during the entire trip
All entrance fees to museums and churches, as outlined
Metro tickets, when needed, for trip events
Transfers from and to the airport at arrival and departure
Hotel wi-fi fee, when wi-fi is available
Most taxes and gratuities
Trip cancellation and medical insurance
Contact Kelly Noack at (309) 794-7474 or send her an email with any questions.
Art Adventure in Paris Itinerary
Note: This trip involves extensive in-town walking over uneven surfaces and stair climbing.
Saturday, April 26: Depart on your trans-Atlantic overnight flight to Paris.
Sunday, April 27: Arrive in Paris and transfer to your centrally located, four-star hotel no later than 3 p.m.
The remainder of the day is free to explore Paris. Perhaps browse through the book stalls that line both sides of the Seine River, a UNESCO world heritage site. A welcome reception and dinner is planned for the evening. (D)
Monday, April 28: After breakfast, depart by motor coach for a visit to the magnificent Gothic cathedral at Chartres, another UNESCO world heritage site. Dr. Kirn will help you "read" the sculpture on the church's facades and lead you on a tour of the interior, including some of the more than 170 stained glass windows from the 12th and 13th centuries. Lunch will be at a local crêperie, and you'll have time to wander through the historic district of this quaint town. Your evening is free to explore "April in Paris" and to discover some of the small bistros close to your hotel. (B, L)
Tuesday, April 29: Following Dr. Kirn's mini-lecture, discover medieval Paris as we examine Notre Dame Cathedral and the royal chapel of Sainte-Chapelle, both on the Ile de la Cite, the oldest inhabited area of Paris dating back to the Roman Empire. The afternoon is free. Perhaps you would enjoy exploring Paris' picturesque Left Bank and having lunch at one of the historic sidewalk cafes on the Boulevard St. Germain. We'll meet for a typical Parisian dinner before boarding an evening cruise along the Seine. (B, D)
Wednesday, April 30: Following Dr. Kirn's mini-lecture, you'll discover Renaissance Paris at the Louvre Museum where we initially will focus on some outstanding works of Renaissance art, including Leonardo's Mona Lisa. Other masterpieces from the 17th to 19th centuries also will be viewed. You'll be free the remainder of the day to browse the luxury shops and antique mall along the Rue de Rivoli, visit other museums that are included with your four-day Paris Museum Pass or take one of the optional tours. (B)
Thursday, May 1: Following Dr. Kirn's mini-lecture, we will venture into the Marais, a historic area filled with 17th- and 18th-century mansions—the Hotel Sully, the beautiful Place de Vosges, the Musee Cognacq-Jay with its collection of 18th-century French art, and the Jewish Quarter. Lunch will be in one of the neighborhood bistros, and then you'll have time to explore on your own. Perhaps you would enjoy visiting the Pompidou Center or walking through the picturesque streets of Montmartre. (B, L)
Friday, May 2: After Dr. Kirn's mini-lecture, we will walk through the Tuileries Gardens to the Orangerie, a museum housing a major collection of Impressionist paintings as well as Monet's famous Water Lilies murals. From there, we'll immerse ourselves in more 19th-century art at the Musée d'Orsay where Dr. Kirn will introduce you to some of the most important paintings in the collection. The afternoon and evening are free—perhaps to climb the Eiffel Tower or visit Napoleon's tomb. (B)
Saturday, May 3: Enjoy the entire day exploring more of Paris and its environs on your own. We'll meet in the evening for our farewell dinner. (B, D)
Sunday, May 4: Filled with memories of Parisian art from the Middle Ages to the 19th century, you will have a transfer to the airport for your flight back to the United States. Allow a minimum of three hours for check-in and bon voyage.
B: Breakfast L: Lunch D: Dinner