June 10, 2013
Vikings prepare for summer trip to Brazil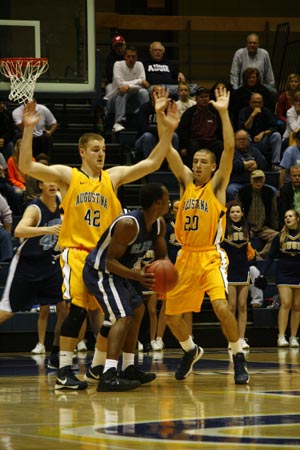 Augustana juniors-to-be Nic Hoepfner and Mark Roth will be part of the Vikings' contingent that will take part in a summer trip to Brazil this coming August.
For the fifth time in Coach Grey Giovanine's tenure at Augustana, the men's basketball team will be taking an international trip this summer. This year's journey takes the Vikings to Brazil for a week of activities in August, including four games against professional and club teams.

After an NCAA-allowed 10 days of practice, the team will depart from Chicago, Illinois for Sao Paulo, Brazil on August 5. The Vikings will spend three nights in the city of Jundiai, with three games scheduled during that time. The squad will also be taking part in a service project during its stay in the Sao Paulo area.
A trip up the Atlantic coast to Rio de Janeiro is next for Giovanine's crew. The team will spend four nights in Rio, host of the 2014 World Cup soccer final as well as the 2016 Summer Olympics. In addition to playing a fourth game, the Vikings will visit Copacabana Beach, Sugarloaf Mountain and Corcovado Mountain, site of the world famous "Christ the Redeemer" statue.
The squad will return home on August 14. Its itinerary mirrors that of trips taken by the Northern Iowa (2011) and Kansas State (2012) basketball programs the past two summers.
This will be the fifth time Giovanine's Augustana teams have traveled internationally in the last 13 years, the maximum allowable by the NCAA, which permits such trips every three years. Previous excursions have taken the Vikings to the Netherlands, Belgium and France in 2001; Ireland in 2004; Tokyo, Hong Kong, China and Inner Mongolia in 2007 and East Asia again in 2010. "Our international experiences have proved to be some of the most educational and rewarding journeys of each of our students' time at Augustana and I expect our trip to Brazil to be as exceptional," said Giovanine.
In preparation for this summer's tour, the team attended a series of seminars conducted by Augustana political science professor Mariano Magalhães. The Brazil native and Fulbright Scholar helped introduce the squad to the culture and customs of the regions it will be visiting.