May 31, 2013
Jones, Smith & Bacon share MVP award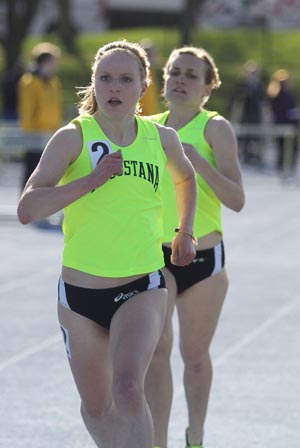 Senior Sarahbeth Jones (left) and sophomore Jessica Bacon (right) shared the MVP award with junior hurdler Kierra Smith for the Vikings in the spring of 2013.
Senior Sarahbeth Jones (Warren Township HS, Wadsworth, Ill.), junior Kierra Smith (Creston HS, Creston, Iowa) and sophomore Jessica Bacon (Rock Island HS, Rock Island, Ill.) have been selected as Most Valuable Performers for Coach Fred Whiteside's Augustana track & field program for 2013. All three qualified for this year's NCAA Division III Outdoor Championships in La Crosse, Wisconsin.

Jones was a three-time CCIW champion this year and set four individual school records and one as a relay member. She set a meet record of 10:16.92 in winning the conference indoor 3000-meter title and took third in the 5000. At the CCIW outdoor meet, she pulled off a rare double, winning the both the 5000 (17:28.01) and 10,000 (37:22.36). She set school records this year in the 3000 (10:14.66) and 4x800 relay (9:31.21) indoors and the 3000 (9:53.85) and 4x1600 relay (21:07.38) outdoors. Her final school mark came at the NCAA Division III Outdoor Championships, when she broke her own 1500-meter record by two seconds with a ninth-place 4:29.29. She served as a team captain this year along with fellow seniors Samantha Bazely (Alleman HS, Coal Valley, Ill.), Annie Heifner (Oregon HS, Oregon, Wis.), Jennifer Prazak (Naperville North HS, Naperville, Ill.) and Taylor Tjardes (Gibson City-Melvin-Sibley HS, Gibson City, Ill.).
For her career, Jones won six CCIW championships and owns or is a part of nine school records. In addition to the school marks she set this year, she's also the outdoor 5000 record-holder (16:53.57) and a member of the record indoor (12:13.73) and outdoor (12:15.79) distance medley relays and outdoor 4x800 relay (9:21.93). She missed earning All-America honors by just one spot as both a junior and senior. In addition to her ninth-place 1500 performance at this year's national meet, she was ninth in the 5000 last year.
Smith, Augustana's school record holder in the 400 hurdles (1:01.56), won All-America honors with a seventh-place finish at this year's national meet. She was a double winner at this year's CCIW outdoor meet, taking both the 100 and 400-meter hurdle events. She's a three-time CCIW champion in her career and in addition to her 400 hurdles mark, she helped set school records in the outdoor distance medley (12:15.79) and 4x400 (3:51.04) relays. Smith is also a captain-elect for the 2014 season along with classmates Kristyn Barton (York HS, Elmhurst, Ill.), Johanna Schnitzler (Downers Grove South HS, Woodridge, Ill.) and Kristen Whiteside (Zion Benton HS, Winthrop Harbor, Ill.).
Bacon took 10th place in the 1500 with a 4:32.55 at this year's NCAA Division III Outdoor Championship. At the CCIW outdoor meet, she finished second in both the 800 and 1500 and was third in the 5000. In addition, she competed on record-setting indoor 4x800 and outdoor 4x1600 relays this year and was part of the indoor and outdoor distance medley relay records set last year. Bacon was also selected, along with sophomore Lizzie Lundine (Willowbrook HS, Villa Park, Ill.) and juniors Amanda Pease (United Township HS, East Moline, Ill.) and Whiteside as winners of this year's Susan Wall Most Improved award.
Other award winners for this year's Vikings included hurdler Annie Martines (St. Charles East HS, St. Charles, Ill.), selected Freshman MVP and classmate Anna Walsh (Mahtomedi HS, Mahtomedi, Minn.), who won the Erica Vortman Viking Award.
2013 AUGUSTANA WOMEN'S TRACK & FIELD LETTERWINNERS
NAME
YR
EVENT
HOMETOWN/HIGH SCHOOL
Rachel Akmakjian*
Fr
Sprints
Fort Collins, Col./Poudre
Jessica Bacon**
So
Mid Distance
Rock Island, Ill./HS
Kristyn Barton ***
Jr
Mid Distance
Elmhurst, Ill./York
Samantha Bazely *** (C)
Sr
Long Jump - Triple Jump
Coal Valley, Ill./Alleman
Liana Beauchamp ***
Jr
Hammer - Shot
Kingston, Ill./Genoa-Kingston
Kate Benge**
Jr
Sprints - Mid Distance
Bettendorf, Iowa/Pleasant Valley
Veronica Bertellotti**
So
Triple Jump - Sprints
Mount Prospect, Ill./Prospect
Kris Bowen**
So
Mid Distance
Elburn, Ill./Kaneland
Kayla Bushey*
Fr
Long Jump - Triple Jump
Chicago, Ill./Luther North
Theresa Coverick***
Sr
Distance
Palos Park, Ill./Stagg
Danielle Engel*
Fr
Pole Vault
Saint Charles, Ill./North
Emma Grandgeorge ***
Jr
Distance
Sycamore, Ill./HS
Annie Heifner **** (C)
Sr
Mid Distance - Steeple
Oregon, Wis./HS
Taelar Hillyer**
Jr
Pole Vault
Bettendorf, Iowa/Alleman
Lauren Hoffman*
Sr
Jumps
Winfield, Ill./Wheaton North
Haley Jones*
Fr
Jumper
Knoxville, Ill./HS
Sarahbeth Jones**** (C)
Sr
Mid Distance
Wadsworth, Ill./Warren Township
Rachel Kelly**
So
Distance
Downers Grove, Ill./South
Emalee Leigh*
Fr
Pole Vault
Hampton, Ill./ United Township
Hana Lobsinger*
Fr
Distance
Wheaton, Ill./Wheaton-Warrenville South
Lizzie Lundine**
So
Distance
Villa Park, Ill./Willowbrook
Emily Lutton*
So
Sprints - Hurdles
Omaha, Neb./Elkhorn
Annie Martines*
Fr
Hurdles
Saint Charles, Ill./East
Kelsey Moon ***
Jr
Mid Distance
Wauconda, Ill./Mundelein
Astin Moravek**
So
Triple Jump
Riverside, Ill./Riverside - Brookfield
Allison Nagy**
Jr
Sprints
Naperville, Ill./Neuqua Valley
Catie Nelson*
Fr
Pole Vault
Annawan, Ill./Geneseo
Amanda Pease ***
Jr
Steeplechase
East Moline, Ill./United Township
Kirstillyn Pohlman ****
Sr
Mid Distance
Winthrop Harbor, Ill./Zion Benton
Laura Polizzi**
So
Triple Jump
Crystal Lake, Ill./South
Julia Popp ***
Jr
Heptathlon
Belvidere, Ill./Boylan Catholic
Jennifer Prazak **** (C)
Sr
Mid Distance
Naperville, Ill./North
Amanda Rodriguez ***
Sr
Distance
Mahomet, Ill./Mahomet-Seymour
Rachel Rodriguez*
Fr
Distance
Mahomet, Ill./Mahomet-Seymour
Lauren Schneiderbauer*
Jr
Javelin
Sterling, Ill./HS
Johanna Schnitzler ***
Jr
Heptathlon
Woodridge, Ill./Downers Grove South
Kierra Smith ***
Jr
Hurdles
Creston, Iowa/HS
Stephanie Sorrentino*
Fr
Sprints
Elmhurst, Ill./York
Lorraine Stamberger**
So
Mid Distance
La Moille, Ill./HS
Becca Sund**
So
Mid Distance
Palatine, Ill./HS
Taylor Tjardes **** (C)
Sr
Pole Vault - Javelin
Gibson City, Ill./Gibson City-Melvin-Sibley
Anna Urbanczyk*
Fr
Long Jump - Triple Jump
Northbrook, Ill./Glenbrook North
Anna Walsh*
Fr
Mid Distance
Mahtomedi, Minn./HS
Kristen Whiteside ***
Jr
Mid Distance
Winthrop Harbor, Ill./Zion Benton