May 31, 2013
Seniors dominate men's track & field awards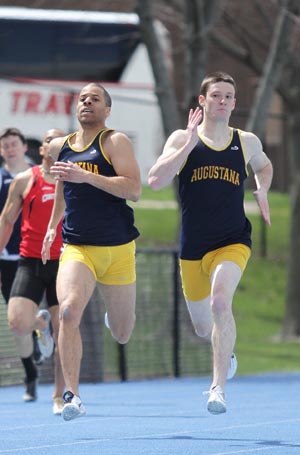 Greg Patton (left) was the winner of the Most Inspirational Award and Alex Rindone (right) won the Most Valuable Track Athlete for the Vikings in 2013. Both were members of the 400 and 1600 relay teams that earned All-American honors also.
Coach Paul Olsen has announced the award winners for his 2013 Augustana men's track & field team and three seniors figure prominently among the honorees. Alex Rindone (Marmion Academy, Geneva, Ill.) and Kevin Macek (Sandburg HS, Orland Park, Ill.) earned Most Valuable recognition in track and field, respectively, while Greg Patton (Bloomington HS, Bloomington, Ill.) was chosen Most Inspirational.

Rindone set three individual school records this year and ran on three record-setting relays as well. He earned All-America honors in four events as a senior, including second-place national finishes in the indoor 400 meters and outdoor 4x400 relay. In addition, he won CCIW titles indoors in the 200 and 4x400 relay and outdoors in the 100 and 200 and 4x100 and 4x400 relays. His performance at this spring's conference championships earned him Track Athlete of the Meet for the second time in three years.
Rindone finished his career with individual school records in the indoor 60 (:06.95), 200 (:21.97), 300 (:34.57) and 400 (:48.21) and outdoor 200 (:21.17) and 400 (:47.43). He was a member of school record relays in the 4x400 (3:16.88) indoors and 4x100 (:40.88), 4x400 (3:09.48) and sprint medley (3:21.25) outdoors. He was a seven-time All-American and won a total of 11 individual CCIW championships and nine conference relay titles.
The Vikings' top thrower, Macek finished second in the discus at this year's CCIW outdoor meet with a season-best heave of 152'. He was also third in the hammer and fifth in the shot. At the indoor conference meet, his 51' 3¾" weight throw earned him fourth place and he took eighth in the shot. Macek's other outdoor bests this year included a 50' 5¼" in the shot and a 162' 11" in the hammer.
Patton was the CCIW 400-meter champion both indoors and outdoors this year and also won conference titles with Augustana's 4x100 relay outdoors and 4x400 relay indoors. He finished eighth in the nation indoors at 400 meters and also earned All-America status with the Viking indoor 4x400 and outdoor 4x100 and 4x400 relay units. He finished his career as a six-time All-American and nine-time CCIW champion. He's a member of school-record relays in the outdoor 4x100 (:40.88) and 4x400 (3:09.48) and indoor 4x400 (3:16.88). The latter two marks were set this year.
Most Valuable Freshman honors went to Keith Sands (United Township HS, Silvis, Ill.) for track and Caleb Ivey (Plainfield North HS, Plainfield, Ill.) for field events. Sands was the CCIW outdoor 5000-meter champion this year with a 14:48.78. At the conference indoor meet, he was third in the 5000 and sixth in the 3000. Ivey finished sixth at this year's CCIW indoor meet with a long jump of 22 ¾". His outdoor best was 22' ¼" at the Wartburg Select. Sophomore Antonio Owens (Naperville North HS, Naperville, Ill.) was recipient of Most Improved honors. As a member of the Viking outdoor 4x400 relay, he earned a CCIW championship, All-America status (second in the nation) and helped set a new school record (3:09.48). He also garnered a third-place finish in the 400 (:48.81) at the CCIW outdoor meet.
Captains-elect for the 2014 season are distance runner Tyler Busch (Winnebago HS, Winnebago, Ill.), decathlete Josh Eisenberg (Richmond-Burton HS, Spring Grove, Ill.), sprinter Jay Graffagna (Geneva HS, La Fox, Ill.) and middle-distance man Chris Madison (Downers Grove South HS, Downers Grove, Ill.). All four will be seniors in 2014.
2013 AUGUSTANA VIKINGS TRACK & FIELD LETTERWINNERS
NAME
EVENT
YR
HOMETOWN (HIGH SCHOOL)
Jacob Adams*
Middle Distance
Sr
Palos Heights, Ill./Stagg
Andrew Allabastro***
Middle Distance
Jr
LaGrange, Ill./Lyons Township
Luke Anderson***
Javelin
Sr
Lemont, Ill./HS
Mike Anderson***
Javelin
Sr
Spring Grove, Ill./Richmond-Burton
Grant Bell**
Distance
So
Belgrade, Minn./Belgrade-Brooten-Elrosa
Jacob Benner**
Sprints
So
Batavia, Ill./HS
Kyle Bennett**
Hurdles
So
Davenport, Iowa/West
Andrew Brimeyer**
Distance
So
Dubuque, Iowa/Senior
Ryan Brummet****
Sprints
Sr
Port Byron, Ill./Riverdale
Tyler Busch***
Distance
Jr
Winnebago, Ill./HS
Keegan Buttimer**
Middle Distance
So
Riverside, Ill./Riverside-Brookfield
Justin Choate*
Throws
Jr
Sugar Grove, Ill./Kaneland
Keith Cline**
Sprints
So
Byron, Ill./HS
Kyle Cluver*
Sprints
Fr
Aurora, Ill./Waubonsie Valley
Vincenzo Dal Pozzo**
Middle Distance
So
Naperville, Ill./Neuqua Valley
Justin Davidson***
Jumps
Jr
Galesburg, Ill./HS
David Devore**
Pole Vault
So
Midland, Mich./HS
Mitch Dietrich*
Distance
Jr
Quincy, Ill./Quincy Notre Dame
Daniel Doubet****
Sprints
Sr
Galesburg, Ill./HS
Joshua Eisenberg***
Decathlon
Jr
Spring Grove, Ill./Richmond-Burton
Ethan Gale**** (C)
Decathlon
Sr
Oregon, Ill./HS
Travis Goodwin*
Hurdles
Fr
Simi Valley, Ca./HS
Kevin Gordy**
Jumps
So
Mokena, Ill./Lincoln Way West
Nick Gornick**
Distance
So
Elmhurst, Ill./York
Jay Graffagna***
Sprints
Jr
LaFox, Ill./Geneva
Stephen Hapanovich*
Javelin
Jr
Cary, Ill./Cary-Grove
Thomas Harris****
Distance
Sr
Davenport, Iowa./Assumption
Kevin Hodge*
Throws
Jr
Elburn, Ill./Kaneland
Shay Hostens*
Decathlon
Fr
Galesburg, Ill./HS
Paul Hurd*
Middle Distance
Sr
Wilton, Iowa/HS
Caleb Ivey*
Jumps
Fr
Plainfield, Ill./Plainfield North
Ethan Koch*
Distance
Fr
Mount Prospect, Ill./Prospect
Jeremy Lang*
Hurdles
Fr
Stillman Valley, Ill./Rockford Christian
Will Lardner*
Decathalon
Jr
Mundelein, Ill./HS
Szymon Ligas*
Middle Distance
Jr
Spring Valley, Ill./St. Bede Academy
Andrew Lulis**
Decathlon
So
Lake Zurich, Ill./HS
Kevin Macek**** (C)
Throws
Sr
Orland Park, Ill./Carl Sandburg
Chris Madison*
Middle Distance
Jr
Downers Grove, Ill./South
Floyd Mays****
Sprints
Sr
Justice, Ill./Mooseheart
Cale McCormick*
Middle Distance
Fr
Mahomet, Ill./Mahomet-Seymour
Rob McNeil**
Sprints
So
Normal, Ill./Bloomington Central Catholic
Garrett Miner*
Sprints
Fr
Moline, Ill./HS
Alex Odenkirk**
Distance
So
Tucson, Ariz./Ironwood Ridge
Dennis O'Flaherty****
Middle Distance
Sr
Orland Park, Ill./Carl Sandburg
Jacob O'Rourke****
Sprints
Sr
Bettendorf, Iowa/Davenport Assumption
Antonio Owens*
Sprints
So
Naperville, Ill./Naperville North
Jeff Padesky**
Pole Vault
So
Moline, Ill./HS
Greg Patton**** (C)
Sprints
Sr
Bloomington, Ill./HS
Brian Pollastrini**** (C)
Distance
Sr
Elmhurst, Ill./York
Alex Rindone**** (C)
Sprints
Sr
Geneva, Ill./Marmion Academy
Keith Sands*
Distance
Fr
Silvis, Ill./United Township
Nowlan Savage**
Sprints
So
Highlands Ranch, Colo./Arapahoe
Alec Seymour**
Sprints
So
Riverton, Ill./HS
Nick Sinon**
High Jump
Jr
Elburn, Ill./Kaneland
Jonathan Smith****
Distance
Sr
Moline, Ill./Moline
Justin Smith**** (C)
Middle Distance
Sr
Bensenville, Ill./Fenton
Nathan Smith***
Distance
Sr
Bensenville, Ill./Fenton
Jared Spivey***
Sprints
Jr
Annawan, Ill./HS
Alexander Stockwell**
Middle Distance
Jr
Glen Ellyn, Ill./Glenbard West
Michael Tovar***
Jumps
Sr
Chicago, Ill./Mooseheart
Isaac Trostle**
Distance
Jr
Lombard, Ill./Willowbrook
Edgar Valle***
Middle Distance
Jr
Elburn, Ill./Kaneland
Colton Vankirk**
Pole Vault
Sr
Rochelle, Ill./HS
David Voland**
Hurdles
So
Batavia, Ill./HS
Kyle Williams****
Decathlon
Sr
Lake Zurich, Ill./HS
Joseph Zahn****
Middle Distance
Sr
Moline, Ill./HS
Steve Zahrobsky***
Sprints
Jr
Woodridge, Ill./Downers Grove South