May 31, 2013
Schmidt, Stewart and Davis win major baseball awards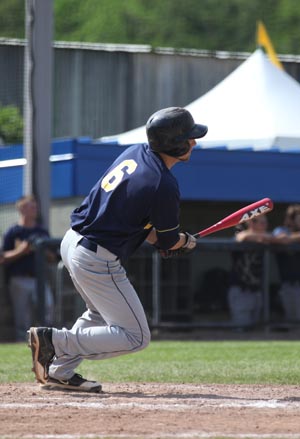 Senior Kurt Schmidt was named the Outstanding Offensive Player for the Vikings in 2013. He hit .366 and led the team in doubles, home runs, RBI, total bases, slugging percentage, hit-by-pitch and stolen bases.
Augustana Coach Greg Wallace has released the award winners for his 2013 Vikings, with seniors Kurt Schmidt (Grayslake Central HS, Grayslake, Ill.) and Grant Stewart (Sterling HS, Sterling, Ill.) and sophomore Seth Davis (Mullen HS, Aurora, Colo.) garnering Outstanding Offensive Player, Outstanding Defensive Player and Outstanding Pitcher honors, respectively. The trio helped lead Augustana to a 34-11 record, a CCIW tournament championship and an NCAA tournament berth this season. The Vikings were ranked 20th in the final D3baseball.com regular season poll.

Schmidt's accolades this year include first team All-CCIW (second consecutive year), first team All-Central Region from D3baseball.com and second team all-region from ABCA/Rawlings. He hit .366 and led the team in doubles (tied with 12), home runs (tied with two), RBI (42), total bases (84), slugging (.480), hit-by-pitch (tied with 10) and stolen bases (15). His batting average was second on the club, as were his 175 at-bats, 38 runs, 64 hits and .418 on-base percentage. He finished his career ranked sixth or better all-time in seven offensive categories at Augustana. His 156 runs are second in school history. He's third in at-bats (624) and stolen bases (tied with 50), fourth in hits (218) and triples (tied with 10), fifth in doubles (tied with 37) and sixth in RBI (119).
A slick-fielding left-handed first baseman, Stewart committed just four errors in 407 chances this season and excelled at saving throwing errors on the infield. In addition, he hit .296, tied for the team lead in homers (two), doubles (12) and hit-by-pitch (10) and ranked second on the club with 37 RBI. He joined Schmidt as a member of the NCAA regional all-tournament team.
Davis, a 2013 ABCA/Rawlings second team All-American, was named first team All-Central Region by the same organization as well as by D3baseball.com. He went 7-2 with a 1.89 ERA, tying for 10th place on Augustana's single season wins list. The southpaw led the CCIW in strikeouts and fanned 100 batters overall, coming within four of John Benedetti's school record set in 2000. Davis completed half of his dozen starts and his 90 1/3 innings in 2013 are third-most in school history. He already ranks eighth in career strikeouts with 150 and will enter his junior season with Augustana's second-best career ERA at 2.46.
Senior right-hander Ben Heaton (Bloomington Central Catholic HS, Heyworth, Ill.), a first team Capital One Academic All-American this year, won the Vikings' Leadership Award. He went 5-2 with a 2.59 ERA in 13 appearances, which included 11 starts. He was a two-time CCIW Pitcher of the Week honoree.
Sophomore left fielder Danny Fifer (Lincoln-Way West HS, New Lenox, Ill.) was winner of the Vikings' "Commitment to Excellence" award. After logging three at-bats as a freshman and playing in just two of Augustana's first eight games this year, Fifer worked his way into the starting lineup and wound up as the team's leading hitter with a .405 average. His .440 on-base percentage was also tops on the club and he scored 34 runs while driving in 26.
Newcomers of the Year went to the freshman pitching quartet of Darwin Townsend (Libertyville HS, Libertyville, Ill.), Walter White (East Peoria HS, East Peoria, Ill.), Brandon Bollman (Lincoln-Way East HS, Frankfort, Ill.) and Chris Sauer (Rock Canyon HS, Littleton, Colo.). All four gave Wallace great innings this year, combining for a 9-3 record and a 2.39 ERA. Townsend went 3-0 with a 3.09 ERA in 15 appearances. White went 4-3 with a 2.87 ERA, splitting his eight appearances evenly between starts and relief assignments.
Bollman made 11 appearances out of the bullpen with a save and a 1.46 ERA and Sauer (2-0, 2.01 ERA), a southpaw, got his only two starts of the season in the CCIW and NCAA tournaments against Illinois Wesleyan and Webster, respectively. The Vikings won both games with Sauer allowing just two runs in 12 2/3 innings.
2013 AUGUSTANA BASEBALL LETTERWINNERS
| | | | | | | |
| --- | --- | --- | --- | --- | --- | --- |
| Name | Pos. | B-T | Ht. | Wt. | Yr. | Hometown/High School |
| David Balzer*** | OF | R-R | 6'0 | 205 | Sr. | Shorewood, Ill./Morris |
| Michael Baugh* | INF | R-R | 6'0 | 208 | Fr. | Matherville, Ill./Sherrard |
| Tyler Bernal* | OF | R-R | 5'10 | 160 | Sr. | Peru, Ill./LaSalle-Peru |
| Tom Bolle* | LHP | L-L | 6'0 | 185 | Fr. | Naperville, Ill./Matea Valley |
| Brandon Bollman* | RHP | R-R | 6'0 | 184 | Fr. | Frankfort, Ill./Lincoln-Way East |
| Jacques Camalick** | OF | R-R | 6'0 | 183 | So. | Burr Ridge, Ill./Hinsdale Central |
| Seth Davis** | LHP | L-L | 5'10 | 172 | So. | Aurora, Colo./J.K. Mullen |
| Eric Egan** | RHP | R-R | 6'1 | 193 | So. | Aurora, Ill./Oswego East |
| Rick Erickson**** | LHP | R-L | 6'1 | 243 | Sr. | Hawthorn Woods, Ill./Lake Zurich |
| Danny Fifer* | OF | R-R | 6'0 | 168 | So. | New Lenox, Ill./Lincoln-Way West |
| Trace Gingerich* | INF | L-R | 6'0 | 174 | Fr. | Sherrard, Ill./HS |
| Ben Heaton**** | RHP | R-R | 5'11 | 169 | Sr. | Heyworth, Ill./Bloomington Central Catholic |
| Kevin Hodgman** | RHP | R-R | 6'1 | 186 | So. | Naperville, Ill./Neuqua Valley |
| Brandon Jasper** | OF | R-R | 6'0 | 184 | So. | DeWitt, Iowa/Central DeWitt |
| Jeremy Juhl**** | INF | R-R | 5'10 | 166 | Sr. | Lombard, Ill./Glenbard East |
| Kyle Lenihan** | INF | R-R | 6'0 | 191 | So. | Romeoville, Ill./HS |
| Jared McIntosh**** | RHP/OF | L-R | 6'1 | 190 | Sr. | Davenport, Iowa/Assumption |
| James Rammel* | RHP | R-R | 6'4 | 184 | Fr. | McHenry, Ill./HS |
| Jim Sandberg**** | C | R-R | 5'10 | 184 | Sr. | Littleton, Colo./J.K. Mullen |
| Chris Sauer* | LHP | L-L | 6'2 | 178 | Fr. | Littleton, Colo./Rock Canyon |
| Kurt Schmidt**** | INF | R-R | 5'10 | 162 | Sr. | Grayslake, Ill./Central |
| Grant Stewart** | INF/OF | L-L | 6-2 | 202 | Sr. | Sterling, Ill./HS |
| John Swiderski* | C | R-R | 6'1 | 200 | Fr. | Geneva, Ill./HS |
| Nick Tenerelli** | C | R-R | 5'11 | 169 | So. | Downers Grove, Ill./South |
| Brandon Tidaback* | INF | R-R | 5'9 | 163 | Fr. | Morris, Ill./Coal City |
| Darwin Townsend* | RHP/INF | R-R | 6'2 | 209 | Fr. | Libertyville, Ill./HS |
| Jacob Van Duyne*** | OF | R-R | 6'1 | 190 | Jr. | Wilmington, Ill./HS |
| Mark VanNatta** | OF | L-L | 6'0 | 183 | Sr. | Moline, Ill./Alleman Catholic |
| Walter White* | RHP | R-R | 5'11 | 177 | Fr. | East Peoria, Ill./HS |