May 31, 2013
Nagelberg & Burgdorff pull in top men's lacrosse awards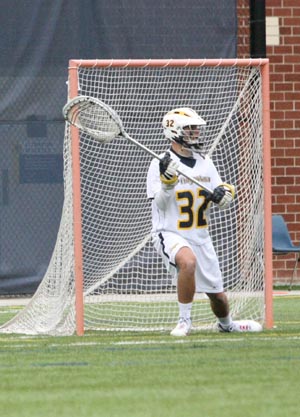 Sophomore Cody Burgdorff was honored as the Most Valuable Defensive Player for Augustana in men's lacrosse in 2013. Fellow sophomore Jesse Nagelberg was the team's Most Valuable Offensive Player as the Vikings went 11-6 overall and 8-2 in the Midwest Lacrosse Conference for third place.
Sophomores Jesse Nagelberg (St. Charles East HS, St. Charles, Ill.) and Cody Burgdorff (Peak to Peak HS, Lafayette, Colo.) have been selected as Offensive and Defensive Most Valuable Players, respectively, for this year's Augustana men's lacrosse team. The pair helped lead the Vikings to an 11-6 record and an 8-2 mark and third place finish in the program's first season in the Midwest Lacrosse Conference.

Nagelberg is a repeat winner of the team's Offensive MVP award. He was third on the team with 38 goals and his 48 points were tied for second on the squad. He also had 10 assists, 20 ground balls and five caused turnovers. He was a first team All-MLC selection this year and was tenth in the conference with an average of 2.50 goals per game, including a pair of game-winners, which tied for third in the league.
Having found the net 77 times in two seasons, Nagelberg is Augustana's all-time leading goal scorer.
Burgdorff was named MVP of a defense that ranked 10th in the nation, allowing an average of just 6.29 goals per game. He played 670 minutes in goal this year and finished with a 9-6 record. His 6.81 goals against average ranked 16th in the nation, while his save percentage of .612 was 21st nationally. He also tied for third on the team with 43 ground balls. Among the MLC's regular goalkeepers, he ranked third in goals against average (5.71) and second in save percentage (.631).
Sophomore goalkeeper Jon Pape (Hoffman Estates HS, Hoffman Estates, Ill.) won the team's Leadership Award. One of four co-captains for the 2013 Vikings, Pape saw action in three games this year and was unscored upon while making seven saves in 53 minutes of playing time. In two seasons, Pape owns a 0.54 GAA and .900 save percentage in 221 minutes in goal.
Freshman defender Cody Speroff (Lincoln Park HS, Chicago, Ill.) was chosen as Augustana's Most Improved Player. He saw action in eight games, recording 10 ground balls and seven caused turnovers.
2013 AUGUSTANA MEN'S LACROSSE LETTERWINNERS
| | | | | | |
| --- | --- | --- | --- | --- | --- |
| Name | Pos. | Ht. | Wt. | Yr. | Hometown (High School) |
| Brad Anderson** | M | 6-0 | 185 | So. | Hartland, Wis. (Arrowhead) |
| Doug Barrie** | M | 5-10 | 165 | So. | Lake Forest, Ill. (HS) |
| Ty Benson** | D | 6-2 | 170 | So. | Libertyville, Ill. (HS) |
| Cody Burgdorff** | G | 5-11 | 160 | So. | Lafayette, Colo. (Peak to Peak) |
| Evan Chikeles* | M | 6-0 | 190 | So. | Hoffman Estates, Ill. (HS) |
| Scott Davis* | M | 5-11 | 163 | Fr. | Overland Park, Kan. (St. Thomas Aquinas) |
| Tim Fennelly** | M | 5-9 | 150 | So. | Centennial, Colo. (Littleton) |
| Daniel Fulton* | D | 6-2 | 165 | Fr. | Denver, Colo. (East) |
| Vincent Giglierano** | M | 5-10 | 150 | So. | San Jose, Calif. (Archbishop Mitty) |
| Kevin Gleason* | A | 5-11 | 225 | Fr. | Chicago, Ill. (Loyola Academy) |
| Jeremy Gottardo** (C) | D | 5-9 | 180 | So. | Algonquin, Ill. (Jacobs) |
| Chris Hager* | M | 5-6 | 145 | So. | Newfields, N.H. (Exeter) |
| Colin Haley** | A | 5-4 | 130 | So. | St. Charles, Ill. (East) |
| Andrew Jurewicz** | D | 5-11 | 155 | So. | St. Charles, Ill. (East) |
| Austin Marrison* | M | 6-1 | 180 | Fr. | Palatine, Ill. (HS) |
| Zach McGinnis** (C) | D | 5-10 | 195 | Jr. | Kenilworth, Ill. (New Trier) |
| Jesse Nagelberg** | A | 6-3 | 215 | So. | St. Charles, Ill. (East) |
| Ryan Nakamoto** | M | 5-11 | 170 | So. | Naperville, Ill. (Central) |
| Jake Self** | D | 6-5 | 230 | So. | Huntington Beach, Calif. (Marina) |