May 30, 2013
Behnke named MVP for softball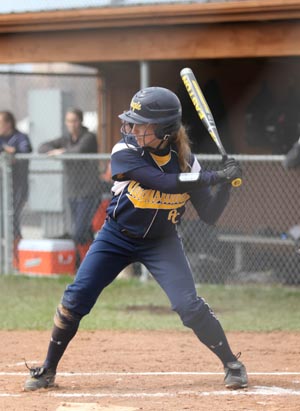 Laura Behnke, who earned all-region and all-conference honors this past season, was selected as Augustana's Most Valuable Player for the 2013 softball season.
Sophomore left fielder Laura Behnke (St. Francis HS, Roselle, Ill.), who led a 32-14 Augustana squad in nearly every offensive category this season, has been named the Vikings' 2013 Most Valuable Player and Best Offensive Player. Junior shortstop Krista Watson (Coal City HS, Coal City, Ill.) and sophomore outfielder Chelsea Lavin (Downers Grove South HS, Downers Grove, Ill.) shared Best Defensive Player honors.

Behnke, a first team All-Great Lakes Region and second team All-CCIW selection, started all 46 games this year. She was Augustana's leading hitter with a .437 average and also led the Vikings in at-bats (151), runs (34), hits (66), triples (five), home runs (eight), total bases (110), slugging (.728), walks (19), on-base percentage (.506) and stolen bases (10). She had 10 doubles and drove in 24 runs as well.
Coach Kris Kistler's leadoff hitter, Behnke excelled in a post-season run which saw Augustana claim the CCIW tournament title with three straight wins and finish third at the NCAA regional in Pella, Iowa with three wins in five contests. In eight post-season games, Behnke had 15 hits in 27 at-bats (.556) with five doubles, a triple, a home run, eight runs scored, five driven in and slugging and on-base percentages of .925 and .625, respectively.
Watson, a two-time first team All-CCIW pick and the Vikings' Offensive MVP in 2011 and 2012, shared defensive honors with Lavin this year. Watson led Augustana with 96 assists and handled 175 of 194 chances at shortstop for a .902 fielding percentage. Lavin, who played both right and center field this season, had 47 putouts and four assists in 54 chances, a .944 fielding percentage. Both were key contributors offensively as well. Watson was second on the team with seven homers and 25 RBI and tied for second with 24 runs scored. Lavin, a second team All-CCIW selection, was second in batting (.391), runs (tied with 24), hits (52), doubles (11), total bases (67), slugging (.504) and on-base percentage (.434).
Sophomore catcher Christina Pagan (Normal West HS, Normal, Ill.) was selected as Augustana' Most Improved Player. After playing in just four games and getting only one at-bat during the regular season, Pagan started all eight post-season games behind the plate, going 6-for-20 (.300) with seven RBI. She was 5-for-14 (.357) with two doubles and six RBI in five NCAA tournament games.
Seniors Jenna Nelson (Orion HS, Orion, Ill.) and Amanda Johnson (York HS, Elmhurst, Ill.) shared the "Viking Award." Nelson, a catcher, third baseman and designated player, hit .220 with two home runs and 12 RBI. Johnson, an outfielder and designated player, hit .233 with a pair of homers and 13 RBI.
2013 AUGUSTANA VIKINGS SOFTBALL LETTERWINNERS
NAME
POS
B/T
HT
YR
HOMETOWN/HIGH SCHOOL
Ashley Anderson*
P
L/L
5-8
Fr.
Viola, Ill./Sherrard
Lisa Bartha*
3B
R/R
5-4
Fr.
Wheaton, Ill./Glenbard South
Laura Behnke**
OF
L/L
5-5
So.
Roselle, Ill./Wheaton St. Francis
Cheyenne Burnett*
OF
L/L
5-4
Fr.
Rock Falls, Ill./Rock Falls
Jennifer Gray*
OF
R/R
5-8
Fr.
Mokena, Ill./Lincoln-Way East
Sarah Hintz***
P
R/R
5-8
Jr.
LeRoy, Ill./HS
Amanda Johnson***
OF
R/R
5-4
Sr.
Elmhurst, Ill./York Community
Chelsea Lavin**
OF
R/R
5-3
So.
Downers Grove, Ill./South
Jenna Nelson***
3B
R/R
5-7
Sr.
Orion, Ill./HS
Christina Pagan*
C
R/R
5-6
So.
Normal, Ill./West
Kendra Rakers*
P/Inf
R/R
5-5
Fr.
Millstadt, Ill./Belleville West
Jaime Rehmert**
1B
R/R
5-10
Jr.
Sterling, Ill./HS
Chaney Tambling***
3B
R/R
5-8
Jr.
Dwight, Ill./HS
Jenna Teson**
2B
L/R
5-4
So.
Algonquin, Ill./Jacobs
Krista Watson***
SS
R/R
5-5
Jr.
Coal City, Ill./HS
Christie Wiersema**
P
R/R
5-10
So.
Morrison, Ill./HS
Jaclyn Wrona**
C
R/R
5-5
So.
Wheaton, Ill./Glenbard South