May 30, 2013
Men's Golf names award winners for 2013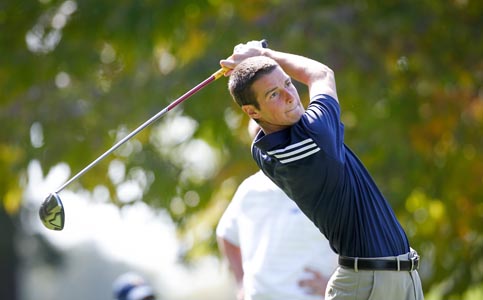 Freshman David Ferlmann was named the "Newcomer of the Year" for the Vikings in 2013.
Sophomore Jake Groselak (Lemont HS, Lemont, Ill.) has been named Most Valuable Player for Coach Paul Del Vecchio's Augustana golf program for the second year in a row. Joining Groselak as 2012-13 Viking award winners are freshman David Ferlmann (Peoria Notre Dame HS, Dunlap, Ill.), who was chosen Newcomer of the Year and sophomore Josh Kukla (Zion Benton HS, Winthrop Harbor, Ill.), who was selected Most Improved.

Groselak, who led Augustana letter winners with an average round of 80.4 strokes this year, had his best round at the Elmhurst Invitational on September 27. He shot a one-over par 73, finishing in a tie for fifth among 82 competitors. His highest finish was a tie for fourth (77) at the Scot-Fire-Viking Classic on September 13. He was 24th at this year's CCIW Championship with a four-round total of 320. Groselak played all 12 events and 22 rounds for Augustana this season.
Ferlmann competed in 11 events and 20 rounds this year and his 83.0 per-round average was second among Viking letter winners. His best round and top finish came at the Scot-Fire Invite on April 26-27. He shot a second-round 74 to finish with a two-round total of 152, good for a tie for eighth in a field of 72 competitors. Ferlmann finished 38th at the CCIW tournament with a score of 337 over four rounds.
Kukla played 14 rounds in nine events with an average round of 86.4 strokes. His best round was a three-over 74 at the Duane Chanay Invitational. His best finish was a tie for 26th (87) at the Scot-Fire-Viking Classic.
2012-13 AUGUSTANA VIKINGS MEN'S GOLF LETTERWINNERS
| | | |
| --- | --- | --- |
| NAME | YEAR | HOMETOWN (HIGH SCHOOL) |
| Max Channon** | So | Wheaton, Ill./Wheaton-Warrenville South |
| Dave Cook* | Jr | Silvis, Ill./United Township |
| David Ferlmann* | Fr | Dunlap, Ill./Peoria Notre Dame |
| Jake Groselak** | So | Lemont, Ill./Lemont Township |
| Josh Kukla** | So | Winthrop Harbor, Ill./Zion Benton Township |
| Connor Lautt* | Fr | Mesa, Ariz./Highland |
| Grant Murphy** | So | Peoria, Ill./Dunlap |
| Jason Roemer* | Fr | Ancona, Ill./Streator-Woodland |
| John R. Stone*** | Jr | Reynolds, Ill./Rockridge |