May 24, 2013
Rindone makes finals in 400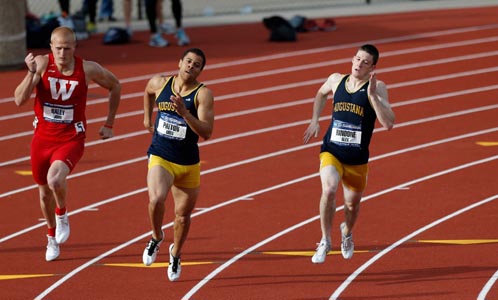 Seniors Alex Rindone (right) and Greg Patton (left) in action on Friday, May 24 at the NCAA Division III national meet in the open 400. Rindone placed second in the heat with a time of :48.00 and advanced to the final while Patton was fourth in :48.44 and placed 13th overall.
LACROSSE, Wis. - Senior Alex Rindone (Marmion Academy, Geneva, Ill.) qualified for the finals in the 400 at the second day of competition in the 2013 NCAA Division III Outdoor Track & Field Championships on Friday, May 24 in LaCrosse, Wisconsin. It was a light day of action for Augustana as the Vikings had just three competitors in action at the University of Wisconsin-LaCrosse.

Rindone placed second in his heat with a time of :48.00, just behind the winning time of :47.97 turned in by Jeff Macdonald of Claremont-Harvey-Mudd-Scripps. Rindone will now run in the final on Saturday when he will be a busy young man. He will anchor the 400 relay, compete in the open 400 and anchor the 1600 relay.
Senior Greg Patton (Bloomington HS, Bloomington, Ill.) was in the same heat as Rindone on Friday and he placed fourth with a time of :48.44 and did not advance to the finals. He wound up 13th overall.
Sophomore Vincenzo Dal Pozzo (Neuqua Valley HS, Naperville, Ill.) took sixth in his heat of the 800 with a time of 1:53.88 and finished 17th overall.