May 24, 2013
Four Vikings named to all-region team in baseball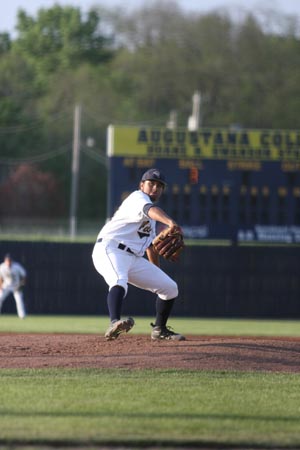 Seth Davis was a first team all-region selection as a pitcher on both the D3baseball.com and ABCA/Rawlings teams after going 7-2 with a 1.89 earned run average in his sophomore season.
D3baseball.com and the American Baseball Coaches Association have announced their respective NCAA Division III All-Central Region teams and Augustana is well represented on both units. Sophomore pitcher Seth Davis (Mullen HS, Aurora, Colo.), senior second baseman Kurt Schmidt (Grayslake Central HS, Grayslake, Ill.), senior reliever Rick Erickson (Lake Zurich HS, Hawthorn Woods, Ill.) and junior outfielder Jacob Van Duyne (Wilmington HS, Wilmington, Ill.) all earned recognition from one or both organizations.

Davis was a first team selection on both the D3baseball.com and ABCA/Rawlings outfits. Schmidt earned first team honors from D3baseball and joined Erickson on the ABCA/Rawlings second team. Van Duyne was named to the ABCA/Rawlings third team. All four played key roles in the Vikings' 34-11 season which included a CCIW tournament championship and the program's fourth NCAA tournament appearance. Davis and Schmidt were also first team All-CCIW selections this year, while Erickson and Van Duyne were named to the all-conference second team.
Davis went 7-2 with a 1.89 ERA in 2013, tying for 10th place on Augustana's single season wins list. The southpaw led the CCIW in strikeouts and ranked fifth in the nation with 100 K's overall, coming within four of John Benedetti's school record set in 2000. Davis issued just 18 walks and opponents hit only .209 off him. He completed half of his dozen starts and his 90 1/3 innings this season are third-most in school history. He already ranks eighth at Augustana in career strikeouts with 150 and will enter his junior season with the school's second-best career ERA at 2.46.
The right-handed hitting Schmidt batted .366 this year and led the team in doubles (tied with 12), home runs (tied with two), RBI (42), total bases (84), slugging (.480), hit-by-pitch (tied with 10) and stolen bases (15). His batting average was second on the club, as were his 175 at-bats, 38 runs, 64 hits and .418 on-base percentage. He finished his career ranked sixth or better all-time in seven offensive categories at Augustana. His 156 runs are second in school history. He's third in at-bats (624) and stolen bases (tied with 50), fourth in hits (218) and triples (tied with 10), fifth in doubles (tied with 37) and sixth in RBI (119).
Erickson, a senior left-hander, flourished in the closer role for the Vikings this year. He went 4-0, was 10 for 10 in save opportunities and posted a 1.45 ERA in 16 appearances. Opponents batted just .172 against him and he finished the season with a string of nine straight scoreless appearances, covering 12 innings. In CCIW play, he was even more dominant, going 2-0 with league highs of nine appearances and six saves. He had a 0.87 ERA in conference play and the league batted a meager .091 against him.
Van Duyne led the Vikings with 197 at-bats and 71 hits this year, marks that rank third and tied for fifth respectively, in school history. He also led the team in runs scored with 45 and was second with 79 total bases and 12 stolen bases. He ranked third on the club with a .360 average and a .394 on-base percentage. He hit .294 and played a flawless right field in four NCAA regional contests despite playing with a separated shoulder he incurred during the CCIW tournament.