May 23, 2013
Jones, Smith and Bacon in finals at NCAAs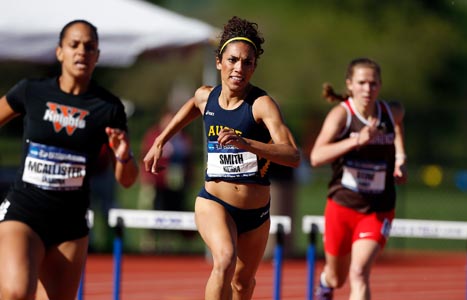 Junior Kierra Smith made the finals in the 400 intermediate hurdles at the NCAA Division III track & field meet on Thursday, May 23 in LaCrosse, Wisconsin.
LACROSSE, Wis. - Three Augustana women's track & field athletes qualified for the finals at the first day of competition at the NCAA Division III Outdoor Track & Field Championships on Thursday, May 23 in LaCrosse, Wisconsin. Senior Sarahbeth Jones (Warren Township HS, Wadsworth, Ill.) and sophomore Jessica Bacon (Rock Island HS, Rock Island, Ill.) made it in the 1500 and junior Kierra Smith (Creston HS, Creston, Iowa) will represent the Vikings in the 400 intermediate hurdles.

In addition, junior Taelar Hillyer (Rock Island Alleman HS, Bettendorf, Iowa) finished her season with a 15th place finish in the pole vault.
Jones, the school record holder, and Bacon, who holds the second-fastest time in Augustana history, were both in the same heat and it was a scorcher. Annie Managle of Johns Hopkins won with a time of 4:31.09 and Jones took the fourth, and final, automatic spot into the finals with a time of 4:31.47. Bacon ended up seventh in the heat with a time of 4:35.74 and she will be the 11th fastest time heading into the finals on Saturday.
Jones ran 4:31.29 to set the Augustana school record on April 20 in the Augustana Invitational and Bacon recorded her best time of her career that same day with a clocking of 4:32.52.
Smith was fifth in the first heat in the intermediate hurdles with a time of 1:01.70, just off her school record of 1:01.56 set in winning the College Conference of Illinois & Wisconsin championship on May 4 in Decatur, Illinois. She has the ninth fastest time going into the final round.
Hillyer cleared 11' 3 ¾" in the pole vault to take 15th.