May 23, 2013
First day sees finalists in three events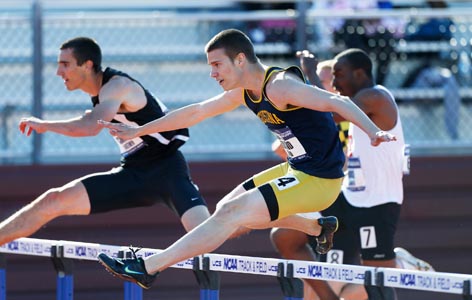 Sophomore David Voland won his heat in the 400 intermediate hurdles and advanced to the finals at the NCAA Division III outdoor championship on Thursday, May 23 with a time of :52.25. He also was on the 1600 relay that advanced to the finals with a time of 3:10.76.
LACROSSE, Wis. - Both the 400 and 1600 relay teams and sophomore David Voland (Batavia HS, Batavia, Ill.) advanced to the finals at the NCAA Division III National Track & Field Championships on Thursday, May 23 in LaCrosse, Wisconsin. Those were the only three events that Augustana had competitors in on the first day of competition.

The 400 relay team of sophomore David Devore (Midland HS, Midland, Mich.), senior Greg Patton (Bloomington HS, Bloomington, Ill.), sophomore Keith Cline (Byron HS, Byron, Ill.) and senior Alex Rindone (Marmion Academy, Geneva, Ill.) placed third in the first heat with a time of :41.34 and qualified as the ninth fastest time. The Viking foursome has a best time this year of :41.03 set on May 17 at the Twilight Qualifier at home.
Voland was the next competitor and he cruised to victory in the third heat of the 400 hurdles with a time of :52.25 and will have the third best time heading into Saturday's final. His best time this year is :51.77 set at the Twilight Qualifier last week.
The 1600 relay team of Patton, sophomore Antonio Owens (Naperville North HS, Bolingbrook, Ill.), Voland and Rindone won its heat with a time of 3:10.76 and will have the second-best time in the finals. Wisconsin-Eau Claire turned in the best time of the day with a clocking of 3:10.13 in winning the first heat. Patton, Owens, Voland and Rindone own the Augustana school record of 3:09.48 set on April 27 at the Drake Relays.