May 24, 2013
Heaton wins first team Academic All-American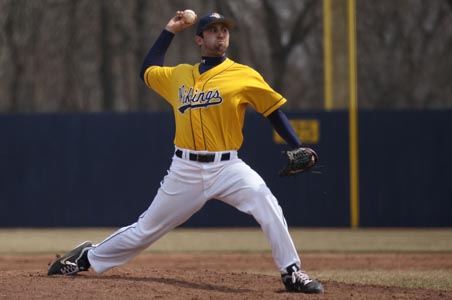 Senior Ben Heaton was named first team Capital One Academic All-American by the College Sports Information Directors of America. He is the 142nd Academic All-American in Augustana athletic history.
Augustana senior pitcher Ben Heaton (Bloomington Central Catholic HS, Heyworth, Ill.) capped an outstanding career with the Vikings by being named first team Academic All-American as selected by the College Sports Information Directors of America (CoSIDA). Heaton was the lone representative from the College Conference of Illinois & Wisconsin and one of just two players from the state of Illinois on the elite team which combines academic excellence with athletic achievement.

The right-handed Heaton was instrumental in helping Augustana compile a 34-11 overall record, win the CCIW Tournament and finish third in the recently concluded NCAA Division III Moline Regional. He was 5-2 with a 2.59 earned run average in 66 innings. He appeared in 13 games, 11 of those as a starter and he posted one complete game. He had 39 strikeouts and opponents batted .266 against him.
During his career at Augustana he had a record of 16-5 with a 3.45 earned run average in 27 starts with five shutouts. He currently ranks 11th on the school's all-time list in ERA and he worked 164 1/3 innings with 103 strikeouts.
He was named "Pitcher of the Week" twice this season in the CCIW and his best outing was when he went eight innings and allowed just five hits with 10 strikeouts in an 11-2 win over North Central on April 2. He came back five days later and went 7 2/3 innings in a 4-2 win against Carthage.
An accounting and finance major with a 3.84 grade point average, Heaton has been nominated for an NCAA Postgraduate Scholarship. He is a member of the Omicron Delta Kappa national leadership fraternity and earlier this year he was voted the "Outstanding Accounting Student" at Augustana.
He served as a summer corporate tax intern at State Farm Insurance in Bloomington, Illinois during 2012. He was also a part of an internal audit project at QCR Holdings in Moline during the spring of 2012. Heaton served as a VITA volunteer at Friendly House in Davenport, Iowa where he helped prepare income-tax returns for low-income families.
Heaton has been a peer mentor at Augustana where he advised and mentored new students since 2011. Another project that he has been involved with has been "Lunch Buddies" where he served as a role model for a child who was faced with a difficult home situation.
Heaton is the 142nd Augustana athlete to win Academic All-American honors and the 11th baseball player. Augustana currently ranks sixth in the nation (all divisions) in number produced. Augustana is second among NCAA Division III schools and tops in the CCIW. The Academic All-America selection process is conducted by the College Sports Information Directors of America (CoSIDA).