May 20, 2013
Men's track & field in six events at NCAA meet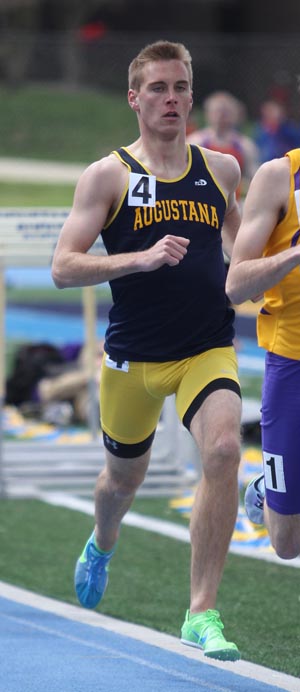 Sophomore Vincenzo Dal Pozzo qualified for the NCAA Division III national meet with his time of 1:52.30 in the 800 at the Twilight Qualifier on Friday, May 17 at Paul V. Olsen Track.
The Augustana men's track & field team will be represented at the NCAA Division III national championship in six events. The national meet will begin on Thursday, May 23 in LaCrosse, Wisconsin and will continue through Saturday, May 25.

Last Friday night (May 17), the Vikings finished the regular-season portion of the 2013 season by hosting the Twilight Qualifier at Paul V. Olsen Track. Augustana won seven events in the meet and managed to land one more NCAA Division III national meet qualifier in the process.
Sophomore Vincenzo Dal Pozzo (Neuqua Valley HS, Naperville, Ill.) blasted his way to a time of 1:52.30 in winning the 800 and he became the last qualifier for the Vikings. Also on Friday, senior All-American Alex Rindone (Marmion Academy, Geneva, Ill.) broke his own school record in the 400 with a time of :47.43. Rindone's classmate, All-American Greg Patton (Bloomington HS, Bloomington, Ill.) was also under Rindone's previous mark of :47.76 with a second place time of :47.72.
The sprint corps stayed hot as the 400 relay team of sophomore David Devore (Midland HS, Midland, Mich.), Patton, sophomore Keith Cline (Byron HS, Byron, Ill.) and Rindone recorded its fastest time of the campaign at :41.03.
Rindone and Patton are qualified for nationals in the 400 and Dal Pozzo will go in the 800. Sophomore All-American David Voland (Batavia HS, Batavia, Ill.) will take on the field in the 400 intermediate hurdles where he has a best time of :51.77, which he recorded on Friday night also.
The 1600 relay team of Patton, sophomore Antonio Owens (Naperville North HS, Bolingbrook, Ill.), Voland and Rindone will take a school record-best time of 3:09.48 into national competition.
A year ago the Vikings placed seventh in the NCAA Division III outdoor championships.