May 17, 2013
Twilight Qualifier nets eight event winners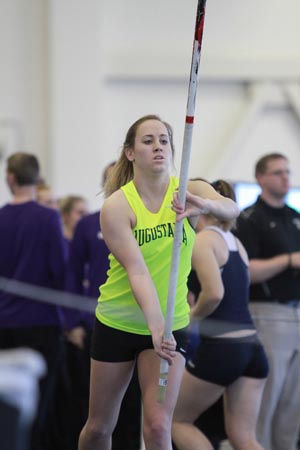 Junior Taelar Hillyer tuned up for the NCAA Division III national meet by winning the pole vault with a height of 12' 2" on Friday, May 17 at the Twilight Qualifier.
ROCK ISLAND, Ill. - The Augustana Vikings put the finishing touches on the 2013 women's track and field season by winning eight events at the Twilight Qualifier on Friday, May 17 at Paul V. Olsen Track. There were no team scores but the four individuals on the team who are heading to the national meet showed they are ready for the competition.

Senior Sarahbeth Jones (Warren Township HS, Wadsworth, Ill.) won the 1500 with a time of 4:37.24. She will also compete in the 5,000 at the NCAA Division III national meet, which will start on Thursday, May 23 in LaCrosse, Wisconsin.

Junior Kierra Smith (Creston HS, Creston, Iowa) won the 400 intermediate hurdles, the event she will run at nationals, in 1:02.19. Junior Taelar Hillyer (Rock Island Alleman HS, Bettendorf, Iowa) is qualified in the pole vault and she won of Friday night with a leap of 12' 2".

Sophomore Jessica Bacon (Rock Island HS, Rock Island, Ill.) will compete in the 1500 at nationals but on Friday she ran in the 800 and finished third in 2:16.15.

Sophomore Astin Moravek (Riverside-Brookfield HS, Riverside, Ill.) won the triple jump (35' 1 ¾") and placed second in the long jump (16' 9 ¾"). Senior Annie Heifner (Oregon HS, Oregon, Ill.) won the 3000 steeplechase in 12:17.34 and sophomore Lizzie Lundine (Willowbrook HS, Villa Park, Ill.) took the 5000 in 19:05.86.

The 400 relay team of freshman Rachel Akmakjian (Poudre HS, Fort Collins, Colo.), freshman Annie Martines (St. Charles East HS, St. Charles, Ill.), freshman Stephanie Sorrentino (York HS, Elmhurst, Ill.) and sophomore Emily Lutton (Elkhorn HS, Omaha, Neb.) won in :52.53. The 1600 relay of junior Kate Benge (Pleasant Valley HS, Bettendorf, Iowa), Smith, Bacon and junior Johanna Schnitzler (Downers Grove South HS, Woodridge, Ill.) took first in 4:06.46.