May 16, 2013
Vikings stay alive with 5-3 win over Webster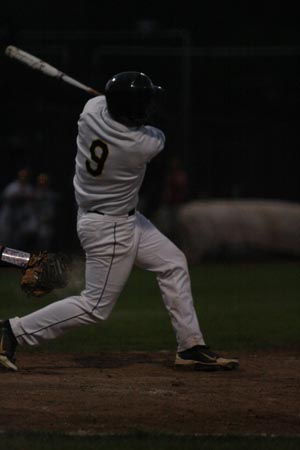 Kyle Lenihan had a key RBI single in Augustana's 5-3 win over Webster Thursday at the NCAA regional at Swanson Stadium/Brunner Field.
MOLINE, Ill.- Augustana took advantage of four Webster errors in the eighth inning Thursday, pushing across two runs to claim a 5-3 win on the second day of the NCAA regional at Swanson Stadium/Brunner Field. The third-seeded Vikings (33-10) advance to play Wartburg in an elimination game on Friday at 3:30 p.m. The top seed Gorloks (33-10) face Adrian in a noon elimination game on Friday.

The pivotal bottom of the eighth started with Nick Tenerelli (Downers Grove South HS, Downers Grove, Ill.) reaching on a Webster miscue. Jacques Camalick (Hinsdale Central HS, Burr Ridge, Ill.) pinch-ran for the Augustana catcher and Mark VanNatta (Alleman HS, Moline, Ill.) laid down a perfect sacrifice to get him to second.
After the Gorloks called on closer Jason Gray, Brandon Jasper (Central DeWitt HS, DeWitt, Iowa) was retired pitcher to first on an infield chopper with Camalick advancing to third. Kyle Lenihan (Romeoville HS, Romeoville, Ill.) followed with a high hopper up the middle which eluded Webster shortstop Ryan Hall and scored Camalick with the go-ahead run. The next batter, Jeremy Juhl (Glenbard East HS, Lombard, Ill.), also reached on an error, with Lenihan moving to third. Gray then caught Juhl off first, but in the ensuing rundown, Lenihan broke for the plate and was safe when the throw short-hopped catcher Ian Foege.
Coach Greg Wallace called on closer Rick Erickson (Lake Zurich HS, Hawthorn Woods, Ill.) to finish in the ninth and the senior responded, earning his 10th save of the season in as many opportunities.
Starting pitchers Chris Sauer (Rock Canyon HS, Littleton, Colo.) and Steven Dooley were locked in a scoreless duel through four innings before Cody Stevenson's two-out double in the top of the fifth scored Hall to give the Gorloks a 1-0 lead. The Vikings got their first run of the tournament in the bottom half to tie it. Juhl drew a one-out walk, moved to third on a Jacob Van Duyne (Wilmington HS, Wilmington, Ill.) double, and scored on Danny Fifer's (Lincoln-Way West HS, New Lenox, Ill.) sacrifice fly to center.
Webster's Alex Kazmierski touched reliever Brandon Bollman (Lincoln-Way East HS, Frankfort, Ill.) for a solo home run in the top of the sixth, but Augustana answered with two in the bottom of the frame to take the lead. With Tenerelli on first after a fielder's choice, Jasper reached on a two-out error with Tenerelli moving to second. Lenihan followed with an RBI single to left center. Dooley then tried to pick Jasper off third, but his throw went into the third-base dugout, allowing the sophomore to race home with the go-ahead run.
Webster's Cory Lasky singled in Stevenson in the seventh to tie it 3-3.
Darwin Townsend (Libertyville HS, Libertyville, Ill.), the third of three straight freshman hurlers for the Vikings, went an inning and a third to pick up the win and move to 3-0 on the year. He got out of a second and third, one out jam in top of the eighth in an unorthodox way. While attempting to intentionally walk Mitchell Bonds, Townsend uncorked a pitch to the backstop. However, Tenerelli fielded the carom perfectly. He fired to Lenihan at third too late to catch the runner there, but Lenihan threw to Kurt Schmidt (Grayslake Central HS, Grayslake, Ill.), who ran down and tagged out the runner from second. Bonds flew lo left to end the inning.
Van Duyne and Schmidt each had a single and a double to pace a seven-hit Augustana attack. Sauer went four and two-thirds, allowing just one run on three hits in his second career start. He was relieved by fellow freshman Bollman, who went two innings before turning it over to Townsend.