Field Notes
Here are excerpts from an essay written by Maureen Zach '14 (Spanish, religion and anthropology) after completing an internship in Ghana during winter term, an experience funded in part by Augie Choice. She interned at Hope Community Children's Home—an orphanage and foster home for boys from the streets of Accra—that strives to give the boys a better chance at becoming successful citizens. Eight-year-old Kofa is with Maureen in the photo above.
In the process of sharing my experience, I have tried to break stereotypes about Africa and provide perspective about our American lifestyle and life in general. Overall, my goal has been to help my family and friends understand Ghana without looking down on the people, culture and lifestyle that I came to love and appreciate.
The best way I have been able to accomplish this has been to place Ghana in its historical context. Not all aspects of contemporary Ghanaian society are connected to the country's past, but colonialism in particular explains much of why Ghana is the way that it is.
My conversations with my family...illustrate the perspective that only an experience like this provides....
With my grandparents, I shared a general picture of Ghana's past and present, giving them a basic understanding of modern Africa. These conversations were definitely the most interesting ones that I had. First, I had to explain to them that Ghana was not, in fact, a land of uncivilized people living in huts. They were amazed when I showed them pictures of the city of Accra and my homestay. However, as I showed them pictures of the red dirt roads and convenience store shacks in my neighborhood, I could see their minds revert back to an African image of primitivism. I tried to emphasize how Ghana's colonial experience has greatly shaped and influenced contemporary society, and remind them that Ghana has only been independent since 1957, especially as they further inquired about the availability of electricity and drinking water.
By the end of the conversation, I think I was able to convey my understanding of Ghana's connection to its past: Ghana has made a great deal of progress in spite of colonialism, and is not completely defined by its colonial experience. However, its level of development in comparison with the rest of the world and from our first-world perspective has been limited by their mere 55 years of independence.
All of my conversations helped me further recognize how nearly everything I encountered in Ghana was connected to its past, but Ghanaians have also been active agents in shaping their society and way of life, and will continue to be as Ghana emerges as a power to be reckoned with in Africa and the world.
From the Cabinet
President of the College Steve Bahls
Four years ago, I had the pleasure of writing an open letter to my daughter as she was preparing to begin her college experience here at Augustana. While it seems impossible, this weekend Jane and I will congratulate Angie and her husband Nick as they commence from this place to the next adventure in their lives.
Earlier this spring, Inside Higher Ed invited me to write a second open letter to Angie on her graduation, and in this year-end issue of Acknowledge, I'd like to share my letter with you.
Augustana Family News
Each May, we share news of family members' graduation from high school or college.
Judy Campos, program administrator in business administration, will see both her daughters graduate from Augustana on May 19. Arielle Campos studied business administration-marketing and art; she plans to move to Geneva, Illinois, and find a job in marketing. Ceara Campos studied business administration-management and communication studies; she will pursue a master's degree in health care administration at the University of Iowa this fall.
English faculty members David Crowe and Katie Hanson's daughter Emily Crowe will graduate from West High School in Davenport, with plans to attend Luther College in the fall. Their son Michael Crowe will graduate from Luther College on May 19 with a double major in communication studies and English; two weeks later he will begin his job as a multimedia journalist for KWWL Channel 7 in Waterloo, Iowa.
Steve and Jane Bahls' daughter Angela Cummins and her husband Nick both will graduate from Augustana on May 19. Later this summer they will move to Tucson for Angie's graduate study in speech-language pathology at the University of Arizona.
Political science professor Dave Dehnel's daughter Allison Dehnel completed her master's degree in entomology at the University of Wisconsin and has begun working as a research lab technician in the Department of Entomology at the University of Kentucky.
Director of Human Resources Laura Ford and her husband Chris (both Class of 1986) are officially ending their hope for a second generation at Augustana, as their younger son Jake Ford is graduating from Moline High School and plans to join his brother Aaron at Luther College next year.
Elizabeth Gant, daughter of Mary Ann Gant in the registrar's office, will graduate from Bradley University on May 18 with a degree in communications.
Asta Gustafson, daughter of Jon and Rita Gustafson (performance hall management/ticket office), will graduate from Augustana with a major in psychology and a minor in art. After first working to pay off student loans and purchase the house she currently rents, Asta eventually plans to find a position as an art therapist working with disabled, autistic or at-risk children.
Political science professor Mariano Magalhães' daughter Bela Magalhães is the valedictorian of her graduating class at North High School in Davenport. She plans to study international relations at the University of Iowa in the fall.
Doug Peters, son of Joel and Julie Peters (athletics), is the 10th member of his family on his mother's side to attend Augustana, and will be the ninth to graduate when he crosses the stage on May 19. Doug majored in neuroscience and biology and recently was elected to Phi Beta Kappa. In August he will continue his education as a doctoral candidate in the molecular, cellular and developmental biology program at the University of Colorado in Boulder.
Richard and Sue Rector (advancement) have two reasons to celebrate this spring: their son Rickey Rector will graduate from Augustana with a bachelor's in communication sciences and disorders on May 19, and their daughter Emily Rector '09 Lechelt had a baby, Harper Elise, on May 9.
John and Jill Roche (admissions) have two children graduating this spring: Jessica Roche will receive a bachelor's in biology from Augustana on May 19, and Matthew Roche will graduate from Moline High School with plans to major in pre-medicine at Augustana.
Henry Roderick, son of Lori Roderick '85 (advancement) and Bill Roderick '86, will graduate from Rock Island High School in May. Planning to major in biology at Augustana, Henry will begin his first year in college by heading west for Introductory Physical Geology in the Rocky Mountains in August.
Olivia V. Swanson, daughter of Executive Assistant to the President Kai Swanson '86, will graduate from Harlem High School in Loves Park, Illinois, on May 25, and she plans to attend Carthage College in the fall.
Joanne Walker's (registrar's office) daughter Haylee Walker is graduating with high honors from Rockridge High School, Taylor Ridge, on May 26. Haylee intends to major in graphic design here at Augustana.
Maggie Williams, daughter of Angie Williams in the Community Engagement Center, will graduate from Rock Island High School on May 26. She will join us at Augustana in the fall, with plans to become a high school teacher.
New Face on Campus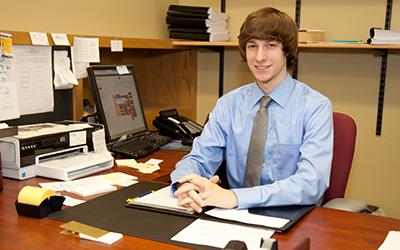 Jacob Zubrzycki, Class of 2013
Soon-to-be alumnus Jacob Zubrzycki is a native of McHenry, Illinois. Jacob's first job after Augustana begins on June 4, when he will become a budget analyst in the college's business office.
Four years ago, Jacob began his first year at Augustana College with a very open mind. He thought he might want to become a geologist, but he also had an interest in business.
"I knew a liberal arts college was where I wanted to be," he said, "because I knew it would expand the range of possibilities for me."
Jacob majored in business administration with a focus on management and finance and a minor in economics. Two experiences at Augie helped him choose business administration as his area of focus. The first was the Ads Group. Under the tutelage of Doug Tschopp, Ads Group students learn firsthand about marketing and sales by developing strategies and media solutions to fund their activities, including their participation in the annual National Student Advertising Competition. He also served as vice president of the student investment fund, a student organization that gives students the opportunity to experience the financial markets as a real investor.
Jacob credits his professors Lina Zhou and Dennis Norling, as well as his future boss, CFO David English, for making this experience so compelling that he ultimately decided to go the route of finance instead of geology.
(We took this photo of Jacob in what will be his future office in Sorenson. Thanks to current occupant, Dennis Hittle, for being out of the office when we sneaked in to take this shot.)
In the Works
Congratulations again to this year's Jaeke Award winners. Each of these five colleagues will be honored at our end-of-summer employee convocation in August.
Anne Bergren (administration) has developed many programs to enhance donor relations and stewardship over the years, which together increase giving to the college, and individually can raise a convivial spirit of philanthropy across campus. One example is the recent "Love a Donor" event, in which more than 1,200 members of the Augustana community wrote thank-you valentines to donors. Anne teaches students the basics of meeting and connecting with donors, and consistently achieves a response rate of more than 90% of scholarship recipients writing thank you notes.
Gary Faley (facilities/security) is an outstanding worker on the grounds crew, always going above and beyond—quite literally, on this hilly, 115-acre campus. In the spring and summer, he trims and mows these hills. In winter, he is one of three people shoveling to clear the steps and walkways. Gary is thorough; he would rather get to the root of a problem than do a quick fix. He is detail-oriented and wants to see this beautiful campus looking its best—especially for prospective students who might choose Augustana. Ultimately, Gary wants to maintain a safe and inviting campus for all to enjoy as they visit, work or live at Augustana.
Mary Horton (dining services) works at the College Center snack bar, where she shares her welcoming spirit with all students in the checkout line. She seems to know every name as she asks how their day is going. Even though she jokes and has fun, she always makes sure the student workers are on top of their job, keeping the lower College Center clean and presentable. Her students call her a great supervisor, because she is so understanding and such a pleasure to be around.
Gail Parsons (office personnel) is the building secretary for Swenson Geosciences and John Deere Planetarium. Beyond her exceptional performance as a fellow co-worker and manager of the building, she has a remarkable effect on students and college visitors. Even if they take only one class in geography or geology, students often will return to Swenson to update Gail on their scholarly activity. Graduating seniors routinely credit Gail in the acknowledgements section of their senior theses, for her encouragement and support.
Jason Peters (faculty) is an excellent scholar and teacher who dedicates much of his personal time to student-faculty partnerships. One example is the Local Culture House he and Charlie Mahaffey helped students retrofit a few years ago—and which now has led to a second house—as an extension of the environmental learning community they taught together. A second example is Augie Acres, which he helped acquire and implement (including vegetable gardens, an orchard, grapevines, beehive, hoop house, berry bushes and an herb garden), and where you might find him working with students even on 100-degree days. One colleague called him "Augustana's sustainability fairy." Whatever he is, Jason is dedicated to memorable out-of-classroom experiences that foster relationships, and a passion for lifelong learning.
Seen & Heard
The sea was red and the sky was grey,
Wondered how tomorrow could ever follow today.
The mountains and the canyons started to tremble and shake
As the children of the sun began to awake.
—from "Going to California" by Led Zeppelin
Sophie Juhlin '15 sang and played guitar, accompanied by Frank Binder '15 on guitar and Dan Cimo '14 on violin, at the May 1 outdoor event sponsored by Fair Trade Augustana.
Acknowledge is published by the Office of Communication and Marketing at Augustana College in Rock Island, Illinois. Contact Beth Roberts, editor. Photos in this issue were contributed by Maureen Zach '14, as well as Drew Barnes '14, Angelica Lindqvist and Long Nguyen '16 of the Augustana Photo Bureau. Farewell and many thanks to Angelica as she returns to her home country of Sweden after her year at Augustana!