May 14, 2013
Five Vikings named All-CCIW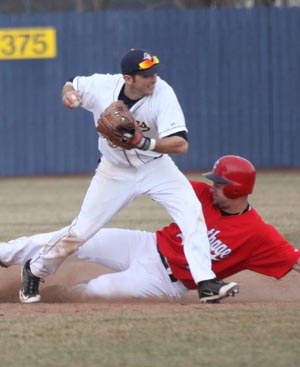 Senior second baseman Kurt Schmidt has been named to the All-CCIW first team for the second year in a row. Schmidt was one of five Vikings to earn all-conference recognition this year.
NAPERVILLE, Ill.- Five members of Coach Greg Wallace's 20th-ranked Augustana baseball team have been named to this year's CCIW All-Conference team. Senior second baseman Kurt Schmidt (Grayslake Central HS, Grayslake, Ill.) and sophomore pitcher Seth Davis (Mullen HS, Aurora, Colo.) were first team selections, while senior closer Rick Erickson (Lake Zurich HS, Hawthorn Woods, Ill.), junior right fielder Jacob Van Duyne (Wilmington HS, Wilmington, Ill.) and sophomore left fielder Danny Fifer (Lincoln-Way West HS, New Lenox, Ill.) were named to the second team.

The quintet of Vikings has helped Wallace's club to a 32-9 record and an NCAA tournament appearance this season. Augustana finished 14-6 and in second place in the CCIW before rolling to the championship of the conference tournament.
Schmidt was a first team pick for the second year in a row. He has started all 41 games this year, hitting .366 and leading the Vikings in home runs (two), RBI (41), total bases (78), slugging (.484) and stolen bases (14). He finished second in the CCIW with 21 RBI and was third in the league with nine doubles. In addition, he led the conference with four sacrifice flies.
Davis, a second team all-conference pick last year as a freshman, is 7-1 with a 1.88 ERA. He's completed five of 11 starts, including two shutouts. He's fanned 92 in 81 1/3 innings - the third highest single-season strikeout total in school history and just 12 away from John Benedetti's school record of 104 set in 2000. Davis led the CCIW with 48 K's.
In 14 appearances this year, Erickson sports a 4-0 record and is nine for nine in save opportunities. He has a 1.65 ERA and opponents are hitting just .164 against him. He peaked during the conference season, leading the CCIW with six saves and nine games finished. He tied for the league lead with nine appearances and finished with a 2-0 record, a 0.87 ERA and an opponents' batting average of .091.
Van Duyne is a repeat second team selection. He's hitting .367 this year with team highs of 43 runs scored and 66 hits. He's also stolen 12 bases in 14 attempts. The Vikings leadoff hitter in all 41 games this year, he finished second in the CCIW with 35 hits. He was the league's seventh-leading hitter at .380.
Fifer, who went 6-for-6 in Augustana's 12-1 win over Illinois Wesleyan for the CCIW tournament championship, is the Vikings' leading hitter this year at .404. His .446 on-base percentage also leads the team and he ranks third with 30 RBI despite not being in the lineup on a full time basis until the season was almost a month old.
2013 CCIW ALL-CONFRENCE BASEBALL TEAM
| | | | | |
| --- | --- | --- | --- | --- |
| FIRST TEAM | School | Pos. | Yr. | Hometown/H.S. |
| Justin Swider | Wheaton | OF | Jr. | Wheaton, Ill./North |
| Tyler Wargo | Elmhurst | OF | Jr. | Streator, Ill./H.S. |
| Kyle Williams | North Park | OF | Sr. | Cary, Ill./Cary-Grove |
| Dave Wolak | Elmhurst | OF | Jr. | Carol Stream, Ill./Glenbard North |
| Kevin Callahan | Illinois Wesleyan | INF | Sr. | Chicago, Ill./Brother Rice |
| Kevin Hennessy | North Central | INF | Sr. | Naperville, Ill./San Antonio Clark (Texas) |
| KURT SCHMIDT | AUGUSTANA | INF | SR | GRAYSLAKE, ILL./CENTRAL |
| Eric Sousanes | North Park | INF | Jr. | Aurora, Ill./Waubonsie Valley |
| Philip Tuttle | Wheaton | INF | Sr. | Duluth Ga./Providence Christian Academy |
| A.J. Nathan | Illinois Wesleyan | C | Sr. | Highland Park, Ill./H.S. |
| Marc Mantucca | Carthage | UT | Jr. | Naperville, Ill./Central |
| John Ciolkosz | North Central | DH | Jr. | Homer Glen, Ill./Providence Catholic |
| Lou Diaz | North Park | DH | Sr. | Chicago, Ill./Oakton Community College |
| SETH DAVIS | AUGUSTANA | P | SO | AURORA, COLO./J.K. MULLEN |
| Jeff Johnson | Illinois Wesleyan | P | Jr. | Gurnee, Ill./Warren Township |
| Michael Kaufman | Wheaton | P | Fr. | El Cajon, Calif./Christian H.S. |
| Nick Mehn | Illinois Wesleyan | P | Sr. | Peoria, Ill./Limestone |
| John Munyon | Illinois Wesleyan | P | So. | St. Charles, Ill./North |
| | | | | |
| SECOND TEAM | School | Pos. | Yr. | Hometown/H.S. |
| DANNY FIFER | AUGUSTANA | OF | SO | NEW LENOX, ILL./LINCOLN-WAY WEST |
| Jon Frericks | Illinois Wesleyan | OF | Jr. | Gurnee, Ill./Warren Township |
| Mike Kane | North Park | OF | Sr. | Chicago, Ill./Northern Illinois University |
| JACOB VAN DUYNE | AUGUSTANA | OF | JR | WILMINGTON, ILL./H.S. |
| Joe Belmonte | North Park | INF | So. | Elk Grove, Ill./Conant |
| Johnathan Erickson | Illinois Wesleyan | INF | Jr. | St. Charles, Ill./East |
| Vito DeRango | North Central | INF | So. | North Riverside, Ill./Riverside-Brookfield |
| Steve Kraynak | Carthage | INF | Jr. | Hinsdale, Ill./Central |
| Kyle Pusateri | Carthage | INF | Sr. | Schaumburg, Ill./H.S. |
| Nick Schmidlkofer | Carthage | C | So. | Wind Lake, Wis./Muskego |
| Brian Marquis | Elmhurst | UT | Sr. | Cary, Ill./Cary-Grove |
| RICK ERICKSON | AUGUSTANA | P | SR | HAWTHORN WOODS, ILL./LAKE ZURICH |
| Ben Krusen | North Central | P | So. | Glen Ellyn, Ill./Glenbard West |
| Wesley Mleziva | North Park | P | So. | Green Bay, Wis./Southeast |
| Nick Vidas | North Park | P | Jr. | Chicago, Ill./Oakton Community College |
CCIW Player of the Year
Kevin Callahan - Illinois Wesleyan

CCIW Pitcher of the Year
John Munyon - Illinois Wesleyan

CCIW Newcomer of the Year
Michael Kaufman - Wheaton

CCIW Coach of the Year
Dennis Martel - Illinois Wesleyan