May 13, 2013
Lawrence Palmer named to all-CCIW first team in tennis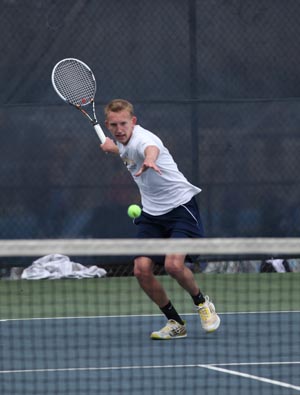 Sophomore Lawrence Palmer was named first-team all-CCIW in men's tennis after going 16-11 at number one doubles this season for the Vikings.
Augustana sophomore Lawrence Palmer (Schiller International School, El Prat de Llobregat, Spain) was named to the first team of the College Conference of Illinois & Wisconsin all-conference team in men's tennis. Palmer, who played number one singles for the Vikings all year, was the lone Augustana player on the 13-man squad.

He finished the 2012-13 season with a record of 16-11 and he was 2-1 in CCIW action. He also played number one doubles and was 18-14 with the majority of the matches coming with junior Andy Wall (Notre Dame Academy, DePere, Wis.). Palmer and Wall were 17-10 at number one doubles.
Palmer helped lead Augustana to a 19-11 record overall and a 3-2 mark in the CCIW. The Vikings dropped a tough 5-4 decision to Wheaton in the semi-finals of the CCIW tournament and then fell 5-4 to Carthage in the third place match. Augustana was ranked as high as 18th in the NCAA Division III Central Region during the course of the season.
A year ago, Palmer was a second team all-conference selection and posted a record of 9-11 in singles while playing mostly at number two. He was 12-11 in doubles as a freshman, playing all but one of those matches with his brother Will (Schiller International School, Leicester, England).