May 12, 2013
McIntosh, Fifer lead Vikings to CCIW Tournament title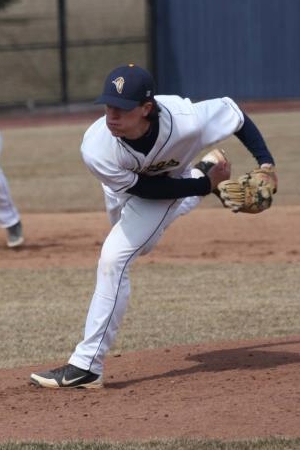 Senior right-hander Jared McIntosh took a no-hitter into the sixth inning Sunday and went on to get the win in Augustana's 12-1 victory over Illinois Wesleyan in Bloomington, Illinois. The Vikings won their second CCIW tournament title and claimed the league's automatic NCAA bid in the process.
BLOOMINGTON, Ill.- Senior Jared McIntosh (Assumption HS, Davenport, Iowa) threw 5 2/3 innings of no-hit baseball and sophomore Danny Fifer (Lincoln-Way West HS, New Lenox, Ill.) went 6-for-6 at the plate Sunday as Augustana won the CCIW tournament championship with a 12-1 win over Illinois Wesleyan at Jack Horenberger Field. The 18th-ranked Vikings improve to 32-9 and claim the league's automatic NCAA tournament bid. The 25th-ranked Titans fall to 32-12 and await an at large bid.

A day after stranding 12 runners in a 4-2 loss to IWU, the Vikings left 16 on Sunday, but had plenty of offense to make up for it. Behind Fifer's half dozen, Augustana banged out a season-high 23 hits and scored in all but two innings.
Meanwhile, McIntosh had a no-hitter until Bobby Czarnowski's clean single to right with two out in the sixth. By that time, Augustana already led 7-0. McIntosh ended up going 7 2/3 innings, giving up a run on three hits, walking three and fanning three. He improved to 7-3 with the win. Freshman Darwin Townsend (Libertyville HS, Libertyville, Ill.) finished things up, striking out three of the four batters he faced in a perfect inning and a third.
Fifer started his personal hit parade with a one-out double to right center in the first. He came around to score the game's first run on a Kurt Schmidt (Grayslake Central HS, Grayslake, Ill.) single to left center. Mark VanNatta (Alleman HS, Moline, Ill.) led off the second with a single to left center and was eventually squeezed home by Jeremy Juhl (Glenbard East HS, Lombard, Ill.).
Fifer and Schmidt were back at it in the third, with back-to-back singles to start the inning. After both moved up on a wild pitch, Nick Tenerelli (Downers Grove South HS, Downers Grove, Ill.) plated Fifer with an infield hit. VanNatta then put the Vikings up 4-0, scoring Schmidt with a single to right.
Illinois Wesleyan's Anthony Kopp, who relieved starter Dan Truesdale after 2 1/3 innings, pinned the only two goose eggs on the Vikings in the fourth and fifth, but Coach Greg Wallace's bunch went back to work in the sixth. Juhl led off with a triple down the right field line. Senior Tyler Bernal (La Salle-Peru HS, Peru, Ill.), who had replaced an injured Jacob Van Duyne (Wilmington HS, Wilmington, Ill.) in the fourth, came up next and lofted a single over the drawn in Titan infield, scoring Juhl to make it 5-0. After another Fifer knock, Schmidt plated Bernal with a sacrifice fly. Sophomore Brandon Jasper (Central DeWitt HS, DeWitt, Iowa) made it 7-0 with bases-loaded RBI single.
Bernal had an RBI double in a two-run Viking seventh. Fifer singled in a run in the eighth and Juhl knocked in the final two Augustana runs with a single to right in the ninth.
Eleven Vikings, including everyone in the starting lineup, had at least one hit. In addition to Fifer, who scored twice and drove in one, VanNatta was 3-for-6 with two scored and one driven in. Juhl was 2-for-4 with two scored and three knocked in and Bernal was 2-for-4, scoring three and driving in two. Schmidt had two hits and three RBI as well and Grant Stewart (Sterling HS, Sterling, Ill.) and Tenerelli were each 2-for-5.
The CCIW tournament title was the program's second (1999) and Wallace's crew now awaits Monday's NCAA pairings. Augustana will be hosting a regional, with play starting on Wednesday, May 15 at Swanson Stadium/Brunner Field.