May 11, 2013
Vikings beat Coe 5-1 to advance to Sunday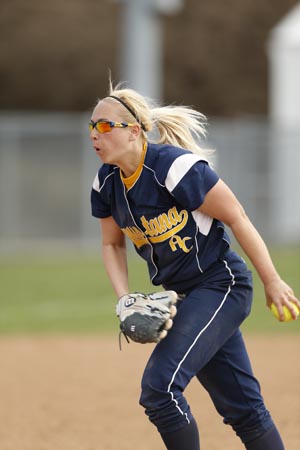 Freshman Ashley Anderson went four shutout innings in a 5-1 victory over Coe Saturday, getting her second win of the day and third of the tournament. Augustana advanced to Sunday play at the NCAA softball regional in Pella, Iowa.
PELLA, Iowa- Freshman Ashley Anderson (Sherrard HS, Viola, Ill.) threw four shutout innings against 12th-ranked Coe Saturday and junior Jamie Rehmert (Sterling HS, Sterling, Ill.) paced the offense as Augustana remained alive in NCAA tournament play with a 5-1 win over the Kohawks. The 25th-ranked Vikings improve to 32-13 on the year and move on to face top-seeded and eighth-ranked St. Thomas (40-6) Sunday at noon. Coe ends its season at 34-8, with two of the losses coming at the hands of the Vikings.

Kohawk Brianna Hull led off the game with a triple to right off Augustana starter Sarah Hintz (Le Roy HS, Le Roy, Ill.). One out later, Abby Flanagan squeezed Hull in for a 1-0 Coe lead. After throwing a 1-2-3 second, Hintz exited in favor of Anderson. The freshman left-hander retired the Kohawks in order in the third as well.
After leaving a runner stranded at third in the bottom of the first, the Vikings got to Coe starter Laux Mackenzie for two runs in the third. Laura Behnke (St. Francis HS, Roselle, Ill.) drew a one-out walk and Jenna Teson (Jacobs HS, Algonquin, Ill.) reached on an error. After Chelsea Lavin (Downers Grove South HS, Downers Grove, Ill.) grounded to short for a fielder's choice, Rehmert pounded a two-run double to right to give Augustana a 2-1 lead.
Krista Watson (Coal City HS. Coal City, Ill.) walked to lead off the Viking fourth and was sacrificed to second by Christina Pagan (Normal West HS, Normal, Ill.). Chaney Tambling's single to center plated Watson to extend the lead to 3-1.
In the fifth, Rehmert lined a one-out double to left center and came around to score on Watson's two-out single to center. A wild pitch later, Maddison Woodruff came on in relief of Mackenzie. Pagan greeted her with an RBI single to left and Augustana led 5-1.
Meanwhile, Anderson was cruising. The only hit she allowed was a Danielle Schlotterbeck single in the third. The Kohawks threatened in the fifth when Amanda Hovind reached on an error and stole second and third, but Anderson induced a Callie Morningstar groundout to end the inning.
In the top of the seventh Anna Corkery coaxed a leadoff walk from Anderson and Emily Grell reached on an error. That prompted Coach Kris Kistler to go back to Hintz, a tactic that worked well in Augustana's 3-2, nine-inning win over Washington University earlier in the day. Although she issued a walk to load the bases, the junior right-hander pitched out of the jam to get her second save of the season and second of the day. Anderson got her second win of the day and third of the tournament to improve to 13-4 this year.
Rehmert was 2-for-3 with two doubles, a run scored and two driven in. Watson was 1-for-1 with a pair of walks, two runs scored and one knocked in.
If the sixth-seeded Vikings can get by St. Thomas at noon Sunday, they'll face second-seeded and 16th-ranked Central (31-8) at 2:00 p.m. Augustana would need to win that game and another over the Dutch on Monday to claim the regional title and move on to the NCAA Division III Championship in Eau Claire, Wisconsin on May 17-21.