May 11, 2013
Vikings fall to Illinois Wesleyan to force second championship game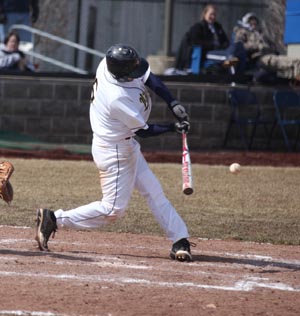 Kurt Schmidt had two hits to pace the Augustana offense on Saturday, May 11 but the Vikings fell to Illinois Wesleyan 4-2 and need a win tomorrow over the Titans to clinch an NCAA tournament berth.
BLOOMINGTON, Ill. - Augustana was unable to take advantage of some fielding lapses by Illinois Wesleyan on Saturday, May 11 in the first championship game of the College Conference of Illinois & Wisconsin. The Vikings fell to the Titans 4-2 at Horenberger Field and as a result the two teams will meet again on Sunday, May 12 with the winner snatching the league's automatic berth into the NCAA Division III Tournament.

Illinois Wesleyan committed four errors in the game but a solid relief performance from John Munyon kept Greg Wallace's Vikings from getting much going offensively. Munyon came on in the fifth inning in place of starter Robert Romano and he went five innings and allowed just one hit while striking out five to move his record to 8-2 on the season.
Augustana got a fine combined pitching effort itself from senior starter Ben Heaton (Bloomington Central Catholic HS, Heyworth, Ill.) and freshman Brandon Bollman (Lincoln-Way East HS, Frankfort, Ill.). Heaton went 5 1/3 and gave up three runs on just four hits while Bollman worked 3 2/3 and allowed one run on just two hits.
Wesleyan jumped out in front in the top of the first inning when Kevin Callahan walked with two outs and went to second on a single by Bobby Czarnowski. Both runners moved up on a passed ball and Callahan scored on a single by Johnathan Erickson to make it 1-0. On the same play Czarnowski also tried to score but was cut down on a throw by Augustana right fielder Jacob VanDuyne (Wilmington HS, Wilmington, Ill.) for the third out of the inning.
The Titans put up another run in the top of the fifth when Tim Coonan doubled to lead things off and scored on a sacrifice fly off the bat of A.J. Nathan.
Down 2-0, Augustana got back into it with two runs in the bottom of the fifth. First baseman Grant Stewart (Sterling HS, Sterling, Ill.) reached on one of those four IWU errors and he went to third on a double by catcher Nick Tenerelli (Downers Grove South HS, Downers Grove, Ill.). Stewart came home on a ground out off the bat of senior center fielder Mark VanNatta (Rock Island Alleman HS, Moline, Ill.) and Tenerelli came home on a wild pitch.
Heaton was touched for a single run in the sixth and that proved to be the game winner. Zach Scott led off with a double and three batters later Bollman replaced Heaton. Scott scored on a ground ball out off the bat of Erickson.
The Titans added an insurance run in the top of the ninth inning when Coonan singled with one out and stole second. He was driven in by Nathan's double to right-center.
Each team could manage just six hits in the game with Kurt Schmidt (Grayslake Central HS, Grayslake, Ill.) leading the way for the Vikings with two.
Augustana is now 31-9 while Wesleyan is 32-11.