May 11, 2013
Augustana's season ends in NCAA Sweet 16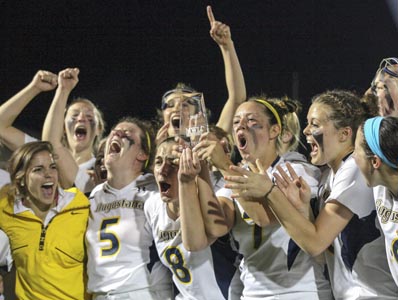 Augustana's outstanding season came to an end Saturday with a 19-2 loss at top-ranked and defending national champion Trinity in the round of 16 of the NCAA tournament. Coach Sara Tisdale's Vikings finish their second season of intercollegiate competition with a 17-4 record.
HARTFORD, Conn.-Top-ranked and defending national champion Trinity ended an outstanding season for Coach Sara Tisdale's Augustana lacrosse team Saturday. The Vikings fell 19-2 to the Bantams in an NCAA tournament Sweet 16 matchup, finishing their second season of intercollegiate play with a 17-4 record. Trinity moves on to the quarterfinals with a 19-0 mark.

Bantam Shea Kusiak started the scoring with an assist from Haley Thompson a minute and a half into the game. Trinity led 3-0 before sophomore attacker Christina Letmanksi (Glenbard West HS, Wheaton, Ill.) got the visitors on the board with 26:23 left in the first half. The goal was Letmanksi's team-leading 52nd of the season and freshman Emily Handrahan (Lake Zurich HS, Hawthorn Woods, Ill.) picked up her 31st assist on the play.
The Bantams scored the next nine goals, including two each by Megan Leonhard, Kaitlin Hildebrand and Martha Griffin, to go up 12-1. Allie Roehrenbeck (Columbus Academy, Gahanna, Ohio) stemmed the tide temporarily with 4:52 left in the half, finding the net for the 29th time this year with an assist from Letmanski, her team-best 33rd of the season. Elizabeth Heimann scored an unassisted goal with 37 second on the clock to put Trinity up 13-2 at the half.
Six different Bantams scored in the second half to account for the final.
Sophomore defender Bridget Conniff (Benet Academy, Downers Grove, Ill.) had a pair of ground balls and two forced turnovers for Augustana. Freshman Kaylee Nolan (Sandburg HS, Orland Park, Ill.) controlled four draws and sophomore goalkeeper Sarah Osier (Naperville Central HS, Naperville, Ill.) came up with eight saves on the day.