May 10, 2013
Voland wins 400 hurdles at Dr. Keeler Invite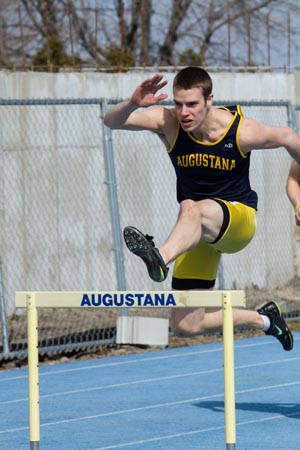 David Voland won the 400 hurdles at the Dr. Keeler Invitational in Naperville, Illinois on Friday, May 10 with a time of :52.04.
NAPERVILLE, Ill. - The sprinters on the Augustana track & field team continued to stay hot as the Vikings competed at the Dr. Keeler Invitational on Friday, May 10 at North Central in Naperville, Illinois. Just one week removed from the College Conference of Illinois & Wisconsin meet, and heading into finals week, head coach Paul Olsen's team turned in several outstanding performances.

Sophomore David Voland (Batavia HS, Batavia, Ill.) was the lone Augustana winner in the meet as he took the 400 intermediate hurdles with a time of :52.04. That was his fastest time of the season. Sophomore Kyle Bennett (Davenport West HS, Davenport, Iowa) placed seventh in :55.07.

Senior Alex Rindone (Marmion Academy, Geneva, Ill.) led a contingent of three place-winners in the 400 with a time of :48.47 that garnered him third place. Fellow senior Greg Patton (Bloomington HS, Bloomington, Ill.) was right behind him in fourth place at :48.64. Sophomore Antonio Owens (Naperville North HS, Bolingbrook, Ill.) ran :49.22 in seventh place.

The 400 relay team finished second in :41.73 and the 1600 relay took fourth in 3:15.88.

Senior Jonathan Smith (Moline HS, Moline, Ill.) was seventh in the 10,000 in 31:14.49 and sophomore Alec Seymour (Riverton HS, Riverton, Ill.) finished eighth in the javelin with a toss of 167' 0".

Augustana will compete in the Twilight Qualifier on Friday, May 17 at Paul V. Olsen Track.